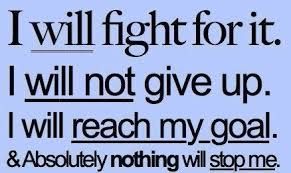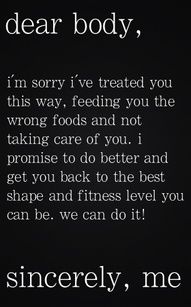 I have 83 pics in my gallery

Awards


Living Life Abundantly!!!
"My soul finds rest in God alone; my salvation comes from Him. He alone is my rock and my salvation; He is my fortress, I will never be shaken."
Psalm 62:1-2

Dear God,
In 2014 please give me a big fat bank account and a slim body. Please don't mix those two up like you did last year : )



I just want to eat healthier, feel healthier and BE healthier! No looking back & dwelling on past failures. I`m preparing for the ABUNDANT LIFE that God ...
"My soul finds rest in God alone; my salvation comes from Him. He alone is my rock and my salvation; He is my fortress, I will never be shaken."
Psalm 62:1-2

Dear God,
In 2014 please give me a big fat bank account and a slim body. Please don't mix those two up like you did last year : )



I just want to eat healthier, feel healthier and BE healthier! No looking back & dwelling on past failures. I`m preparing for the ABUNDANT LIFE that God planned for me! "... I am come that they might have life, and that they might have it more abundantly." John 10:10


"I Can Do All Things Through Christ Who Strengthens Me"
Philippians 4:13

~A Servant`s Prayer~
Jesus, My Jesus....How marvelous are your ways....
Far more splendid than my mind can envision.
What an honor to be chosen by you.
A lowly child I am, but empowered by the Holy Spirit
to fulfill the great hope to which you have called me.
I give myself totally to you, Lord.
Take my imperfect heart and make it perfect.
Peel away the hardness.
Close the doors I have opened to the temptations of this world.
Gently remove the roots of painful memories, sins, doubts and fears.
Discard anything that separates me from you.
Lord, fill the emptiness with the light of your love that I might be a
beacon calling the lost back to you.

To love as you love.....
To serve as you serve.....
To forgive as you forgive.....
Always mindful of my nothingness while doing great
and marvelous things in your name and for your glory.
This I pray, Jesus, in YOUR name ...
Amen.


~ The Doxology ~
Glory to the Father, and to the Son, and to the Holy Spirit;
as it was in the beginning, is now, and will be for ever. Amen.


~ The Apostles' Creed ~
I believe in God, the father almighty, creator of heaven and earth.
I believe in Jesus Christ, his only Son, our Lord.
He was conceived by the power of the Holy Spirit and born of the Virgin Mary.
He suffered under Pontius Pilate, was crucified, died, and was buried.
He descended to the dead.
On the third day he rose again.
He ascended into heaven and is seated at the right hand of the Father.
He will come again to judge the living and the dead.


I believe in the Holy Spirit,
the communion of saints,
the forgiveness of sins,
the resurrection of the body,
and the life everlasting. Amen.



~ Prayer of Saint Francis of Assisi ~

Lord, make me an instrument of your peace. Where there is hatred, let me sow love; where there is injury, pardon; where there is doubt, faith; where there is despair, hope; where there is darkness, light; and where there is sadness, joy.

O Divine Master, grant that I may not so much seek to be consoled as to console; to be understood as to understand; to be loved as to love.

For it is in giving that we receive; it is in pardoning that we are pardoned; and it is in dying that we are born to eternal life.

Amen.



~ Serenity Prayer~

God grant me the serenity to accept the things I cannot change; the courage to change the things I can; and the wisdom to know the difference.

Living one day at a time; Enjoying one moment at a time; Accepting hardships as the pathway to peace; Taking, as He did, this sinful world as it is, not as I would have it; Trusting that He will make all things right if I surrender to His Will;

That I may be reasonably happy in this life and supremely happy with Him Forever in the next.

Amen.


~ Lord's Prayer ~

Our Father, who art in heaven, hallowed be thy name. Thy kingdom come; Thy will be done, on earth as it is in heaven. Give us this day our daily bread, and forgive us our trespasses, as we forgive those who trespass against us. And lead us not into temptation, but deliver us from evil.

For Thine is the kingdom, and the power, and the glory, forever and ever.

Amen.

~ The Sign of the Cross ~
In the Name of the Father, and of the Son,
and of the Holy Spirit. Amen.



I will lift up mine eyes unto the hills from whence cometh my help. My help cometh from The Lord, which made heaven and earth.
-Psalms 121:1-2

"Commit to the LORD whatever you do, and your plans will succeed."
Proverbs 16:3


Jehovah - Jireh, Lord You are my Provider!


Therefore, I urge you, brothers and sisters, in view of God�s mercy, to offer your bodies as a living sacrifice, holy and pleasing to God�this is your true and proper worship.
Romans 12:1


More of Him, less of me...
He must increase, but I must decrease.
John 3:30

I have learned that the hunger I was trying to fill will never be satisfied by food or physical things. My hunger has been satisfied by knowing I am a child of the King! and only in Christ am i sustained & fulfilled! No food will satisfy my heart or fill the emptiness in my soul. Jesus Christ is "real meat" and the "bread of life," and I am to feed on Him.
"Taste and see that the LORD is good; blessed is the man who takes refuge in Him" Psalm 34:8

Now I only hunger for God`s presence and crave only to do God`s will.
"Blessed are those who hunger and thirst for righteousness, for they will be filled"
Matthew 5:6


Jesus paid a high ransom for me therefore i must honor Him by caring for my body...
"for God bought you with a high price. So you must honor God with your body."
1 Corinthians 6:20


"The LORD will perfect that which concerns me;
Your mercy, O LORD, endures forever;
Do not forsake the works of Your hands"
Psalm 138:8

"Therefore, I urge you, brothers and sisters, in view of God�s mercy, to offer your bodies as a living sacrifice, holy and pleasing to God�this is your true and proper worship."
Romans 12:1

"For verily I say unto you, That whosoever shall say unto this mountain, Be thou removed, and be thou cast into the sea; and shall not doubt in his heart, but shall believe that those things which he saith shall come to pass; he shall have whatsoever he saith."
Mark 11:23

"He humbled you, causing you to hunger and then feeding you with manna, which neither you nor your ancestors had known, to teach you that man does not live on bread alone but on every word that comes from the mouth of the LORD."
Deuteronomy 8:3

"And the God of all grace, who called you to His eternal glory in Christ, after you have suffered a little while, will Himself restore you and make you strong, firm and steadfast".
1 Peter 5:10


"All man's efforts are for his mouth, yet his appetite is never satisfied."
Ecclesiastes 6:7

"My soul will be satisfied as with the richest of foods; with singing lips my mouth will praise you."
Psalm 63:5

"Jesus said to them, "I tell you the truth, unless you eat the flesh of the Son of Man and drink his blood, you have no life in you. Whoever eats my flesh and drinks my blood has eternal life, and I will raise him up at the last day. For my flesh is real food and my blood is real drink"
.John 6:53-55


"For He satisfies the thirsty soul, and fills the hungry soul with goodness."
Psalm 107:9

""My food," said Jesus, "is to do the will of him who sent me and to finish his work.
John 4:34


Current Status:


SparkFriends



SparkTeams

My Ticker:
October SparkPoints: 640

Interact with PURPLEPEONY





Recent Blogs:

Profile


Member Since: 8/28/2011

SparkPoints: 62,766

Fitness Minutes: 3,142

My Goals:
My goal is to live the abundant lfe God planned for me. I want to be healthy so that I can be an example for my beautiful son. I ask God for his guidance so that i can raise my son to be a wonderful man of God!

Goals for 2014:
Walk at least 1 mile per day
Read the Bible in a year

"Let the words of my mouth, and the meditation of my heart, be acceptable in thy sight, O LORD, my strength, and my redeemer." Psalm 19:14


My Program:
I limit sweets & carbs. I journal my food intake daily & weigh myself monthly. I don`t obsess over the scale, as long as I`m moving forward and getting healthier I know my goals are in sight!

"I avoid looking forward or backward, and try to keep looking upward." ~Charlotte Bronte


Personal Information:
I love the Lord! I`ve lost 125 lbs. since July 10, 2013!

I treasure the words of His mouth more than my daily bread.
Job 23:12




Other Information:
"Therefore, whether you eat or drink, or whatever you do, do all for the glory of God."
1 Cor. 10:31


"And Jesus said to them," I am the bread of life. He who comes to Me shall never hunger, and believes in Me shall never thirst."
John 6:35









Profile Image