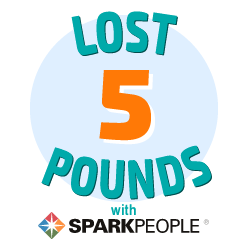 I have 5 pics in my gallery

Awards

The Eye Of The Tigger
Hi! i'm someone who has always struggled with weight and now it's time to take control. I need to lose over 100 pounds to get down to a healthy weight, but my goal at the moment is 50 pounds. With discipline and hard work, I know I can get there!

My Motto from my guru Jillian Michaels:
"When you're physically strong you're strong in every aspect of your life."

I am DONE being unhappy
I am DONE letting my past bring me down
I am DONE denying myself the ...
Hi! i'm someone who has always struggled with weight and now it's time to take control. I need to lose over 100 pounds to get down to a healthy weight, but my goal at the moment is 50 pounds. With discipline and hard work, I know I can get there!

My Motto from my guru Jillian Michaels:
"When you're physically strong you're strong in every aspect of your life."

I am DONE being unhappy
I am DONE letting my past bring me down
I am DONE denying myself the things I want in life
I am DONE making excuses
I am DONE

Some Lyrics for Inspiration:

If you want, then start to laugh
If you must, then start to cry
Be yourself dont hide
Just believe in destiny
Don't care what people say
Just follow your own way
Don't give up and use the chance
To return to innocence - Enigma

Sometimes it's hard to just keep going
But faith is moving without knowing
Can I trust what I can't see
To reach my destiny
I want to take control but I know better
God, I want to dream again
Take me where I've never been
I want to go there
This time I'm not scared
Now I am unbreakable, it's unmistakable
No one can touch me
Nothing can stop me
Forget the fear it's just a crutch
That tries to hold you back
And turn your dreams to dust
All you need to do is just trust - Fireflight

It's like I'm falling through my own fears
They used to haunt me, but now they're not here
There's no looking back, my future is clear
No giving up
And I'm holding on when it gets rough
Cuz you can get through most anything

If you just believe
You can move mountains with dreams
The higher you climb
The better it gets
Cuz you will see things
You'll never forget
If you just believe
No one says it's easy
And no one says you have to be perfect
But as long as you try
You're always gonna find
It was worth it - Suzy McNeil

So you wanna change the world
What are you waiting for?
Say you're gonna start right now
What are you waiting for?
It only takes one voice
So come on now and shout it out
Give a little more
What are you waiting for? = Natalie Grant

Rewards

-10 Pounds Pedicure
-20 Pounds $15 Itunes Gift Card
-30 Pounds A new healthy cookbook
-40 Pounds A DVD of my Choice
-50 Pounds New Bare Escentuals Makeup
-60 Pounds Heart Rate Monitor
-70 Pounds New Running Shoes
-80 Pounds New Designer Handbag (Halfway to goal)
-90 Pounds $25 Itunes Gift Card
-100 Pounds New Digital Camera
-110 Pounds New Professional haircoloring
-120 Pounds Massage
-130 Pounds New workout clothes
-140 Pounds A New Dress
-160 Pounds A Bauble from Tiffany's (probably a bracelet)
SparkFriends

SparkTeams



My Ticker:
Pounds lost: 9.2

Interact with PRINCESSCUPCAKE






Recent Blogs:

Profile


Member Since: 10/21/2007

SparkPoints: 0

Fitness Minutes: 1,165

My Goals:
Lose 10% of my total body weight by 10/1/08

Be healthy
Be happy

My Program:
Re-Start

Week 1 - 7/7-7/13
5 Days of Cardio at least 30 minutes
DONE

Week 2 - 7/14-7/20
5 Days of Cardio at least 30 minutes


Week 3- 7/21-7/27
5 Days of Cardio at least 30 minutes

2 days of weight training

Personal Information:
I'm happily married to the love of my life. We have two beautiful furbabies, Bailey and Tigger, who we adore. In addition to being a huge Disney fan, I also love sports and movies.

Profile Image