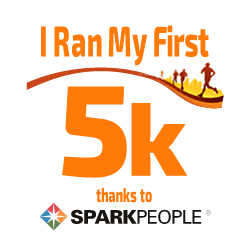 I have 21 pics in my gallery

Awards

Motivated? Maybe... Determined? YES!
UPDATE: It's 4 years later and I'm still truckin.. life has thrown me all kinds of obstacles, but I am officially in a normal weight range and holding strong :)


I'm a 27 year old mother of a 2.5 year old son, an RN and a stay-at-home mommy/wife. I had gained a bunch of weight over about 5 years or so and am slowly getting rid of it! The last 1/3 of this journey is slow, but I'm still making progress!

Update 5/21/11: I'm down over 20 pounds! I feel ...
UPDATE: It's 4 years later and I'm still truckin.. life has thrown me all kinds of obstacles, but I am officially in a normal weight range and holding strong :)


I'm a 27 year old mother of a 2.5 year old son, an RN and a stay-at-home mommy/wife. I had gained a bunch of weight over about 5 years or so and am slowly getting rid of it! The last 1/3 of this journey is slow, but I'm still making progress!

Update 5/21/11: I'm down over 20 pounds! I feel incredible! I'm starting to be more confident and feel less like a blob on the couch. I've also made the decision to be brutally honest with myself about EVERYTHING, and so far it is working. TRACKING TRACKING TRACKING!!! I'm telling everyone it REALLY does help!! No excuses! Do it! It really doesn't take THAT long to do it, especially once you establish a "favorites" list of the foods you eat all the time.

Update 6/25/11: I'm SO close to 30 pounds gone. 30! And it's been a little bit over 3 months. I'm making progress slowly and surely! The loss has definitely started to slow a little bit, but it's ok. This has officially started to become my lifestyle, so I'm not sweatin it!

8/10/11: Just passed the 40 pounds gone mark! Still going forward!

10/12/11: 50 pounds are outa here!!


I've had the opportunity to start telling others about my weight loss journey. It has been really hard so far because when I say something out loud, it takes that last piece of denial out of my weight problem. However, I really want to be able to inspire people to help themselves, even if it's just a little bit! After all... it was someone else's (or lots of somones) stories of success that got my rear in gear!

The background picture is of my orchid in bloom! Isn't it gorgeous?

"Saying 'try' is having the intention to fail"
~ "I Love You Man"

Here is my "Done girl" list so far!

I am Done ….
Shopping in different stores or in the plus sizes
Having more than one "X" on my clothing
Having shorts ride up when I walk
My husband's baggy shirts being snug
With bathroom stalls that are so small it's hard to wipe (TMI I know)
Sucking it in and trying to turn sideways in pictures
Having ridiculously long hair because I'm hiding my face
Standing on the sidelines because of how I'll look doing something
With the "strategic sweater"
Lying to myself about my weight
Never doing my hair or makeup because I feel it doesn't matter
With only being able to wear ugly shoes because cute ones hurt
With only having one pair of jeans
Having to wear sports bras for comfort
Getting winded with the easiest of tasks
Hating exercise


From Kai on Biggest Loser:

"...Love yourself no matter what you weigh. If somebody comes up to you and tells you you're fat or if somebody comes up to you and tells you your beautiful — that has absolutely nothing to do with who you are and everything to do with who you are. And remember that."

I LOVED Biggest Loser until I was devistated at the impossible results of season 11. Here's the blog that changed my mind about loving this show!

http://www.bodylovewellness.com/2010/06/
09/kai-hibbard-biggest-loser-finalist-
part-1-of-3/
SparkFriends



SparkTeams

My Ticker:
Pounds lost: 95.0


Recent Blogs:

Profile


Member Since: 3/22/2011

SparkPoints: 12,409

Fitness Minutes: 6,639

My Goals:
My goals are to eat healthier, exercise, and overall be a better me for myself and my family.

Weight Loss Goals
SW: 258 BMI 39.2
250/38: Done!
240/36.5: Done! (5/5/11)
230/35: 6/15/11 Done (6.13.11)
220/33.4: 7/2011 Done (7.28.11)
210/31.9: 10/24/2011 Done
ONEderland/30: DONE 1/28
190/28.9:
(No longer "obese"!)
180/27.4:
164/24.9: (Healthy BMI!)


My Program:
I'm starting by eating the amount of calories in the low end of my range and doing cardio/ strength training at least 5 days a week.

TRACKING TRACKING TRACKING!!! I'm telling everyone it REALLY does help!! No excuses! Do it! I also have been adding recipes on the spark recipes so tracking is easier when I have a lot of ingredients.

I started with a program with strength training in the form of 30 minutes of pilates, yoga, or spark people videos 3 days a week and I alternating between Jillian's 30 day shred, Leslie Sansone walks, Bob Harper and Biggest Loser videos 5 days a week.

I am now up to running 3 miles 3 times a week. It's a challenge, but I have finally found a form of exercise that I enjoy!
Still taking weekends off!!

Personal Information:
I live in central IL with my husband, son, and our adopted mut!

Other Information:
I'm teaching myself how to sew so I have a different hobby other than cooking!! I do love baking bread and making homemade pasta etc. I pretty much make everything from scratch.

I'm a Registered Nurse, although I'm a stay at home mom right now with my son.

Profile Image