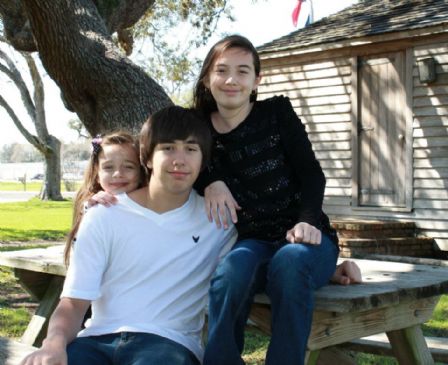 I have 12 pics in my gallery

Awards

PJ's Journey
"With God all things are possible."

"Fear makes the wolf bigger than he is."
- German Proverb

ďBe Who You Are and Say What You Feel Because Those Who Mind Don't Matter and Those Who Matter Don't Mind.Ē- Dr. Suess

"I'm too old to be young and too young to be old" Evelyn Couch- Fried Green Tomatoes

Hmmm...where to begin....Looking forward to living a healthier lifestyle so I'm around to drive my kids crazy by spoiling their future ...
"With God all things are possible."

"Fear makes the wolf bigger than he is."
- German Proverb

ďBe Who You Are and Say What You Feel Because Those Who Mind Don't Matter and Those Who Matter Don't Mind.Ē- Dr. Suess

"I'm too old to be young and too young to be old" Evelyn Couch- Fried Green Tomatoes

Hmmm...where to begin....Looking forward to living a healthier lifestyle so I'm around to drive my kids crazy by spoiling their future children. lol. My mother is a breast cancer survivor, and with my weight, I am at a very high risk. This is something that truly scares me. I want to be there for my children.

I am looking to really break some bad habits. Mainly my intense sweet tooth. :-/ I also really lack motivation at this time. A few months ago I had gotten on a kick and was exercising 5 days a week, and I succeeded in losing ten pounds in a month. I got down with a sickness and wasn't able to get out and exercise and that's where my trouble began. The longer is took me to heal, the more my motivation stalled, until it was dead again. This is something I really struggle with. I did succeed in dropping my cola habit, and I have not gained those ten pounds back. I hope to get my motivation back, and find my spark again. I need to lose this weight.

My husband and children are everything to me. I have been very blessed and enjoy every moment I have with them. I am extremely loyal if I feel you deserve it. Deeply emotional. Slightly "off" at times, but I OWN it. Luckier than some, not as well off as others. Extreme in some aspects, while still weak in others. Artistic in many facets, but there are lots of things I canít do. Forgiveness, sadly, is one I struggle with. I generally march to the beat of my own drum. I help out whenever I can, even when I donít trust you. Iím sensitive and caring, yet I tend to keep people an armís length away. Iíve loved deeply, and been hurt deeper still, by those Iíve trusted. That is why I can be quite mean if you hurt me or those I love. I most always say what I think, even when others don't exactly want to hear it. I like to ask lots of questions. I google everything. Im way paranoid. I speak fluent southernese. I laugh alot.

I look forward to making many spark friends. I love the stories I have read. They are great motivation, and I hope to someday be a motivator to someone else as well. :)


04/01/11
223

05/01/11
230

05/13/11
225

06/21/11
228

07/21/11
223.8
SparkFriends

SparkTeams



My Ticker:
current weight: 250.0

Interact with PJWILLIAMS76






Recent Blogs:

Profile


Member Since: 3/17/2011

SparkPoints: 2,325

Fitness Minutes: 2,929

My Goals:
Short term goals:

Lose 30 pounds by July 1, 2012.

Start going to bed by 9/10 pm every night

Get at least 30 minutes of exercise in per day. 5 days a week.

Drink More Water

Learn to destress

Long term goals:

Get to my goal weight of 170. This would be a huge accomplishment for me.

Get back into school. (DONE!! 11/7/2011)

My Program:
A majority of my program will be walking. I just started Leslie Sansone Walk Away the Pounds DVD, and I love it. I can't really afford a gym, although I would love to join one someday. I also own a gazelle.

Personal Information:
Pamela

Born and raised in Texas, although I did live in Mississippi for 12 years. I am a country girl through and through. I can't live in a big city. It stresses me. I love nature and I love for nature to surround me. :) I love to take photographs. Another de-stresser My favorite subjects are big old trees, and my children, of course.

33 years young

I am married with three beautiful children. They are my main motivation.



Other Information:
I love to read and listen to music.
I would probably be insane by now if it weren't for books and music! They are my escapes.

Music evokes so many emotions in me, and always gets me motivated. I listen to all types although my love does reside with classic rock, rock, and occasionally country if the mood is right. I have some sort of radio in every part of my house. I listen to music no matter what I'm doing. I actually rarely watch TV, as I prefer music over any other form of entertainment.



Profile Image