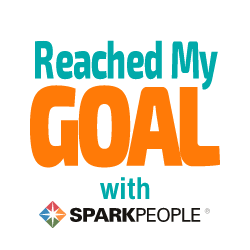 I have 5 pics in my gallery

Awards

Starting all over again, cuz I'm soooo done!
I'm a 20-something girl. I've been overweight since ever and I'm really done of that.

I've tried to lose weight many times, but I always gained it all back again. This time, I'll change my plans and get serious about it. I'll need to change my whole lifestyle for a healthier and more active one. I think that is the answer for permanent weight loss, good health, and happiness!

I'll have to lose exactly half of my current weight to get a reasonable BMI. It's going to be ...
I'm a 20-something girl. I've been overweight since ever and I'm really done of that.

I've tried to lose weight many times, but I always gained it all back again. This time, I'll change my plans and get serious about it. I'll need to change my whole lifestyle for a healthier and more active one. I think that is the answer for permanent weight loss, good health, and happiness!

I'll have to lose exactly half of my current weight to get a reasonable BMI. It's going to be a looooong journey, but hopefully I'm gonna make it this time.
========================================

Weight loss Progress:
------------------------------

March '09: start weight @ 102 Kg

April '09: 97 Kg ----- 5 Kg GONE FOREVER April 16th, 2009 (total loss 5 Kg)

May '09: 97 Kg (total loss 0 Kg)

June '09: 94 Kg (total loss 3 Kg)

July '09: 91 Kg ----- 10 Kg GONE FOREVER July 9th, 2009 (total loss 3 Kg)

August '09: 88 Kg (total loss 3 Kg)

September '09: 86 Kg ---- 15 Kg GONE FOREVER September 26th, 2009 (total loss 2 Kg)

October '09: 82 Kg ---- 20 Kg GONE FOREVER October 26th, 2009 (total loss 4 Kg)

November '09: 80 Kg (total loss 2 Kg)

December '09: 75 Kg (total loss 5 Kg) ---- 25 Kg GONE FOREVER December 10th, 2009

January '10: 72 Kg (total loss 3 Kg) --- 30 Kg GONE FOREVER January 31st, 2010

February '10: 68 Kg (total loss 4 Kg)

March '10: 62 Kg --- OFFICIALLY NOT OBESE (BMI less than 30) March 2nd, 2010 (total loss 6 Kg)

April '10: 61 Kg (total loss 1 Kg)

May '10: 57 Kg (total loss 4 Kg) --- OFFICIALLY NORMAL WEIGHT!!! (BMI less than 25)

June '10: 55 (total loss 2 Kg)

July '10: 52 (total loss 3 Kg)

August '10: 52 (total loss 0 Kg)

September '10: 51 (total loss 1 Kg)

October '10: 50 Kg --- REACHED MY GOAL WEIGHT! WOOHOO!
========================================

BMI stats:
--------------

Starting BMI: 45.3 @ 102 Kg

BMI below 40: 39.6 @ 89 Kg (August 11th, 2009)

BMI below 30 (officially not obese anymore!): 29.78 @ 67 Kg (March 2nd, 2010)

Entered the healthy BMI range:

========================================

Spark milestones:
-------------------------

1st @ 89 kg: August 11th, 2009

2nd @ 76 kg: December 17th, 2009

3rd @ 63 kg: March 28th, 2010

GOAL @ 50 kg: October 7th, 2010

========================================

10% of starting weight lost: July 9th, 2009

20% of starting weight lost: November 2nd, 2009

30% of starting weight lost:

40% of starting weight lost:

50% of starting weight lost:

========================================
SparkFriends

SparkTeams



My Ticker:
current weight: 123.0


Recent Blogs:

Profile


Member Since: 1/19/2007

SparkPoints: 0

Fitness Minutes: 11,496