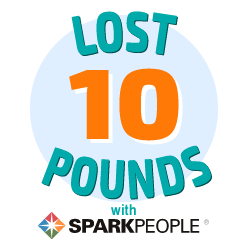 I have 5 pics in my gallery

Awards

Tessie's Weight Loss Journey
Update: February 2013

Third times a charm?

Update: January 2012

RESTARTING. Can make a huge list of reasons why I failed to lose weight and keep up with my fitness regimen last year... but why? I'm 27-years-old, and I promised myself on my birthday back in June that this is the year I do things for myself. I need to keep that promise to myself. Here we go again! I want to be that damn success story!!!!

My name is Tessie. I'm ...
Update: February 2013

Third times a charm?

Update: January 2012

RESTARTING. Can make a huge list of reasons why I failed to lose weight and keep up with my fitness regimen last year... but why? I'm 27-years-old, and I promised myself on my birthday back in June that this is the year I do things for myself. I need to keep that promise to myself. Here we go again! I want to be that damn success story!!!!

My name is Tessie. I'm 26-years-old and have a beautiful daughter named Grace who is 2-years-old and a wonderful crazy husband named Tom. I also own/operate my own portrait and event photography business in addition to staying home with my daughter. I've battled with being overweight since I can remember... and i'm sick of it. I belong to a local YMCA and i'm ready to make some changes for myself and for real this time... FINALLY! Looking for some buddies to help me along the way :)
SparkFriends

SparkTeams

My Ticker:
current weight: 161.4


Recent Blogs:

Profile


Member Since: 8/18/2008

SparkPoints: 0

Fitness Minutes: 16,704

My Goals:
Overall, I would like to lose 55 lb.

1/2012 - 191.6 lb
2/2012 - 186.1 lb
3/2012 - 178.8 lb
4/2012 - 173.9 lb
5/2012 - 173.9 lb

Goals:

185 lb - met 02/08/12!
180 lb - met 02/27/12!
175 lb - met 03/23/12!
170 lb -
165 lb -
160 lb -
155 lb -
150 lb -
155 lb -
140 lb -
135 lb -


Rewards:

175 lb - Hair Cut!! (Got this done a little early - had a photoshoot of me and my daughter; however goal was met only about a week later 03/23/12)

170 lb - New Zumba clothes!

160 lb - Massage! Look for Zumba instructor positions at local gyms

150 lb - Night out with hubby!

145 lb - Professional boudoir photography session and new wardrobe :)

135 lb - Cry and write my own freakin' success story :) And, what the hell, buy some more clothes!

My Program:
Eating within the SP recommended caloric range of good foods. Lots of fruits and vegetables and whole grains. My goal is to go to bed hungry! No more late night snacks! Also, I exercise 5-6 times a week doing Zumba. Currently burning 5,000-6,000 calories a week doing that. Finally became an instructor! WOOHOO!! Hope to add some strength training in once I get in a routine.

Personal Information:
I am from Lancaster, PA. I am a photographer. My website is www.PhotographyByTessie.com I love taking pictures, spending time with family and friends, and ZUMBA!!!!!

Other Information:
I love photography. Every day i'm thankful I do something I love as a career. My three-year-old daughter can drive me crazy, but I try to treasure every moment we spend together... and the time has already flown by!

Profile Image