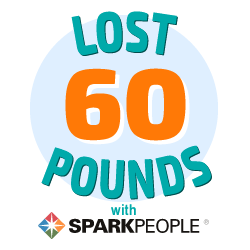 I have 6 pics in my gallery

Awards

THIS IS IT!
I AM DONE WITH ANY AND ALL EXCUSES!

I am back for my second go around with Sparkpeople (I lost 30 lbs or so in college with the program, which I gained back over 3 years of law school).

I am a young professional woman who happens to play competitive rugby. I have been a rugby player for over 10 years now (started in college) and love every minute of it. A lot of my motivation comes from wanting to excel at the game I love, and the rest comes from me wanting to look ...
I AM DONE WITH ANY AND ALL EXCUSES!

I am back for my second go around with Sparkpeople (I lost 30 lbs or so in college with the program, which I gained back over 3 years of law school).

I am a young professional woman who happens to play competitive rugby. I have been a rugby player for over 10 years now (started in college) and love every minute of it. A lot of my motivation comes from wanting to excel at the game I love, and the rest comes from me wanting to look as good as I feel!

This time feels different (than last SP journey and every other weight loss journey I have been on over the years) because my attitude is different. I am not doing this for anyone but me! I have a pretty athletic figure (for my weight), but would love to be a few sizes smaller and feel sexier!

~~~~~~~~~~~~~~~~~~~~~~~~~~~~~~~~~~~~~~~~
~~~~~~~~~~~
UPDATE 6/5/12
I've lost 22 lbs and a pants size so far - I'm at 245 and a size 16W!!

UPDATE 10/11/12
I've lost 45 lbs and am moving into a size 14W, 16 Reg!!

UPDATE 12/12/12
I'm officially down 60 lbs as of this morning!! I am comfortably wearing misses 14s!

~~~~~~~~~~~~~~~~~~~~~~~~~~~~~~~~~~~~~~~~
~~~~~~~~~~~
BMI is not something that I focus on in terms of my final goal, but I do like to track it for some added motivation!

3/15/12 - 267 = 38.3 (Severely Obese)
6/19/12 - 240 = 34.4 (Moderately Obese)
10/4/12 - 225 = 32.3 (Moderately Obese)
11/5/12 - 216 = 31.0 (Moderately Obese)
12/12/12 - 210 = 30.1 (Moderately Obese)
12/26/12 - 208 = 29.8 (Overweight)
SparkFriends

SparkTeams

My Ticker:
current weight: 276.2

Interact with PHILLY_DANIELLE






Recent Blogs:

Profile


Member Since: 3/15/2012

SparkPoints: 18,188

Fitness Minutes: 23,247

My Goals:
1. Lose 90 pounds (or so) by eating smart and sweating hard.

SW: 267 - DONE (3/15/12)
G1: 249 - DONE (5/18/12)
G2: 235 - DONE (7/16/12)
G3: 220 - DONE (10/26/12)
G4: 199
G5: 185
GW: 175

2. Play a full 80 minute rugby match with intensity (which I haven't been able to do since college) - DONE (08/25/2012)

My Program:
1. Eating slower and more regularly. (I have always eaten super-fast, and that has been my biggest issue - my eyes are bigger than my stomach)

2. Individual workouts - 3x/4x per week, including, Running, Plyometrics, Cardio/Strength Circuits, Barre, Yoga & Pilates

3. Rugby Practice & Matches - 2x/3x per week depending on season

C25K Program:
W1: Done (4/21/12)
W2: Done (5/13/12)
W3: Done (5/17/12)
W4: Done (5/25/12)
W5: Done (5/29/12)
W6: Done (6/5/12)
W7: Done (6/13/12)
W8: Done (6/17/12)
W9: Done (7/8/12)

Personal Information:
I'm Danielle, a 29 year old from suburban Philadelphia.

I'm 5'10"

I'm a 4 for 4 Philly sports fan.

Love Alternative Rock & Sports Radio

GIVE BLOOD, PLAY RUGBY!

Profile Image