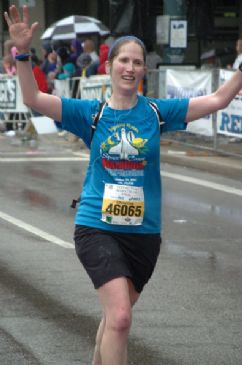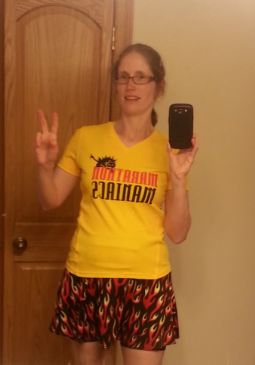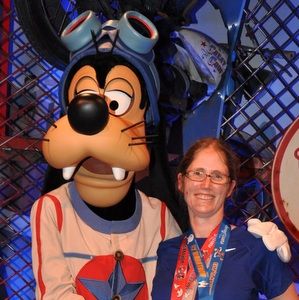 I have 34 pics in my gallery

Awards


One (Officially) Goofy Mother Runner
~*~*~ All our dreams can come true, if we have the courage to pursue them. ~*~*~ Walt Disney ~*~*~

** Keep up with me on my blog! **
onegoofymotherrunner.blogspot.com

Hi, I'm Christina, age 35. I've been married for eight years and am Mommy to the most incredible six-year-old boy in the world :) We live in Wisconsin with our one-year-old feline princess, Joy. I work in healthcare-related IT, and while my job can be demanding and stressful, I love my work and ...
~*~*~ All our dreams can come true, if we have the courage to pursue them. ~*~*~ Walt Disney ~*~*~

** Keep up with me on my blog! **
onegoofymotherrunner.blogspot.com

Hi, I'm Christina, age 35. I've been married for eight years and am Mommy to the most incredible six-year-old boy in the world :) We live in Wisconsin with our one-year-old feline princess, Joy. I work in healthcare-related IT, and while my job can be demanding and stressful, I love my work and appreciate that my employer is improving patient care every day!

Shortly after my son turned two, I realized I had been carrying the "baby weight" around for way too long and joined Weight Watchers to turn my lifestyle around. The weight loss has been a struggle, kind of an ongoing battle, but day by day, I have learned a lot about living a healthy lifestyle and taking care of myself. It's a lifelong learning process, and I just take it one step at a time. My success is not always measured by the number I see on the scale, but by the everyday victories that show me that YES, indeed, I have changed my life for the better. I have come a long way from that day I walked timidly into that first Weight Watchers meeting four years ago, but I'd be kidding myself if I said that my work was done.

In Summer 2009, I got bitten by the running bug and completed the Couch to 5K program. Then I worked on building up my endurance, using Jeff Galloway's run-walk-run training method. In 2010, I completed five half marathons and earned membership in the Half Fanatics. (I'm Fanatic #610!) In 2011, I completed six more half marathons, as well as my first full marathon. And in 2012, I took it a step further and completed the Walt Disney World Goofy's Race and a Half Challenge! A half and a full marathon in one weekend...runner's paradise or just plain crazy? I say...just plain FUN! And this year, I also qualified for Marathon Maniacs to take the craziness a step further.

This summer, I also picked up karate training. I was an avid taekwondo student in high school, but quit training one level shy of black belt, as I was leaving for college. I've regretted not finishing what I started for many years...one of my FEW life regrets. So, when signing my son up for a karate after school program, I took it a step further and registered myself for lessons! I'm hoping that, with time and patience, I'll get that black belt I missed out on half my life ago.

Long term, I hope to maintain a sensible, healthy lifestyle, but most of all, be HAPPY and LOVE my life. No matter what I choose to do, whether it's running, karate, or something completely different that I haven't thought of yet, I want my journey to be an adventure, full of rewards!

~*~*~ Remember to look up at the stars and not down at your feet. Try to make sense of what you see and wonder about what makes the universe exist. Be curious. And however difficult life may seem, there is always something you can do and succeed at. It matters that you just don't give up. ~*~*~ Stephen Hawking ~*~*~


*** Upcoming Races ***

Sep 2013 - Disneyland Dumbo Double Dare Challenge
Sep 2013 - Quad Cities Half Marathon
Dec 2013 - Space Coast Marathon
Mar 2014 - Little Rock Marathon

*** My 2013 Races ***

01.12.13 - Walt Disney World Half Marathon - 2:27:51
01.13.13 - Walt Disney World Marathon - 5:48:33
05.04.13 - Flying Pig 10K - 1:08:24
05.04.13 - Flying Pig 5K - 33:42
05.05.13 - Flying Pig Marathon - 5:14:31
05.18.13 - Fargo Marathon - 5:14:57
05.25.13 - Madison Marathon 10K - 1:01:57
06.15.13 - Summerfest Rock 'n' Sole Run - 2:19:57

*** My 2012 Races ***

01.06.12 - Walt Disney World Family Fun 5K - complete
01.07.12 - Walt Disney World Half Marathon - 2:31:42
01.08.12 - Walt Disney World Marathon - 4:59:57
02.26.12 - Disney Princess Half Marathon - 2:13:02 PR!
03.17.12 - Madison Shamrock Shuffle 10K - 1:04:24
05.05.12 - Wisconsin Half Marathon - 2:08:25 PR!
05.19.12 - Racine Color Run 5K - complete
05.26.12 - Madison Marathon Weekend 10K - 58:46 PR!
06.16.12 - Tri 4 Schools Family Fun Run 5K - 31:37
06.24.12 - Oregon Summerfest Classic 5K - 29:26 PR!
08.18.12 - Madison Mini Marathon - 2:25:28
09.23.12 - Fox Cities Half Marathon - 2:15:25
09.29.12 - Twilight Zone Tower of Terror Ten Miler - 1:53:30
11.22.12 - Berbee Derby 5K - 30:42

*** My 2011 Races ***

04.30.11 - Country Music Half Marathon - 2:23:01
05.29.11 - Madison Half Marathon - 2:24:10
08.20.11 - Madison Mini Marathon - 2:31:54
09.18.11 - Fox Cities Half Marathon - 2:18:03
10.01.11 - Disney's Halloween 5K - 36:14
10.01.11 - Disney's Wine & Dine Half Marathon - 2:27:13
10.29.11 - Haunted Hustle Half Marathon - 2:47:36
11.27.11 - Space Coast Marathon - 5:28:44

*** My 2010 Races ***

03.06.10 - Disney Royal Family 5K - 30:52 (Garmin time)
03.07.10 - Disney Princess Half Marathon - 2:17:44
03.14.10 - Shamrock Shuffle 10K - 1:03:33
04.17.10 - Spring Sprint for the Arb 5K - 29:46 (Garmin time)
04.24.10 - Crazylegs Classic 8K -49:13
05.30.10 - Madison Half Marathon - 2:32:23
06.05.10 - Race for the Cure 5K - 30:59
08.21.10 - Madison Mini Marathon - 2:22:52
10.02.10 - Disney Wine & Dine Half Marathon - 2:25:37
10.30.10 - Haunted Hustle Half Marathon - 2:19:41
11.25.10 - Berbee Derby 10K -1:08:51

*** My 2009 Races ***

09.20.09 - Henry Vilas Zoo Run Run 5K - 37:15 (estimate)
10.24.09 - Gilda's Run Two-Mile Fun Run - 21:28
11.26.09 - Berbee Derby 5K - 33:41
12.12.09 - Jingle Bell Run 5K - 35:32

Half Fanatic #610 * Joined 10.30.10
Marathon Maniac #7173 * Joined 5.20.13

SparkFriends

SparkTeams


Recent Blogs:

Profile


Member Since: 8/28/2009

SparkPoints: 55,747

Fitness Minutes: 64,733

My Goals:
My goals...stay healthy, fit, and happy. It's not so much about the number on the scale, but feeling healthy, strong, and full of energy and joy. My favorite exercise...running, of course! I have trained for many half marathons and marathons using Jeff Galloway's run/walk method, and plan to keep right on going. I balance my running out with karate, a bit of Zumba, and any other physical activity that catches my fancy :)

My Program:
I try to make healthy decisions every day...about what I eat, moving my body, thinking positive thoughts, and taking care of myself and the people I love. My relationship with food...well, it's complicated, but I am doing my best and taking it one day at a time.

Personal Information:
I grew up in Florida and even went to college and graduate school at the University of South Florida (GO BULLS!) I hoped to stay put after graduation, but my first job (in IT) ended up being in Madison, WI. So now we're up here, 1400 miles away from my hometown, in the frozen North. Brrrrrrrrrrrr! Of course I'm always going back to FL to visit my family and my favorite place in the world, DISNEY WORLD!

Other Information:
I love cooking, crafts, walking, running, shopping, blogging/journaling, listening to music, playing Wii, traveling, and watching funny movies. I am obsessed with just about anything Disney-related.

Profile Image