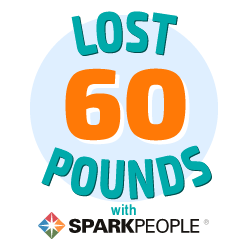 I have 22 pics in my gallery

Awards

Time for A Change!!
~~UPDATED 3/17/2009~~~

To date I have lost over 60 lbs, but the scale has stopped moving downward for what now seems like an eternity. (It actually HAS been over 6 months!)

I had fallen into a montonous eating plan, the exact same place I didn't want to be! Of course, this bored me and what started with cheating a little here and a little there turned out to be a downward spiral to my eating habits. I vowed from the beggining of my journey to make this a lifestyle ...
~~UPDATED 3/17/2009~~~

To date I have lost over 60 lbs, but the scale has stopped moving downward for what now seems like an eternity. (It actually HAS been over 6 months!)

I had fallen into a montonous eating plan, the exact same place I didn't want to be! Of course, this bored me and what started with cheating a little here and a little there turned out to be a downward spiral to my eating habits. I vowed from the beggining of my journey to make this a lifestyle change and to remind myself EVERYDAY that I am not on a diet. I want to enjoy food without feeling guilty, I still want to eat those chocolate chip cookies, and chips with salsa, I just need to learn to eat them in moderation, of course this is easier said than done.

I have fallen off the wagon in terms of eating healthy, those darn ice cream sundaes with brownies have just tempted me way too much. Also, those drinking binges I have had recently are not helping with my weight loss either. The one thing that's saved me from gaining any more weight is the fact that I love to workout, (still feels weird saying this!!!) I enjoy my time at the gym, because not only do I get to sweat out my daily frustrations, but its about the only time of the day that i get some ME time!!

I know I've fallen off the wagon, but I'm determined to get back on it and go at this with full force!

Its time to break out of that plateau and FINALLY meet my goal.

I'm am not going to set myself up for failure, and I know I have to take many small steps to get to my final destination. For that reason, to start again I have broken down mini goals. This looks and feels much more feasible to do. So my first goal is to lose 5% of my weight. I KNOW I CAN DO THIS!!

195 lbs - 5% = 185 lbs
185 lbs - 5% = 176 lbs
176 lbs - 5% = 167 lbs
167 lbs - 5% = 159 lbs MY GOAL WEIGHT
~~~~~~~~~~~~~~~~~~~~~~~~~~~~~~~~~~~~~~~~
Hi! My name is Patty, I'm 32 yrs old, and I'm from Southern California. I joined SparkPeople in March of 2007. I started by logging in every so often and checking out the resources available, but I didn't actually get serious about any kind of weight loss program until mid may.

At this point, I have no idea what my heaviest was. I stopped weighing myself when I was 256. That scared me! To date I have lost close to 60 lbs.

I'm 5'7'
Starting Weight March 2008 - 250+ lbs

BLC 5 (1/8/2008 - 4/1/2008) 210.8 lbs to 202.8lbs = 3.8% body weight lost!
BLC6 (4/8/2008 - 7/1/2008) 201.2 to 194.8 = 3.18% body weight lost!
BLC7 (7/8/2008 - 9/30/2008) 198 to 193.5 = 2.27% body weight lost!
BLC8 (10/7/2008 - 12/31/2008) 191.5 - 192.5
BLC9 (1/7/2009 - 4/8/2009) 199 - 195.5 lbs
BLC10 (4/22 - ) 194.5 lbs

SparkFriends

SparkTeams



My Ticker:
Pounds lost: 4.9


Recent Blogs:

Profile


Member Since: 3/23/2007

SparkPoints: 15,270

Fitness Minutes: 22,627

My Goals:
I want to change the way I think about food. I am not on a diet, instead, I am on a lifestyle change.


My Program:
Staying away from fast food restaurants, cooking at home, eating to live, not living to eat!

Personal Information:
Starting Weight: 250 lbs
Starting BMI - 39.2

9/1/2007- 10% loss- 225 lbs
4/8/2008 - 10% loss - 202.5


Other Information:
Flatter me, and I may not believe you. Criticize me, and I may not like you. Ignore me, and I may not forgive you. Encourage me, and I will not forget you. Love me and I may be forced to love you.
~William Arthur Ward~


Found this quote on one of my Spark Friends and I absolutely loved it!

Profile Image