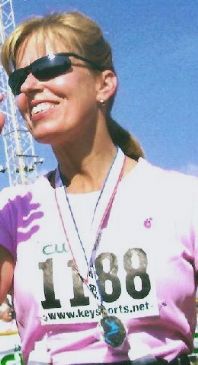 I have 8 pics in my gallery

Awards


Trusting God to be the best "me" I can be!
Jesus's love has made all the difference in my life. Out of gratefulness for all He's done for me, I want to be the very best "me" I can be.... I want everything about me to point back to the One who made it all possible. Taking care of my health and physical body is just one avenue to do just that.
Jesus love has transformed me from the inside out, and He's helped me break free of many unhealthy habits that had me stuck in a sense of personal failure.

Because He loves ...
Jesus's love has made all the difference in my life. Out of gratefulness for all He's done for me, I want to be the very best "me" I can be.... I want everything about me to point back to the One who made it all possible. Taking care of my health and physical body is just one avenue to do just that.
Jesus love has transformed me from the inside out, and He's helped me break free of many unhealthy habits that had me stuck in a sense of personal failure.

Because He loves me so much, I want to care for and love myself in healthy, God-honoring ways. I want any gains in health and fitness to bring Him praise - especially because He is the One who is enabling my success!

The transformation process hasn't always been easy, or "smooth sailing"..... but it's been slow and steady, and worth every bit of wisdom I have been gaining through the journey.

Because of the inner contentment, joy, and success I'm experiencing - My deep heart's desire, is to help others know that they are unique and precious masterpieces of God, that they are worth the time and investment to be the best they can be in all arenas - body, soul, and spirit -- and to also come to believe and experience for themselves, that "with God, ALL things ARE possible"!

Addendum: " I'm BACK!!!" -- due to breast cancer treatment surgeries, etc. in the summer/Fall/winter of '08, I had to take a hiatus from weight lifting and vigorous aerobics. Got the clear from my doctor to resume fitness full boar - got back into weightlifing and full routine 1/23/09!!! Woo-hoo! I'm so thankful to God!
10/11/09 - ran a 1/2 marathon to celebrate my one year anniversary of being cancer free!

I'm not a breast cancer "survivor" -- I'm a breast cancer "OVERCOMER" through Christ!!!

9/19/10 -- I completed my Fitness certification through ISSA. I am now officially a Certified Fitness Trainer! Woo-hoo!
~~~~~~~~~~~~~~~~~~~~~~~~~~~~~~~

Favorite quotes:

Tom Venuto (author of Burn the Fat, Feed the Muscle) -- "Don't try to become better than someone else; become better than you used to be. Instead of focusing on comparisons, focus on PROGRESS and SELF IMPROVEMENT. Do the absolute best YOU can with what YOU'VE got, and you'll be able to look at your face in the mirror everyday, with the pride and self-esteem of a true winner."
~~~~~~~~~~~~~~~~~~~~~~~~~~~~~~~~~
John Wooden, famous UCLA Basketball coach:
"The good Lord in His infinite wisdom, did not create us all equal when it comes to size, strength, appearance, or various aptitudes. But sucess is not being better than someone else, success is the peace of mind that is a direct result of self-satisfaction in knowing that you gave your best effort to become the best of which YOU are capable."
~~~~~~~~~~~~~~~~~~~~~~~~~~~~~~~~~~~~

~~~~~~~~~~~~~~~~~~~~~~~~~~~~~~~~~
"Sometimes getting in shape is like watching the grass grow - it really tests your patience. Don't EVER allow that to discourage you! Keep advancing confidently in the direction of your goals."
-Tom Venuto
~~~~~~~~~~~~~~~~~~~~~~~~~~~~~~~~~
"Train...watch how your body develops. It is like watching a butterfly unfold. You can't peel off the cocoon. You have to let it emerge." -- Mimi (fellow sparker) Again stressing patience in the process....

~~~~~~~~~~~~~~~~~~~~~~~~~~~~~~~~~~~~~~~
from www.bodybuilding.com
Author, Lisa Sutton

"I wish I had a magic wand to get people in shape. It's not magic however, it's hard work on a consistent basis and time. Give yourself six months to one year to get some good and lasting results. You simply can't get in shape and then stop.
This is a lifestyle, not a quick fix. Be patient. Life is going to pass you by whether or not you decide to exercise. Where do you want to be in six months? You can either get yourself started or continue to decline in your health and fitness. The choice is yours. Move it or lose it. "
~~~~~~~~~~~~~~~~~~~~~~~~~~~~~~~~~~~~~~~~
"There is no such thing as failure - only feedback; as long as you're taking action - you will produce performance feedback...valuable information. The only failure is to quit.
~~~~~~~~~~~~~~~~~~~~~~~~~~~~~~~~~~~~~~~~
Thomas Edison - tried 1,000's of expirements to find a filament that would burn in the electric lighbulb. When asked what it felt like to fail so many times, Edison said he didn't fail:
"If I find 10,000 ways something won't work, I haven't failed. I am not discouraged, because every wrong attempt discarded is another step forward. Just because something doesn't do what you planned it to doesn't mean it's useless."
~~~~~~~~~~~~~~~~~~~~~~~~~~~~~~~~~~~~
Like Edison, and like an airplane pilot -- you need to gather feedback and change your course the instant you notice you're not heading in the right direction (learn from what doesn't work - tweak your program until you get back on course. Stay positive in the process. The only failure is to quit!)
~~~~~~~~~~~~~~~~~~~~~~~~~~~~~~~~~
"Consistent small gains over time equals big success"
~~~~~~~~~~~~~~~~~~~~~~~~~~~~~~~~
"Continuous effort, not superior strength or intelligence, is the key to unlocking our true potential. "
~Winston Churchill ~~~~~~~~~~~~~~~~~~~~~~~~~~~~~~~~~~~~~~`

"There's a difference between interest and commitment. When you're interested in doing something, you do it only when circumstance permit. When you're committed to something, you accept no excuses, only results." ~Art Turock

~~~~~~~~~~~~~~~~~~~~~~~~~~~~~
from www.bodybuilding.com

Motivation is the most important part of any program. It's 90% mental and 10% physical. Your body doesn't decide to get off the couch and do your cardio, your brain does.

~~~~~~~~~~~~~~~~~~~~~~~~~~~~~~
"Self respect is the root of discipline; the sense of dignity grows with the ability to say no to oneself."
~Abraham Joshua Heschel
~~~~~~~~~~~~~~~~~~~~~~~~~~~~~~
"The cost of regret far exceeds the price of discipline."
~Dan Green
~~~~~~~~~~~~~~~~~~~~~~~~~~~~~~~~~~
"obsessed is just a word the lazy use to describe the dedicated."
~~~~~~~~~~~~~~~~~~~~~~~~~~~~~~~
Nancy: "The Age of Miracles: The New Midlife"

Nancy, a 66-year-old mother of five and grandmother of 13, rules the courts as a trial lawyer. When court is not in session, Nancy hones her martial arts skills as a fourth-degree black belt! She began her martial arts training in 1994, when she was 53 years old. "I feel better physically, mentally and surely spiritually than I did when I was 30 or 40," she says.

After almost 14 years in martial arts, Nancy is living proof that it is never too late to reinvent your life. "Eventually, I will retire from law, but I won't retire from life," she says.
~~~~~~~~~~~~~~~~~~~~~~~~~~~~
"You are never too old to set another goal or to dream a new dream."
C. S. Lewis
~~~~~~~~~~~~~~~~~~~~~~~~~~~~
FOCUS: Faith Overcomes Challenges Undermining Success
SOAR: Stop Over-reacting About Relapses OR Sustain Optimism - Avoid Relapse (into negative mindset)
QUEST: Quit Using Excuses Sabotaging Triumph
~~~~~~~~~~~~~~~~~~~~~~~~~~~~~~~~~~~~
"Promise me you'll always remember: You're braver than you believe, and stronger than you seem, and smarter than you think."
Christopher Robin to Pooh (From LadyRose - fellow sparker)
~~~~~~~~~~~~~~~~~~~~~~~~~~~~~~~~~~~~

"Where there is no vision, the people perish" (Proverbs 29:18).
Being transformed from unhealthy to fit - in mind, body, and spirit - will require a shift in point of view. We must allow God to remove our old images of self-defeating behavior and replace them with "possibility pictures." We must allow Him to give us a fresh outlook, a new hope, an inner image of the new life upon which we now embark. (modified slightly from UniqueMe1' signature - fellow sparker)

"A pessimist sees the difficulty in every opportunity; An optimist sees the opportunity in every difficulty." Winston Churchill

"Release yourself from the power of the mirror and others, and take control of who you are." ~ (from fellow sparker)


Don't fear the set backs when they come. Embrace them, learn from them, and grow into a healthier person!!! (from Ms. Tinkerbell's signature line)
~~~~~~~~~~~~~
Far better is it to dare mighty things, to win glorious triumphs, even though checkered by failure...than to rank with those poor spirits who neither enjoy much nor suffer much, because they live in a gray twilight that knows not victory nor defeat.
~Theodore Roosevelt

~~~~~~~~~~~~~~~~~~~


"Victory is not found in the ease of our circumstances, nor in the strength of our own resources, but in the presence of the Lord, who is with us" Roy Lessin

We must all suffer from one of two pains: the pain of discipline or the pain of regret....jim rohn

No discipline seems pleasant at the time, but painful. Later on, however, it produces a harvest of righteousness and peace for those who have been trained by it." -- The Bible (Hebrews 12:11)


Yes, the risks of training - when you put your heart and soul into training and striving after a goal - are real.
I love a quote I recently read:
"When you get hurt and all your sacrifice adds up to nothing....are you willing to put it all on the line again?" -- Conrad Sholtz.
______________

In my opinion, real champions and athletes are revealed not only when you have the perfect performance, or triumphantly achieve your personal goals. To me, the heart of a champion is truly forged and shows itself most starkly and brightly when disappointment strikes....when you face obstacles, whatever they may be - whether it's an injury, not running your best time, an unforseen circumstance or illness that sidelines your athletic pursuit- and instead of quitting, you resolve that you won't give up! Instead, with courage and determination, you choose to maintain heart and passion, you continue to press on, to keep striving, to get back up over and over again and keep pressing forward towards the goal - to me, this is what the heart of a real champion, a real athlete, is all about - Sue Justice (OnEaglesWings)

~~~~~~~~~~~~~~~~~~~~~
"The credit belongs to the man who is actually in the arena; whose face is marred by dust and sweat and blood; who strives valiantly; who errs and comes short again and again; who knows the great enthusiasms, the great devotions, and spends himself in a worthy cause/who at the best knows in the end the triumph of high achievement; and who at the worst, if he fails, at least fails daring greatly."

~Theodore Roosevelt
Motivational Quotes

~~~~~~~~~~~~~~~~~~~~
"It must be borne in mind that the great tragedy in life is not in failing to reach all of your goals--it is in having no goals for which you are reaching.

It is not a calamity if somehow you die with dreams unfulfilled but it is a calamity not to dream.

It is not a disgrace if you fail to reach the stars, but it is a
disgrace if you have no stars for which you are reaching.

It is not a disaster if you fail to achieve your highest ideals,
but it is a disaster if you have no high ideals for which you are striving. Not failure, but lower aim is sin."
~Benjamin Elijah Mays - Former President Of Morehouse college
~~~~~~~~~~~~~~~~~~~~~~~~
Other quotes I like: "Happiness is pushing your limits and then watching them back down." (Runner's world ad)

"You're no wimp. You got what it takes" - saw this in bold in some magazine. I love it!

"Optimism is the faith that leads to achievement. Nothing can be done without hope and confidence." ~ Helen Keller

"If we don't change, we don't grow. If we don't grow, we are not really living. Growth demands a temporary surrender of security." ~ Gail Sheehy

"I have been impressed with the urgency of doing. Knowing is not enough; we must apply. Being willing is not enough; we must do."
~Leonardo da Vinci

"We gain strength, and courage, and confidence by each experience in which we really stop to look fear in the face…we must do that which we think we cannot."
~Eleanor Roosevelt

"The key to change is to let go of fear."
~Rosanne Cash

"If you discipline yourself today, you'll enjoy your life more tomorrow."
~Vicki Hitzges


"Courage is going from failure to failure without losing enthusiasm."
~Winston Churchill

"There are those days when it's hard to put one foot in front of the other, but those are the days when champions are created. It's about making the most of the minutes you are given."
~David McNally

Jeff Olson, for the first 20 years of his life, thought he was destined for nothing but failure and trouble. But, after discovering something he calls the Slight Edge philosophy, his whole life changed!
So, what is this philosophy? It comes down to this: You can create any life you want-but not all at once, and only by using your philosophy and the secret of time. Little steps, compounded over time, make the difference. The little things you do each day do matter.

"Many of life's failures are men who did not realize how close they were to success when they gave up."
~Thomas Edison

"If I want to be the person I want to be, I have to quit being the person I was." - Tsunamii
~~~~~~~~~~~~~~~~~~~~
"This is your life. Are you who you want to be?" This phrase is my motto. It means this is your life and no one else's. So if you aren't happy with who you are or the circumstances you're in, the only person who can change that is YOU! There's so much more to life than just getting by." ~ from "THESHOEFITZ" sparkperson
~~~~~~~~~~~~~~~~~~~~
It kind of reminds me of the saying that I used to hear a lot regarding my career which was that you need to dress for the job you want, not the job you have.

"If I want to be the fit person that I desire, and achieve the "look" I'm looking to achieve, I'm going to have to change how I am. I can't keep doing the things I was doing in the past. I'm changing my ways, slowly but surely."
Posted by: jeannie
~~~~~~~~~~~~~~~~~
All the so-called "Secrets of Success" will not work unless you do. That is the secret...you have to do some WORK. Plan your meals. Shop for what you need. Prep your food for the week. Pack your cooler every morning. Drink your water. Plan your workouts. Set the alarm if you do am. Pack your clothes if you go to the gym. Plan your work, then work your plan. (from Corinne - Phit - N-Phat website)

~~~~~~~~~~~~~~~~~~~~~~~~~
If you only knew how many obstacles you've ALREADY overcome to get to where you are now...

If you only knew how many goals you've ALREADY achieved to be at the point in your life where you're reading this message...

If you only knew just how many miracles you've ALREADY performed in the pursuit of the life you now live...

If you only knew...

...nothing would ever frighten you again.

...nothing would ever seem impossible.

...no dream would ever seem to big.

And you'd be smiling, laughing and giving yourself the biggest pat on the back you could and marvelling at the amazing things you've accomplished already.

And you'd have a deep sense of gratitude for everything that led to here and now and waiting with baited breath for miracles waiting just around the next corner.

If you only knew...
- Dax Moy

(My frame of reference for the above poem -- "every good and perfect gift comes from the Father above." Anything good in my life is because I have a good and loving God who cares about me! Even what appears "not so good" at the time is "all working together for good for me, because I love God and trust Him, and am called according to HIS good purposes. His will for me is always in my very best interest. He's always working on my behalf out of HIS infinite loving heart! "God is able to do far over and above all I could dare to ask or imagine ACCORDING TO HIS POWER THAT WORKS WITHIN ME." Ephesians 3:20)
~~~~~~~~~~~~~~~~~~~~~~~~~~~

Current Goals as of January 2010:


-- no starchy carbs on meal 4&5
-- keep nut intake to one serving per day


* I need to watch portion sizes. (i'm eating healthy, but just too much of healthy. ha!)
*stick with 5 mini meals (no mindless snacking between mini-meals!!! Especially nuts and raisins - mucho calories add up fast!)
*Increase fruit and veggies.

current plan:
cardio 3 days a week
weight lift (full body) 3 days per week.
Sunday is rest day.

Current goals:

1/27/10 Continue to lose body fat (drop from 25% to 23% by July 2010, and a lose 4 pounds. (done! 5/17/10!)

Get personal trainer certification accomplished in 2010 - DONE! (9/19/10)

Use what I have learned about health and fitness to "spark" others on their own fitness and personal transformation journey!


SparkFriends

SparkTeams

Interact with ONEAGLESWINGS






Recent Blogs:

Profile


Member Since: 8/18/2007

SparkPoints: 3,225

Fitness Minutes: 0

My Goals:
Goal: get certified as personal trainer this year (2010) - DONE!!! 9/19/10 Woo-hoo!

Goal nutrition: eat clean 90% of time.

One cheat meal per week.

drop BF from 25% to 23% by July 2010
Drop weight from 137 to 133 by July 2010
Done 5/17/10!

New goal: drop weight to 130; body fat to 21% by Nov. 2010

I am really enjoying finding out just what kind of transformation is possible! I haven't fully discovered my potential in terms of fitness, so I see this as an "adventure of discovery" with God.

Since overcoming breast cancer in '08, I am that much more aware of the tremendous gift of life, and of loving relationships -- I plan to honor this "second chance" of opportunity of living, by focusing on loving those in my life with the best quality of love and care I can give (through the help of God!). I also want to be in the best shape of my life - that I may have plenty of energy and vitality to serve and love others,

My Program:
Running or some form of aerobics - 4 days per week;
weight lift 2 days a week

Sunday is rest day.



Personal Information:
I'm a 52 years old, married to my best friend in the world, and mother of two wonderful teens.

Plan to get certified as Personal trainer in 2010.
-- DONE! 9/19/10!!

worked at local gym (hired at YMCA as fitness instructor 12/10!)

Returning to work fulltime as a nurse 3/25/11 - got those college bills coming up soon for our sons! Working as a fitness trainer will have to sit on the backburner for awhile.

Other Information:
I love family life - enjoying my hubby and two sons!. I love reading, hiking, running, rollerblading, and travel when we get a chance.
I thoroughly enjoy adventure and testing my limits. I've skydived, run a marathon, and half marathon, taken rugged backpack trips, tried rock climbing, parasailing, snorkeling. I enjoy the outdoors and adventure.

Profile Image