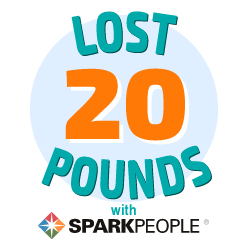 I have 23 pics in my gallery

Awards

Future so bright I gotta wear shades!
I will not be the victim, I AM the victor!

Dealing with Multiple Sclerosis and being overweight has been a real struggle. But it's not anything I can't do, I've already faced a lot of adversity growing up. It made me smart, tough and the rebel I am.

I put on quite a bit of weight 8 years ago when MS took my legs out. MS is like an unwanted houseguest, arrives uninvited and then won't leave! I got back on my feet by working hard with my physical terrorist and haven't ...
I will not be the victim, I AM the victor!

Dealing with Multiple Sclerosis and being overweight has been a real struggle. But it's not anything I can't do, I've already faced a lot of adversity growing up. It made me smart, tough and the rebel I am.

I put on quite a bit of weight 8 years ago when MS took my legs out. MS is like an unwanted houseguest, arrives uninvited and then won't leave! I got back on my feet by working hard with my physical terrorist and haven't had a serious setback since - just little stumbles.

I exercise and start to do really well, and then MS comes a-callin' again and makes it difficult to exercise or brings the pain that I know so well. It's difficult to focus on losing weight and exercise when the pain comes but i will do it and I will win. One of my mottos is "this too shall pass", and it always does.

I thank the Lord everyday that I'm doing as well as I am. I know so many more with MS -or other woes for that matter- that have it much worse. I have the most supportive and caring husband anyone could ask for. I was very smart to choose someone so well when we were both so young. If I had known then that MS would be in our lives, I couldn't have chosen better for a mate and caregiver.

I hope anyone who suffers from any illness, has any struggles or strife to overcome - God is with you every step of the way. He's who is carrying you, when you only see one set of footprints in the sand. Believe in Him and YOURSELF - then nothing can stop you from succeeding in life and exceeding your goals.

Peace 2 u all !! ~ ~ pj



SparkFriends

SparkTeams



My Ticker:
Pounds lost: 0.0

Interact with NAPAVALLEYNANA






Recent Blogs:

Profile


Member Since: 9/12/2009

SparkPoints: 0

Fitness Minutes: 1,290

My Goals:
To be at my fighting weight by 40th wedding anniversary -Nov. 3, 2013.

Put MS in the dust and get on with life!

To WANT to shop for clothes again and look good wearing them.

To wear clothes that show a waistline!

My Program:
Keep nutrition log, track exercise, drink enough water - have fun!

Personal Information:
Married 1973 to my greatest friend, 2 grown sons, 1 gorgeous grandaughter, 2 of the cutest dogs ever.

Live in beautiful Napa Valley - the Tuscany of the U.S. I love all things Italian -the language of love, food, wine and familia! Lush vibrant colors, ancient relics and sparkling aqua waters of Lake Como. Ciao bella!

If you like contact me @
pjayrob@comcast.net

Other Information:
When you don't know where you're going every road takes you there.



Profile Image