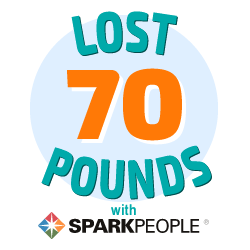 I have 20 pics in my gallery

Awards


I have super powARZ!
* SUMMONS courage to cross over to boys' side of gym!
* BOUNDS over roots during trail hikes
* able to MIND CONTROL a plate of warm brownies!
* TRANSFORMS slip-ups into learning experiences !
* can DIVIDE and CONQUER huge restaurant portions!
* SLASHES calories in favorite recipes!
* LEAPS back on the wagon !
* LIFTS heavy stuff up and puts it down!
* DEMOLISHES excuses!
* REBOUNDS from injuries, illness, and ennui
* WRANGLES leftovers ...
* SUMMONS courage to cross over to boys' side of gym!
* BOUNDS over roots during trail hikes
* able to MIND CONTROL a plate of warm brownies!
* TRANSFORMS slip-ups into learning experiences !
* can DIVIDE and CONQUER huge restaurant portions!
* SLASHES calories in favorite recipes!
* LEAPS back on the wagon !
* LIFTS heavy stuff up and puts it down!
* DEMOLISHES excuses!
* REBOUNDS from injuries, illness, and ennui
* WRANGLES leftovers into submission!
* PLANS a party with some healthy snack choices to everyone's relief!
* GROWS real food right out of the ground!
* LOVES the people who don't always deserve it!
* fearlessly LOOKS on the side of white hot brightness!

I also possess
+ WISDOM gained from past
+ MICROSCOPIC VISION to read those teeny food labels
+ ESP (Enthusiasm for Spark People)
+ BULLET-PROOF commitment
+ super-CONFIDENCE (not really but I fake it)
+ the amazing ability to HEAL
+ HUMOR which can get me through anything
SparkFriends

SparkTeams



My Ticker:
Pounds lost: 2.0


Recent Blogs:

Profile


Member Since: 7/25/2009

SparkPoints: 44,004

Fitness Minutes: 9,346

My Goals:
Started out hoping to lose 10% and, amazingly...it happened! I have lost 70 pounds so far and I am soo much stronger!

When I reach my next goal, I am going hiking at Glacier National Park!

Eat food. Not too much. Mostly plants.



My Program:
Going to ITALY
Rewards:
70 - new sheets
68 - prize
65 - good desk speakers
63 - prize
60 - porch cushions
58 - prize
55 - sneakers
53 - prize
50 - BR comforter
________________

40 - outdoor easel - use

30 - nice raincoat

20 - trip to ITALY

10

00 - trip to Seattle

90

80 - horseback riding

70

60

50 - trip to Italy

__________
Future rewards: trip to IRELAND!!
Yoga class, kayak, horseback riding, Hiking trip to Glacier NP,
Trip to beach,Take a ceramics class, New bike, Flying lesson! Trip to Italy when I reach goal!

Personal Information:
I'm happily married with two amazing twenty-something children who inspire me every day. I teach at a university.

"Tell me, what is it you plan to do
with your one wild and precious life?" -- Mary Oliver, "The Summer Day"



Other Information:
"Uva Uvam Vivendo Varia Fit"



Profile Image