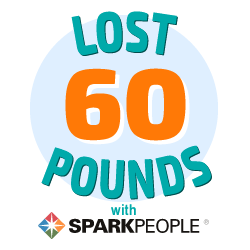 I have 3 pics in my gallery

Awards

Beautiful Either Way
I had a brief set back with my battle with Crohns disease. I had to begin taking Steroids which makes it almost impossible for me to eat right. I had surgery at the beginning of the year and I am off the "juice" and am back at eating right, becoming health and losing weight... Short Term Goal of 45lbs down by the Spring 2013 LETS GET IT
Short term goal #1 10 by 12/31/2012
#2 Lose total of 45lbs by April 16th 2013
#3 weigh 195lbs by June 1 2013
Holding myself accountable ...
I had a brief set back with my battle with Crohns disease. I had to begin taking Steroids which makes it almost impossible for me to eat right. I had surgery at the beginning of the year and I am off the "juice" and am back at eating right, becoming health and losing weight... Short Term Goal of 45lbs down by the Spring 2013 LETS GET IT
Short term goal #1 10 by 12/31/2012
#2 Lose total of 45lbs by April 16th 2013
#3 weigh 195lbs by June 1 2013
Holding myself accountable ...

Weigh ins-
11/27/12 -255.6
12/04/12 -251.2
12/11/12 -
12/18/12 -
12/25/12 -
01/01/13 -
01/08/13 -
01/15/13 -
01/22/13 -
01/29/13 -
02/04/13 -
02/11/13 -
02/19/13 -
02/26/13 -
03/05/13 -
03/12/13 -
03/19/13 -
03/26/13 -
04/02/13 -
04/09/13 -
04/16/13 -
SparkFriends

SparkTeams

My Ticker:
Pounds lost: 12.0


Recent Blogs:

Profile


Member Since: 8/25/2009

SparkPoints: 7,601

Fitness Minutes: 3,948

My Goals:
Lose 120 pounds

BE HEALTHIER

Complete a 21 day Detox Diet (5/22/2012)

Finally fit a single digit pair of jeans =)

Size 8 to be exact

Ride Roller coasters (Met May 25th 2012, except superman)


Wear Knee boots (not extended size)
Short term Goals:

Lose 30 lbs by June 16th

Lose 50lb (total) by October 2015

Lose 80lb July 2016

My Program:
Eat less
track calories
no soda, pork, fried foods, and junk snacks

Move more, gym twice a week, Roller Skate

Personal Information:
Single Mother of two always battled with being overweight so ready to shed these pounds!!!!!

Other Information:
"Our greatest fear is not that we are inadequate but that we are powerful beyond measure" -Marianne Williamson~Nelson Mandela