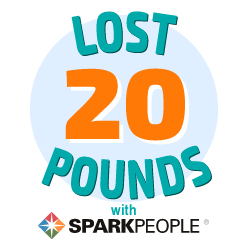 I have 20 pics in my gallery

Awards

2013 will be my year!
With bathing suit season approaching, it's time to get to work!

I'm determined to lose weight this summer.


-------------------------------

Background on me:

During my first pregnancy I became gestational diabetic and although it disappeared after the delivery, I became prediabetic a year later. That scared me and so I focussed and lost 50-60 lbs before my next pregnancy.

I didn't go diabetic during my second pregnancy ...
With bathing suit season approaching, it's time to get to work!

I'm determined to lose weight this summer.


-------------------------------

Background on me:

During my first pregnancy I became gestational diabetic and although it disappeared after the delivery, I became prediabetic a year later. That scared me and so I focussed and lost 50-60 lbs before my next pregnancy.

I didn't go diabetic during my second pregnancy (and my sugar numbers are still fine) but unfortunately, food aversions did me in and I ended up gaining back a good portion of the weight.

I managed to lose a solid 50lbs of weight in 2008 but gained back most of it due to chronic sinus infections and a car accident. (I couldn't exercise because of bad whiplash and I stress ate.)

Turning 40 hasn't been fun for me. I've had a multitude of injuries and ailments... pulled ligaments in my left hip, pulled IT Band on my right hip, plantar faciitus on my right foot, heel injury on my left and weird intestinal/stomach pain. Hoping some weight loss and a new year will result in positive physical changes!

- Nicole
SparkFriends

SparkTeams



My Ticker:
Pounds lost: 0.0


Recent Blogs:

Profile


Member Since: 1/1/2008

SparkPoints: 18,081

Fitness Minutes: 10,407

My Goals:
Main Goal:
- Lose 60 - 80 lbs

Mini Goals
1. Lose 10 lbs - accomplished Feb 18, 2012
2. Lose 20 lbs
3. Lose 30 lbs

My Program:
My husband has colitis and has been doing the SCD diet to help with his pain. He's also experienced the positive side effect of weight loss! I'm doing the SCD diet too now as a way to support him and lose some weight at the same time. :)

Personal Information:
Born in small town Ontario, I now live in Mississauga, ON (Canada).

I've been married for almost 10 years and I have two awesome children.

I work full-time as a Sr Marketing Manager for a major financial institution in Canada. (And I love my job.)

Profile Image