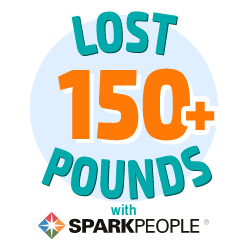 I have 31 pics in my gallery

Awards


I can't! God Can! I think I'll let God!
With God's help I am finally making changes in my life that are allowing me to lose the weight, gain sanity and peace that will lead to health. I hope to get motivation, ideas and encouragement here as well as help others along the way.

UPDATE: Although I dont come here as often as I used to, I still come often enough. There is just so much good stuff! In November (2009) I reached my goal weight! Hurray for me. And now the really hard work begins. I have been maintaining my ...
With God's help I am finally making changes in my life that are allowing me to lose the weight, gain sanity and peace that will lead to health. I hope to get motivation, ideas and encouragement here as well as help others along the way.

UPDATE: Although I dont come here as often as I used to, I still come often enough. There is just so much good stuff! In November (2009) I reached my goal weight! Hurray for me. And now the really hard work begins. I have been maintaining my 180lb. loss for 15 months and counting . Maintenance is as hard or HARDER than losing but it is so worth it. This is not about a diet, but a lifestyle change and THIS life is so much better than the old one. Please note my current goal weight is a combination of wishful thinking and the fact that it must be lower than what I weigh today so who knows maybe someday I will have to lower it again.... I encourage anyone new to SP to join a team or a few teams and get active. You will learn so much about yourself, health, and even the topic of your team.

UPDATE 2-3-13 After regaining about 15 lbs. I have started getting really serious about getting back to my goal weight. I lost about 5.5 in January and continue to drop nicely back to my goal. Maintenance is hard but I REFUSE to go back. Although I gained 15 pounds, I can honestly say it was ONLY 15 pounds. In the past I would have gained 15 pounds in a week and just headed back up to my top weight and then some. So, I congratulate myself for only losing my way for a short time. Im healthy and heading back to my goal weight.

love and peace
Ann
SparkFriends

SparkTeams


This user doesn't belong to any groups

My Ticker:
current weight: 164.4


Recent Blogs:

Profile


Member Since: 7/8/2007

SparkPoints: 11,214

Fitness Minutes: 1,510

My Goals:
My first mini goal was met on 8/27/07
My second mini goal was to get to 225 by 12/24/07. Better late than never....reached on 1/10/08
next mini goal 199 by 6/16/08 met 6/20/08

mini goal 175 by 12/25/08
met Feb '09 better late than never

reached GOAL ...November '09
WW lifetime member ......Jan '10
current goal maintain 180lb weight loss which is my WW lifetime goal with a bit a wiggle room to stay at a healthy BMI which is what my doctor wants. Of course I would not mind dropping another 5-10 but that would be in God's hands

My Program:
My program is ever changing and evolving as I take baby steps to good health. Currently these are the baby steps I have followed.

The first step has to do with the food. Ok currently I am trying Weight Watchers as my food plan. I am learning to eat in a healthy sensible manner.

The next 5 steps are behavioral.

1. I DO NOT eat in my car - at all!

2. I Do NOT eat after 9 pm!

3. I have 3 meals and 1 snack to avoid hunger.

4. I never eat cookies or drink coke as they are both big trigger foods for me, but otherwise I eat what I like as long as I keep within the previous guidelines. UPDATE my trigger food list is everexpanding

5. No eating in the bedroom.

Personal Information:
I am a mother of 3 grown kids. A grandmother of the 2 cutest little boys in the world and the most beautiful little girl in the world. A wife, a daughter, a sister, an aunt and a teacher. Each of these roles is important to me.

I live in Queens, NY and teach 4th grade in the greatest city on earth!

Other Information:
"No one can make you feel inferior without your permission."

--Eleanor Roosevelt
Today's Thought

I am but one, but I am one;
I can't do everything ,
but I can do SOMETHING;
What I can do, I ought to do,
What I ought to do, God helping me,
I WILL DO.

~from The Twelve Step Prayer Book

~~ Beauty of a Woman ~~
The beauty of a woman is not in the clothes she wears,
The figure she carries, or the way she combs her hair.
The beauty of a woman must be seen from her eyes,
Because that is the doorway to her heart,
The place where love resides.
The beauty of a woman is not in a facial mole,
But true beauty in a woman is reflected in her soul.
It is the caring that she lovingly gives,
The passion that she shows.
The beauty of a woman
With time, only grows..

-author unknown

Profile Image