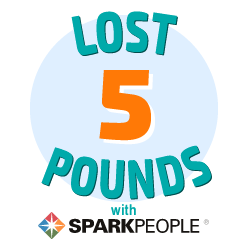 I have 3 pics in my gallery

Awards

miss chantilly -the calorie counter
hi evryone i lost 48 pounds last year and the put 20 pounds back on BUT that was before i found sparks
so yes
im a yo yo dieter struggling to control that urge to eat.
im an emotional eater and will eat for any emotion -happy or sad .
i have to admit to being a binge eater in secret usually at night
i want to lose another 28 pounds this year and believe me there is a lot more to go




THIS IS MY NEW PERMANENT EATING PLAN OF ACTION ...
hi evryone i lost 48 pounds last year and the put 20 pounds back on BUT that was before i found sparks
so yes
im a yo yo dieter struggling to control that urge to eat.
im an emotional eater and will eat for any emotion -happy or sad .
i have to admit to being a binge eater in secret usually at night
i want to lose another 28 pounds this year and believe me there is a lot more to go




THIS IS MY NEW PERMANENT EATING PLAN OF ACTION DEVELOPING

pre plan wednesday night supper before i go out (no chance then of chippy) buy thin individual pitza

choose a curly wirly (NEVER SUPERSIZE TWIX)

eat baked beans or scrambled egg on toast when in town with friend for lunch NOT DINNER +CHIPS

at restaurant try to get menu and pre ordre so cant stray from choices (also request no cheese or extras)
NO STARTER,CHICKEN BASED MEAL ,ICECREAM

in kfc choose filet burger NOT bargain bucket

make homemade wedges (using potatos, carrots and sweetpotatos+spices/herbs) NOT buy CHIPS

NEVER BUY pkt of doughnuts on cheap sale as i will eat them all

no to SCONES have a toaste fruit t cake +jam and squirty cream

sweet extras buy in singles packet at hospital cafe, grandmas kitchen cafe, NO MORE big packets

SUNDAY ask for NO COLESLAW AND NO POTATO SALAD give me extra peppers tomato and cucumber instead PINCH a handful of hubbys chips NONE OF MY OWN

scrambled EGG ON TOAST IS NOW 1 EGG AND 2 WHITES

BREAD is always diet bread 1 or 2 slices 60 cals a sliceweight/w

MARGARINE is always diet extra light flora

MAYO/salad cream is minimum /extra light + down with sk milk

tomato relish with seafood on pitta bread(toasted)

fish 3 times a week (2 lunches 1 mainmeal) plain cooked

a 16 ounce portion of roasted/grilled vegetables twice a week with low fat/calorie sauce for evening meal

use grilled red peppers instead of a bread roll base for food

ive decided that i need 2 snacks a day minimum to survive

buy a packet of biscuits and clingfilm wrap into portions of three, store in caravan

use ribena to flavour water 1 sml glass is 150% vit c daily



OK SO NOW IM STARTING TO TRY AN EXCERSIZE PLAN(something that can be PERMANENT)

EXCERSIZE CLASS monday morning
LINEDANCE every wed night (thats easy bit of the plan)
GYM burn 100 cals once a week on tues or frid + leg strength
DANCE FRI/SAT evening if organised or ?
PARTNER DANCE sunday afternoon

ADDITIONAL ACTION/PREVENTION PLAN

dont buy chocolates for anyone at xmas i know i will only binge if each box has 1000s calories 5 boxes = 5000 calories keep in caravan any goodies

put bulk bought snacks in caravan

take own plated and calories counted buffet out with me

when visiting colne eat before i leave her house (its a long drive home full of temptations)

eat before shopping (think of other tactics)

only buy what i need
it may cost moreŁ but your waiste will benefit
quality not quantity
organise an group of excersize friends
SparkFriends

SparkTeams



My Ticker:
current weight: 194.0

Interact with MISSCHANTILLY







Recent Blogs:

Profile


Member Since: 11/27/2007

SparkPoints: 0

Fitness Minutes: 382

My Goals:
just to be slimmer and maintain any loss i make
any changes i make are to be permanent and realistic
THINK
may CAMP clothes
july 50th party clothes
sept HOLS ABROAD-bikini
Walk without pain
the WOW factor

My Program:
i believe in calorie counting . it may be old fashioned but it works when i do it
HONESTY IS THE BEST POLICY
DO PERMANENT(intro txt)
find a way -my way


Personal Information:
england... but dont let that put you off
Im here for the good days and the bad
i ve a very large family
I love dancing
im a party animal
LIVE LIFE TO THE FULL

Other Information:
i love country western clubs,partner and linedancing.


Profile Image