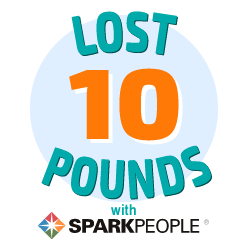 I have 11 pics in my gallery

Awards

Finally taking it into my hands
Hey, I'm Paola (Pao for short). I'm finally trying to do something about getting healthier. I have my gym membership (which isn't doing me too much good if I don't go but I'm getting myself motivated) and am trying to get some good info on how I can be healthier.

Check out my random ramblings at http://micalia.wordpress.com

"You had to give it to him. He had a plan. And it started to make sense in a Tyler sort of way. No fear, no distractions. The ability to let ...
Hey, I'm Paola (Pao for short). I'm finally trying to do something about getting healthier. I have my gym membership (which isn't doing me too much good if I don't go but I'm getting myself motivated) and am trying to get some good info on how I can be healthier.

Check out my random ramblings at http://micalia.wordpress.com

"You had to give it to him. He had a plan. And it started to make sense in a Tyler sort of way. No fear, no distractions. The ability to let that which does not matter...truly slide." -Narrator, Fight Club


SparkFriends

SparkTeams



My Ticker:
current weight: 191.0

Interact with MICALIA_PAO






Recent Blogs:

Profile


Member Since: 4/24/2008

SparkPoints: 18,866

Fitness Minutes: 11,583

My Goals:
I'd like to be able to walk around my apartment without trying to avoid the mirrors. (Ha!)

I'd like to be able to do the things I want without having to worry about being too tired.

I promise to:

*Think about my choices before I make the wrong ones.
*Be accountable for the wrong choices and fix them!
*Eat more negative calorie foods and fruits and veggies. Actually eat the carrots I have in the office fridge.
*Stay with in my calorie range and Work out 5 days a week.
*Pack my lunch to bring to work atleast 4 times a week.
*Do at least 20 minutes of cardio a day.
*Drink 100oz of water daily.
*Track my goals daily, including food, cardio, and team goals.
*Leave at least one positive post on a fellow Monkey's page.
*I will check in with my AP atleast 5 times a week.
*And... with my fellow monkey's help - push myself to limits I thought were not possible.

My Program:
EXERCISE-- that is the one thing I struggle with. I actually enjoy it but am not good with consistency and that's what is biting me in the butt (well actually the belly). A work in progress, absolutely but I'm trying to stay consistent with my food intake but I DEFINITELY need to work on my Exercise.

Personal Information:
Hey all, I'm originally from New Jersey but found myself out west after going to grad school for geology. Hey, California's a good place for geologists... imagine that!

I've been struggling with my weight since I learned to put food into my own mouth. I figure it was time that I did something about it and now I am... everyone here's been super great and I'm excited to see what I can do now that I put my mind to it... the key is keeping up the motivation... so wish me luck and I'll see you all around.

Profile Image