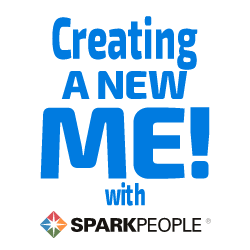 I have 9 pics in my gallery

Awards

Geauxing where this Fat girl has never gone before ...
I learned this morning from an SP trivia that:
The "fat burning zone" business is very misleading. Itís true that low intensity exercise uses more fat as fuel and that moderate intensity exercise (that you can maintain for 20 minutes or more) burns both fat and glucose. But, you're better off exercising in the aerobic zone as much as you can, because exercising at this higher intensity burns more total calories. You will burn a larger percentage of fat in relation to glucose when you are ...
I learned this morning from an SP trivia that:
The "fat burning zone" business is very misleading. Itís true that low intensity exercise uses more fat as fuel and that moderate intensity exercise (that you can maintain for 20 minutes or more) burns both fat and glucose. But, you're better off exercising in the aerobic zone as much as you can, because exercising at this higher intensity burns more total calories. You will burn a larger percentage of fat in relation to glucose when you are working at a lower intensity, but you will also burn fewer total calories and less total fat. The relative percentage of fat burned has nothing to do with weight lossóit's the total amount calories burned that counts.
*/*/*/*/*/*/*/*/*/*/*/*/*/*/*/*/*/*/*/*/
Hello, I am Margeaux ... I'm trying to Lose weight. The SP calculator says if I eat right & exercise, I should be able to weigh 146 by Christmas. We'll see if I can do it.

Here's a 3 Ingredient recipe for eating KaLe =

http://www.nbcwashington.com/news/health
/An_Easy_Way_to_Add_Kale_to_Your_Diet_
Washington_DC-127954773.html


SparkFriends

SparkTeams



My Ticker:
current weight: 177.6


Recent Blogs:

Profile


Member Since: 8/2/2011

SparkPoints: 0

Fitness Minutes: 0

Personal Information:
Since being @ SP, I've learned about the importance of drinking LOTS of water and eating smaller meals, but more of them each day. This has contributed to me losing some weight and not having cravings, which have lead to me eating out of control, and then regaining weight that had been lost.

Other Information:
I recently started College & am in the Medical Office Admin program. I am due to graduate in 2014.

Profile Image