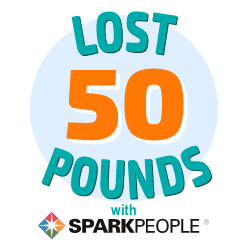 I have 5 pics in my gallery

Awards

Every Journey Begins with a Single Step...
I have been trying to lose weight, forever it feels like. It is hard for me to even admit that I have let myself go this far. All throughout highschool I was an athlete. I hate, not even the weight, but how the weight has changed who I am. I have a loving boyfriend who is sooo supportive and believes in me. I am going to LITERALLY work my ass off and try my hardest to get healthy!!

-Morgan

-25 lbs - Get my hair done at a fancy place! ACCOMPLISHED SEPT. 22/10!!!! ...
I have been trying to lose weight, forever it feels like. It is hard for me to even admit that I have let myself go this far. All throughout highschool I was an athlete. I hate, not even the weight, but how the weight has changed who I am. I have a loving boyfriend who is sooo supportive and believes in me. I am going to LITERALLY work my ass off and try my hardest to get healthy!!

-Morgan

-25 lbs - Get my hair done at a fancy place! ACCOMPLISHED SEPT. 22/10!!!!
-40 lbs - New Outfit, head to toe :) ACCOMPLISHED DEC. 1/2010
-50 lbs - New Work Out Clothes!
-65 lbs - Nose Pierced....eeeeek! ACCOMPLISHED SEPT. 13, 2011
- 75 lbs- Shopping Spree!!
-90 lbs - Massage!!
-100 lbs- Throw myself a weight loss party!!! Veggies and wine all around!
-112 lbs - Belly Button Pierced....EEEK!
-125 lbs- New wardrobe
-150 lbs- Photoshoot to show off the fabulous new me!!!


Running Goals -

Run 1 Mile (the whole mile) -
Run/Walk 3k -
Run 3K -
Run/Walk 5k -
Run 5k -

SparkFriends

SparkTeams



My Ticker:
Pounds lost: 62.6


Recent Blogs:

Profile


Member Since: 3/31/2008

SparkPoints: 0

Fitness Minutes: 195

My Goals:
Lose 50lbs by Dec. 25, 2010.
ACCOMPLISHED!! DEC.24/2010
-Gained 7 pounds back.

Reach 50lbs lost again by - ACCOMPLISHED APRIL 12, 2011

Lose 100lbs by August 2nd, 2012

My Program:
I am a Weight Watcher's Online member.

I run daily and am currently doing the 30 Day Shred!

Profile Image