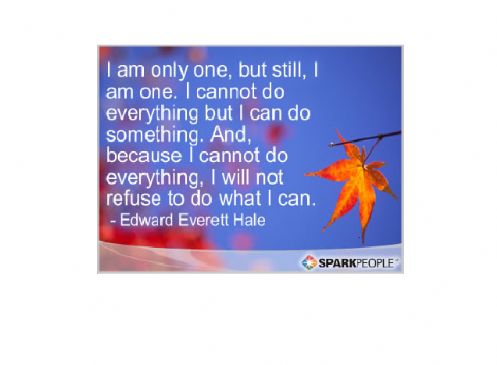 I have 11 pics in my gallery

Awards

I WILL Make 2011 MY Year!
PS~~~ When I wrote the words below I was sure I could make it... I was wrong... Now I need to not only start again but have so much more to lose.... here's to health!

I'm a 51-year-old mom to 5 (ranging in ages from 17 to 34) I need to be able to show them that you are never too old (or young ) to make positive changes in your lifestyle. I want to do this for them but this time I also want to do it for me. I have been an emotional eater all my life but it is only as an adult ...
PS~~~ When I wrote the words below I was sure I could make it... I was wrong... Now I need to not only start again but have so much more to lose.... here's to health!

I'm a 51-year-old mom to 5 (ranging in ages from 17 to 34) I need to be able to show them that you are never too old (or young ) to make positive changes in your lifestyle. I want to do this for them but this time I also want to do it for me. I have been an emotional eater all my life but it is only as an adult that the food has been holding on for dear life - clinging to my body like it actually Belongs there!!
I would love this year to be the year that my kids look at me and say "We Knew You Could Do It, Mom!"
I am blessed to have the loving support of my partner, Jim and all my huge family! I am looking forward to meeting and making many new friends on SP!

PS When I wrote the above words I was sure I could make it... I was wrong... Now I need to not only start again but have so much more to lose.... here's to health!
^*^*^*^*^*^*^*^*^*^*^*^*^*^*^*^
Optimist's Creed......God bless you on your journey to health.....

Promise Yourself
To be so strong that nothing can disturb your peace of mind.
To talk health, happiness, and prosperity to every person you meet.
To make all your friends feel that there is something worthwhile in them.
To look at the sunny side of everything and make your optimism come true.
To think only of the best, to work only for the best and to expect only the best.
To be just as enthusiastic about the success of others as you are about your own.
To forget the mistakes of the past and press on to the greater achievements of the future.
To wear a cheerful expression at all times and give a smile to every living creature you meet.
To give so much time to improving yourself that you have no time to criticize others.
To be too large for worry, too noble for anger, too strong for fear, and too happy to permit the presence of trouble.
To think well of yourself and to proclaim this fact to the world, not in loud word, but in great deeds.
To live in the faith that the whole world is on your side, so long as you are true to the best that is in you.

Christian D. Larson - 1912

%%%%%%%%%%%%%%%%%%%

To laugh often and love much; to win the respect of intelligent persons and the affection of children, to earn the approbation of honest critics; to appreciate beauty; to give of one's self, to leave the world a bit better, whether by a healthy child, a garden patch or a redeemed social condition; to have played and laughed with enthusiasm and sung with exultation; to know even one life has breathed easier because you have lived--that is to have succeeded.
~ Emerson

*********************************
Courage doesn't always roar.
Sometimes courage is the quiet voice at the end of the day saying, "I will try again tomorrow."
- Mary Anne Radmacher

+++++++++++++++++++++

"The difference between great people and everyone else is that great people create their lives actively, while everyone else is created by their lives, passively waiting to see where life takes them next. The difference between the two is the difference between living fully and just existing." -- Michael E. Gerber

I would love to be one of those Great People Mr. Gerber speaks of. I want to do more than exist!

~~~~~~~~~~~~~~~~~~~~~~~~~~~~~~~
What A Powerful Insight for me!!
HEALING THROUGH LETTING GO

Letting Go. Releasing. Moving on. These are words that come to mind when holding on to the status quo becomes too painful or takes too much energy.

Even when we're ready, it's seldom easy to let go. But when we do, both we and the other person can become the people we were meant to be οΏ½ loving without feeling we must control or be dependent on the other for our happiness.

The healing and release we feel when we're finally able to truly let go can't happen, however, until we allow a shift to occur within us, until we're ready for a new way of looking at things, a perspective that is expressed very well in the following poem called "What is Letting Go?"

To "let go" does not mean to stop caring. It means I can't do it for someone else.

To "let go" is not to cut myself off. It's the realization that I can't control another.

To "let go" is to admit powerlessness, which means the outcome is not in my hands.

To "let go" is not to try to change or blame another. It's to make the most of myself.

To "let go" is not to care for, but to care about.

To "let go" is not to fix, but to be supportive.

To "let go" is not to judge, but to allow another to be a human being.

To "let go" is not to be in the middle, arranging all the outcomes, but to allow others to affect their own destinies.

To "let go" is not to deny, but to accept.

To "let go" is not to nag, scold, or argue, but instead to search out my own shortcomings and correct them.

To "let go" is not to adjust everything to my desires, but to take each day as it comes and cherish myself in it.

To "let go" is not to regret the past, but to grow and live for the future.

To "let go" is to fear less and to love more.

οΏ½ Author Unknown

*&*&*&*&*&*&*&*&*&*&*&*&*&*&*&*&*&*&

Take up one idea. Make that one idea your life - think of it, dream of it, live on that idea. Let the brain, muscles, nerves, every part of your body, be full of that idea, and just leave every other idea alone. This is the way to success, that is way great spiritual giants are produced. - Swami Vivekananda

++++++++++++++++++++++++++++++++++

"You don't have to change that much for it to make a great deal of difference. A few simple disciplines can have a major impact on how your life works out in the next 90 days, let alone in the next 12 months or the next 3 years." -- Jim Rohn
SparkFriends

SparkTeams



My Ticker:
current weight: 265.0

Interact with MARYLOU1960







Recent Blogs:

Profile


Member Since: 1/14/2009

SparkPoints: 5,650

Fitness Minutes: 315

My Goals:
Goals

#1... Gain health

#2... Gain better self-esteem

#3... Gain a better knowledge of why I overeat so that I can deal with those issues that need to be dealth with

#4... Gain better exercise habits

#5... Gain a healthy weight ~ for me that is between 110 - 125 as I'm only 5' and a smile tall.

#6... Gain RESTFUL SLEEP ~ one of the drawbacks of being a Cuddling-type (aka FAT) is that I don't sleep very well.

My Program:
I am trying to drink 8 - 10 glasses of water a day.

I have increased my activity level by getting off my butt more so I'll have Less Butt to worry about getting up off of!

I read motivational material on a daily basis

I talk to others who are sharing the same journey and hoping that we will all gain a deeper understanding of who we are and where we want to go on this journey.

Personal Information:
I have lived my whole life~ to this point~ on beautiful Prince Edward Island (PEI) on the eastern coast of Canada. I love it here!! Beautiful rolling hills in all directions, serene views of rivers, streams and I'm within minutes of the beach in every direction as I live in the central rural area of PEI.

I am the oldest daughter and second oldest child in a family of 11 and love it! Growing up we were blessed with built-in best friends and luckily that has not changed much over the years.

My 3 beautiful grandbabies are special loves in my life. Aiden is a sweet little guy who is 3. His baby brother, Cameron is 2.

Amber is 12 and a bundle of energy and so much fun to be around.

Other Information:
I love learning!! Anything from crafts to the latest ideas in saving the planet. I love to read, make jewelry, sew, dance to my own drummer, draw (most would say doodle) and sing in the key of me.....

Profile Image