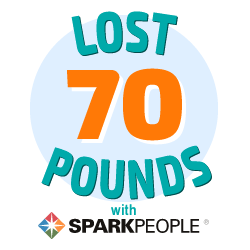 I have 10 pics in my gallery

Awards

Feelin' good from my head to my shoes!
Hello! My name is Lauren and I'm 27 years old. I live in Annapolis, MD with my husband, and I am an elementary school counselor.

I am (for the first time ever!) having success with my weight loss thanks to SparkPeople! I am now below my high school weight, so it's like I'm meeting an entirely new person. Take a look at my continuing journey below... I'm 5'3" by the way

WEIGH-INS:
8/24: 136 (-0.5)
8/17: 136.5 (-1.1) reached GOAL #5!
8/10: 137.6 (-1.5) ...
Hello! My name is Lauren and I'm 27 years old. I live in Annapolis, MD with my husband, and I am an elementary school counselor.

I am (for the first time ever!) having success with my weight loss thanks to SparkPeople! I am now below my high school weight, so it's like I'm meeting an entirely new person. Take a look at my continuing journey below... I'm 5'3" by the way

WEIGH-INS:
8/24: 136 (-0.5)
8/17: 136.5 (-1.1) reached GOAL #5!
8/10: 137.6 (-1.5)
8/3: no weigh in
7/27: 139.1 (-0.9)
7/20: 140.0 (+0.7)
7/13: 139.3 (-0.3)
7/6: 139.6 (+0.9)
6/29: 138.7 (-2.8)
6/22: 141.5 (-2.5)
6/21: reached GOAL #6! 5K in 27:42
6/16: 144 (+1.1)
6/8: 142.9 (-0.9)
6/1: 143.8 (+0.7)
5/25: 143.1 (-1.7)
5/18: 144.8 (+0.4)
5/11: 144.4 (-0.4)
5/4: 144.8 (-0.9)
4/27: 145.7 (-1.6) reached GOAL #4!
4/20: 147.3 (-0.4)
4/13: 147.7 (-0.2)
4/6: 147.9 (-2.1)
3/30: 150 (+0.7)
3/23: 149.3 (-1.3)
3/16: 150.6 (-0.5)
3/9: 151.1 (+0.7)
3/2: 150.4 (-3.5)
2/26: 153.9 (-0.4)
2/17: 154.3 (-0.7)
2/9: 155 (+0.2)
2/2: 154.8 (-0.4)
1/26: 155.2 (-2.2)
1/19: 157.4 (+0.4)
1/13: 157 (-1.5) reached GOAL #3!
1/5: 158.5 (-6.9)
1/1/13: 165.6 (+5.4)

2012
12/15: 160.2 (+0.4)
12/9: 159.8 (-0.9)
12/2: 160.7 (-1.6)
11/24: 162.3 (-0.2)
11/17: 162.5 (-0.6)
11/10: 163.1 (-2.9)
11/3: 166 (+2.2)
10/27: 163.8 (+2.0)
10/13: 161.8 (-5.2)
10/6: 167 (+2.2)
9/29: 164.8 (+1.0)
9/22: 163.8 (-2.2)
9/16: 166 (-1.3)
9/8: 167.3 (-1.5)
9/1: 168.9 (-1.5)
8/25: 170.4 (+1.1)
8/18: 169.3 (-2.9)
8/11: 172.2 (-2.1)
8/4: No weigh in
7/29: 175.3 (-1.1) reached GOAL #2!
7/22: 176.4 (-5.0)
7/14: no weigh in
7/7: 181.4 (-1.1)
6/30: 182.5 (+0.6)
6/23: 181.9 (-3.1)
6/16: 185 (-2.0)
6/9: 187 (-0.6) reached GOAL #1!
6/2: 187.6 (-1.4)
5/26: 189 (-1.4)
5/19: 190.4 (-1.5)
5/12: 191.9 (+0.7)
5/5: 191.2 (-2.2)
4/29: 193.4 (-4.6)
4/21: 198 (-3.3)
4/15: 201.3 (+0.2)
4/7: 201.1 (-5.9)
Starting Weight 4/1/12: 207


GOAL #1: to lose 20 pounds (187)
ACCOMPLISHED! 6/9/12

GOAL #2: to be 175 and no longer "obese" BMI
ACCOMPLISHED! 7/29/12

GOAL #3: to weigh 157 (-50 from starting weight)
ACCOMPLISHED! 1/13/13

GOAL #4: to weigh 145 at a "healthy" BMI
ACCOMPLISHED! 4/27/13

GOAL #5: to lose a total of 70 pounds (137)
ACCOMPLISHED! 8/17/13

GOAL #6: to run a 5K under 30 minutes
ACCOMPLISHED! 6/21/13 personal record: 27m42s

GOAL #7: to maintain my weight at a healthy BMI : )
SparkFriends

SparkTeams



My Ticker:
current weight: 161.0

Interact with MARYLANDTEACHER







Recent Blogs:

Profile


Member Since: 6/16/2010

SparkPoints: 14,381

Fitness Minutes: 3,963

My Goals:
I am working on maintaining my weight in the 130s.

I enjoy toning my muscles through POP Pilates videos on YouTube and my goal is to do cardio 3x a week.

My Program:
I am following SP's calorie ranges and trying to incorporate a lot of fruits and vegetables!

Personal Information:
My name is Lauren. I'm 27 years old and I live in Annapolis, MD.

Profile Image