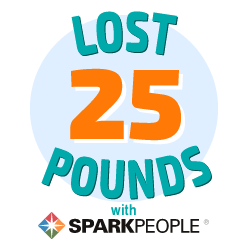 I have 6 pics in my gallery

Awards

"Strong is the new Skinny"
I am on a journey. Right now that journey has me back here, using the SP tools to get in shape and track my progress!

This phase of my journey involves new, supportive friends who have the same goals, and a shiny new gym membership! I've come to the realization that in order to reach some of my other goals (or at least reach them at my best!), I really need to focus on losing weight and getting healthy FOR LIFE!

FOR LIFE:
- My Life quality and longevity
- ...
I am on a journey. Right now that journey has me back here, using the SP tools to get in shape and track my progress!

This phase of my journey involves new, supportive friends who have the same goals, and a shiny new gym membership! I've come to the realization that in order to reach some of my other goals (or at least reach them at my best!), I really need to focus on losing weight and getting healthy FOR LIFE!

FOR LIFE:
- My Life quality and longevity
- Life with my family
- Future Life as a mom
- Life as a singer
- For ME!!

My goals:
- Get into the habit of an exercise routine (start off at 2-3 times per week)
- Lose 30-40 lbs by next May, then reassess
- Take vitamins daily
- Drink 6-8 cups of water daily
*********************************
First and foremost, I'm a follower of Jesus. I'm a wife, daughter, sister and I hope to become a mother once I graduate. I love singing (I'm a music major) and doing artsy things (knitting, crocheting, paper crafts, sewing, etc).

I'm tired of dieting. For me it's not so much about looking good - I love my curves! (Well, most of them...) - but being healthy so I can live life to the fullest. For the most part, I know what works for my body and what doesn't - I just have a hard time paying attention to what my body tells me (or I just outright ignore it for whatever reason).

I love food! I like all kinds of food, both healthy and unhealthy (oh to find the balance).

My goal is to adjust my lifestyle with a little online help so I know what my limits are and get that ingrained into my daily habits.

~~~~~~~~~~~~~~~~~~~~~~~~~~~~~~~~~~~~

Some Bible Verses I was given as encouragement on this journey:

"And so, dear brothers and sister, I plead with you to give your bodies to God because of all he has done for you. Let them be a living and holy sacrifice - the kind he will find acceptable. This is truly the way to worship Him. Don't copy the ways of this world, but let God transform you into a new person by changing the way you think. Then you will learn to know God's will for you, which is good and pleasing and perfect." ~Rom 12:1-2

"Don't you realize that your body is the temple of the Holy Spirit, who lives in you and was given to you by God? You do not belong to yourself, for God bought you with a high price. So you must honor God with your body." ~1 Cor 6:19-20

"I praise you because I am fearfully and wonderfully made; your works are wonderful, I know that full well." ~Psalm 139:14

~~~~~~~~~~~~~~~~~~~~~~~~~~~~~~~~~~~~

Measurements:

Begin - Current = difference
41.50 - 37.00 = 4.50 Waist (at belly button)
46.25 - 43.00 = 3.25 Hips
13.50 - 12.75 = .75 Neck
25.25 - 23.75 = 1.50 Right Thigh
25.00 - 22.75 = 2.25 Left Thigh
35.50 - 33.00 = 2.50 Ribcage
45.50 - 42.75 = 2.75 Bust
13.50 - 12.75 = .75 Right Bicep
13.50 - 12.75 = .75 Left Bicep

Total: 19
(1/31/10)
SparkFriends

SparkTeams

My Ticker:
current weight: 201.4

Interact with MARIEKEKNITS






Recent Blogs:

Profile


Member Since: 6/12/2008

SparkPoints: 0

Fitness Minutes: 2,359

My Goals:
* No "dieting" - change my lifestyle
* Eat fresh foods more
* Make exercise a regular part of my routine
* Get to a healthier weight, then decide if I want to make a new goal.


My Program:
Current Plan:
* Drink 8-10 glasses of water each day
* Eat fresh foods regularly
* Eat 5 fruits/veggies per day (Preferably Organic as the budget allows)
* Prepare healthy meals to take to school/work

Milestone goals & rewards:
* 186 again by 7/19/09 DONE
* 180 by 8/30/09 ALMOST THERE!
* 170 by 11/8/09
* 160 by 1/17/10
* 150 by 3/28/10

(Based on 1lb loss/week)




Personal Information:
The Basics:

~ Follower of Jesus
~ California Girl
~ 28
~ Married
~ Big Sister to 2 sisters and 1 brother
~ Classical Soprano and voice teacher
~ Songwriter
~ Creative Soul
~ Wanna-be mom
~ Open-minded
~ Work in progress

www.mariekeschwartz.com

Other Information:
The Favorites:

~ My Sweet Hubby
~ Family
~ Friends
~ Singing
~ Songwriting
~ Books
~ Yarn
~ Nice Paper
~ Crocheting
~ Knitting
~ Sewing
~ Spinning
~ Paper Crafts
~ Chocolate chip cookies
~ Tea
~ Hugs and cuddles
~ Yoga
~ Cooking
~ Chatting with a friend over coffee/tea
~ Creating things
~ Making people smile and laugh
~ Law & Order CI
~ House, MD
~ Francine Rivers
~ Paulo Coelho
~ Photography
~ Purses
~ Shades of purple
~ Teacups & teapots
~ Imogen Heap
~ Bjork
~ Coldplay
~ Brandi Carlile
~ Snow Patrol
~ David Crowder Band
~ Chris Tomlin
~ Iron & Wine
~ People saying/spelling my name right

Profile Image