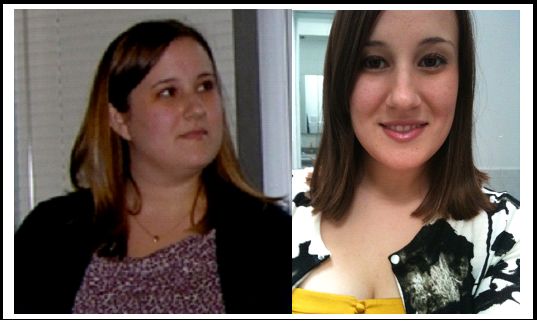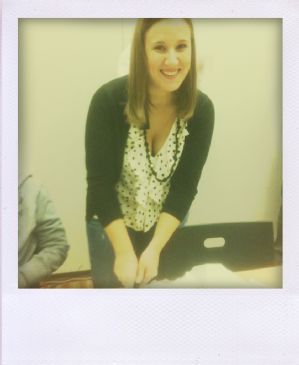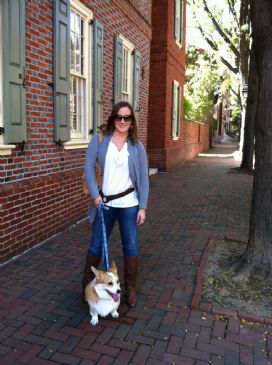 I have 27 pics in my gallery

Awards


I'm committed to being healthier! (and skinnier)
Welcome to my sparkpage!

I'm Amanda. I am 27 years old and I live in Phoenixville, PA - about 30 minutes outside of Philly. I have a great rowhome from the 1800's! After moving every year in college and apartment hopping afterwards it's good to have a home that I know I'll stay in a while. I work full-time as an advertising account executive and I'm currently going to Villanova at night for my MBA. I also went to Nova for undergrad.

My biggest supporter through this ...
Welcome to my sparkpage!

I'm Amanda. I am 27 years old and I live in Phoenixville, PA - about 30 minutes outside of Philly. I have a great rowhome from the 1800's! After moving every year in college and apartment hopping afterwards it's good to have a home that I know I'll stay in a while. I work full-time as an advertising account executive and I'm currently going to Villanova at night for my MBA. I also went to Nova for undergrad.

My biggest supporter through this journey has been my boyfriend. I can also tell my two kitties and my corgi have been rooting for me :) My mom has been there for all those boring conversations about what I bought at the grocery store this week and a new recipes I'm trying -etc.

I am also lucky to have so many amazing spark friends. I've tried to lose weight and keep it off before but with the support of this site and everyone here it is SO much easier and more fun than it has been in the past.

I have been through this weight gain and weight loss journey too many times in my life. I went through a skinny period in the beginning of high school - I think I was a size zero. I slowly gained weight all throughout HS - started at 106 and graduated in the 150's. College was up and down - I'd lose, gain, repeat. I think my lowest was 128 and that didn't last long - my highest was about 168. Fortunately I never used unhealthy methods to lose wieght - I did weight watchers or counted calories and went to the gym. I was great at losing weight - but it was either all or nothing with me. I would be so diligent with eating healthy and exercising- and one bad weekend would throw me off - each time gaining back all the weight and more.

After college I started working - and sitting at desk 40 hrs a week. My weight continued to fluctuate and I hit a high weight of 191 lbs. I was shocked when I saw that number but I shouldn't have been. My boyfriend and I were getting comfortable and I was getting lazy - we stopped going to the gym and started making poor choices- eating too much fast food, grabbing food on the go, having ice cream or dessert every day. I stayed around 190 for a while - I was determined not to get up to 200 but that was about it.

I have a family history of heart disease and diabetes. I also have an irregular heartbeat and I have had high blood pressure at time in the past. All of this scared me AND I felt awful about myself. My confidence was gone. I had break downs in the morning trying to find something to wear! I have yet to find one picture of me at that 191 weight. I avoided pictures and sometimes even social situations. I hated seeing friends or family I hadn't seen in a while because I was embarrassed not just because of how I looked but because I felt I had given up on myself.

In the summer of 2009 I lost 15 lbs for a trip to London/Paris - when I got home those lbs started slowly creeping back on but thankfully I turned to sparkepople and finally made the commitment to get healthy once and for all!

I logged into my old unused sparkpeople account to track calories and exercise. I spent hours browsing motivator sites. My motivation and inspiration turned into determination and commitment. I know I can achieve my goals and make real lasting changes in my life. I know this journey is about more than losing weight. This time it is about being strong and healthy - being active and happy.

When I was in a pattern of unhealthy eating - sometimes I'd have a rare day where I was active and ate healthy. I'd say to myself - I wonder what I would weigh now if I had eaten this way every day for the past year? Well that is really all it takes - one day at a time of making healthy choices. It adds up to a week, a month, a year, a lifetime of healthy choices.

Height: 5' 4"

Before (May 09)
Weight: 191 lbs
BMI: 32.8
Size: Tight 14's

Weekly Progress
09/22/09 182.4 lbs 35.3% bf
09/29/09 179.6 lbs (-2.8)
10/06/09 177.2 lbs (-2.4)
10/13/09 175.2 lbs (-2.0)
10/20/09 174.4 lbs (-0.8) 34.2% bf (No longer Obese)
10/27/09 172.6 lbs (-1.8)
11/03/09 170.4 lbs (-2.2) (Size 12)
11/10/09 169.4 lbs (-1.0)
11/17/09 167.6 lbs (-1.8) 32.8% bf
11/24/09 166.8 lbs (-0.8)
12/01/09 164.2 lbs (-2.6)
12/08/09 162.6 lbs (-1.6)
12/15/09 161.4 lbs (-1.2) 32.0% bf
12/23/09 161.0 lbs (-0.4) (Size 10)
12/31/09 161.2 lbs (+0.2)
01/08/10 158.2 lbs (-3.0)
01/15/10 158.0 lbs (-0.2) 31.5% bf
01/22/10 157.2 lbs (-0.8)
01/29/10 156.6 lbs (-0.6)
02/05/10 155.2 lbs (-1.4)
02/12/10 155.0 lbs (-0.2) 30.7% bf
02/19/10 153.6 lbs (-1.4)
02/26/10 153.4 lbs (-0.2)
03/05/10 152.6 lbs (-0.8)
03/12/10 151.4 lbs (-1.2)
03/19/10 151.6 lbs (+0.2) (Size 8)
03/26/10 149.6 lbs (-2.0) 29.4% bf
04/02/10 148.8 lbs (-0.8)
04/09/10 148.4 lbs (-0.4)
04/16/10 147.4 lbs (-1.0)
04/23/10 146.4 lbs (-1.0)
04/30/10 144.6 lbs (-1.8) 28.5% bf (Healthy BMI achieved)
05/07/10 LEAVE FOR HAWAII!!
05/14/10 Hawaii still!
05/21/10 146.4 lbs (+1.8) - gained this on my week off of work before Hawaii - managed to maintain on vacation (after the water retention was gone)

05/28/10 145.0
06/04/10 144.6
06/11/10 145.0
06/18/10 Vegas - no weigh in
06/25/10 147.4
07/02/10 146.0

Running Progress/Races:
Completed C25k on 12/7/09!
First 5k - 12/12/09 40:00
SparkFriends

SparkTeams




Recent Blogs:

Profile


Member Since: 3/1/2008

My Goals:
My overall goal is to be 136lbs or less and to feel healthy and energized.

My Reasons:
I want to...
be healthy
be in control
love shopping for clothes
wear dresses & shorts
feel confident
have more energy
live an active life
be proud of my body
enjoy going to the beach
make my bf drool
look good naked


My Program:
I am eating between 1200 & 1550 calories a day- and logging everything I eat (no exceptions). I am also cooking at home more and trying to eat more whole grains, lean proteins and fruits/veggies.

I like variety in my workouts. I did C25k Sep-Dec 2009 and that was really great for me. Now that it's warming up I'm excited to get back to running outside. I'm a member of the YMCA and get in STing on the weight machines there -I also swim laps, ride the bike or run/walk on the treadmill. I recently got a bike and plan to be outside riding it a lot this spring/summer. I also have an elliptical machine at home for a quick workout.

Personal Information:
My name is Amanda. I live in Phoenixville, PA. I work full-time as an advertising account executive and I am going to school at night for my MBA. I have a wonderful boyfriend, two cats and a corgi.

Profile Image