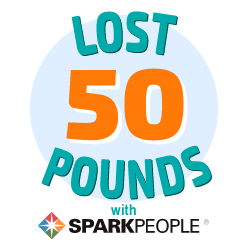 I have 11 pics in my gallery

Awards

One day at a time...
Hello! My name is Becky, and I'm a 20 year old from Southwestern Ohio living with Polycystic Ovary Syndrome (PCOS) and insulin resistance. I lost 18 pounds prior to joining SparkPeople but I can't imagine ever having gone without the support I find here.

Add me as a friend if you would like to and feel free to read my blog. The more support, the better. I'm here to help and be helped. :)

My goal is to get down to a minimum healthy weight for my height which is about ...
Hello! My name is Becky, and I'm a 20 year old from Southwestern Ohio living with Polycystic Ovary Syndrome (PCOS) and insulin resistance. I lost 18 pounds prior to joining SparkPeople but I can't imagine ever having gone without the support I find here.

Add me as a friend if you would like to and feel free to read my blog. The more support, the better. I'm here to help and be helped. :)

My goal is to get down to a minimum healthy weight for my height which is about 135 lbs. At that point, I will decide whether or not I want to lose more.

(09/01/07): 243.0 lbs BMI of 44.4 ~At the beginning...
(11/25/07): 225.0 lbs BMI of 41.1 ~When I joined SP...

****Monthly Progress for 2008****

(01/04/08): 217.0 lbs BMI of 39.7 ~1st Weigh-In of '08
(02/01/08): 209.5 lbs BMI of 38.3 ~7.5 lbs lost in January
(03/01/08): 203.5 lbs BMI of 37.2 ~6.0 lbs lost in February
(04/01/08): 199.0 lbs BMI of 36.5 ~4.5 lbs lost in March
(05/01/08): 193.0 lbs BMI of 35.4 ~6.0 lbs lost in April
(06/01/08):

****Overall Progress****

Last Updated: 05/30/08

Total % of body weight lost: 23%
Total pounds lost: 57.5
Total BMI loss: 10.5

lbs left to hit an "Overweight" BMI (163 lbs): 22.5
lbs left to hit a "Normal Weight" BMI (135 lbs): 50.5
SparkFriends

SparkTeams



My Ticker:
current weight: 185.5

Interact with MAJESTICBEEJ






Recent Blogs:

Profile


Member Since: 11/25/2007

SparkPoints: 0

Fitness Minutes: 240

My Goals:
1. Gain Confidence
2. Lose Weight
3. Tone Up
4. Gain Flexibility

and eventually...

5. Quit Smoking


My Program:
* Calories: between 1200-1400 daily

*Water: 8-10 glasses/ day

* Cardio: 20 min 5x/week

* Strength exercises: Every other day.

*Hip/Waist measurements 1x/month

* Periodic "Free Day"s

Personal Information:
ASL: 20/F/OH

Height: 5' 2"

Hair/Eyes: Dark Brown/Hazel

Family: 2 brothers, 2 sisters. I'm the middle child with dark brown hair while my siblings are all blonde and blue-eyed.

Other Information:
I love...
Art, Friends, Family, People, Laughter, Games, Movies, T.V., Reading, Badminton, Walking, Croquet, etc.

I'm...
Sarcastic, Crazy, Genuine, Funny, and Silly

I have a huge heart. I'm honest and open and I tend to "tell it like it is". :P

Profile Image