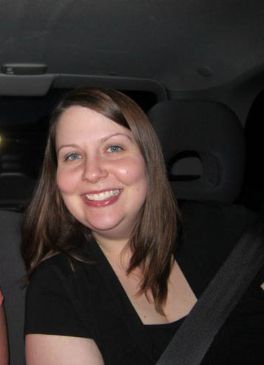 I have 15 pics in my gallery

Awards

I am finally DONE sitting on the sidelines... I want in on the action!
Hi y'all! Welcome to my Spark Page! I think you'll find themes many of us share running through my story - themes of too much stress, perfectionism, putting yourself dead last, thinking you can always do the 'healthy thing' later, etc.

So, out of high school to college, the freshman 15, followed of course by the sophomore, the junior, and the senior 15, too. Then on to a 9-5 to support myself while I worked on my first masters degree. Full-time job, classes, I was also teaching as ...
Hi y'all! Welcome to my Spark Page! I think you'll find themes many of us share running through my story - themes of too much stress, perfectionism, putting yourself dead last, thinking you can always do the 'healthy thing' later, etc.

So, out of high school to college, the freshman 15, followed of course by the sophomore, the junior, and the senior 15, too. Then on to a 9-5 to support myself while I worked on my first masters degree. Full-time job, classes, I was also teaching as an adjunct, performing in 4 ensembles so I had rehearsals 4 or 5 days a week. I grabbed whatever food was fast and easy and my idea of "exercise" was running from one job/class/rehearsal to the next. I did this for 4 years before moving up here to Connecticut (where I am currently) to pursue my 2nd masters (because, you know, one just isn't enough!).

I had built and become reliant on a routine of hectic crazy GO GO GO stress-filled days, and that didn't change when I got to Connecticut. The yearly 15 or so hadn't stopped in undergrad either - I had been steadily gaining away the entire time. But something else had happened that I wasn't aware of until I moved halfway across the country. I was no longer the happy, peppy, involved person I used to be. I was withdrawn, morose, downtrodden, and frickin BURNT OUT! (no wonder there) But did I stop? Well of course not, because I'm a perfectionist and I don't admit defeat. I kept going.

My body did not. It was throwing out all kinds of signals - I won't go into great detail, but one of the things was almost daily debilitating migraines - we're talking me-crawling-on-the-floor debilitating - and deep depression, which I stupidly never got treated professionally.

At my heaviest in May 2009, I was 255 on a 5'2" frame (not pretty, I tell you). I actually started losing weight by 'accident' - I cut out all gluten from my diet in an attempt to help the migraines (it can be a trigger). In addition, I was trying to follow more of the migraine diet, which eliminates a lot of processed foods. Over that summer I quickly lost 25 or 30 pounds without really 'trying'.

FINALLY, I remembered this site called Spark that I had signed up for in 2008, used for a little while, and then completely abandoned because, well, clearly I didn't have time for such things. I started tracking again, was horrified to see how much I was eating, started really watching what I ate, and weight starting coming off again. I signed up for the DONE GIRLS team (yay!) and then the Spring Into Summer Challenge (Go Wave Runners!). It couldn't have happened at a better time.

Now, on June 20, 2010, I weigh in at 199! I've lost 56 lbs in roughly 54 weeks. And the best thing is that I finally feel like ME again. I still have a long road to go, but I finally feel like a good, happy, balanced, un-burnt-out life is POSSIBLE, and like it's a road I WANT to be on. (Even though the whole exercise thing? Ugh - still not my cup of tea. I still have to argue myself into it EVERY TIME. It's a work in progress.)

I always see other folks' Spark Pages with great inspirational quotes - I'm afraid I have none to offer. I think the biggest thing I've learned is that the doubt and dread that builds up in your mind is so much worse than the actual doing. I used to be literally terrified of exercise. Would I make it through the DVD? Would the people in the cars yell 'fattie' at me as I walked down the street? Would I even lose anything? If I don't, I fail. But you are your own worst critic - always have been and always will be. If you're a perfectionist like I am, it is SO HARD to let go and be happy with "good enough". Weight loss and a healthy life style is not magic and it's not going to happen overnight. I can't go from 255 to svelte and size 10 in two weeks, but that doesn't mean that I shouldn't try to drop two pounds in those two weeks! Anything forward is progress - ANYTHING. And that is good enough!

****************************************
*********************************
Goals:
Cut out daily caffeine: DONE! (during SIS challenge 2010)
Quit biting nails: DONE! (during SIS challenge 2010)
195 lbs: Done!
190 lbs: Done!
185 lbs: Done!
180 lbs: Done!
Walk half marathon (13 miles):
FinishBeethoven research paper:
175 lbs:
170 lbs:
Finish Wagner research paper:
165 lbs:
160 lbs:
Finish Wagner thesis proposal:
155 lbs:
150 lbs:
SparkFriends



SparkTeams



My Ticker:
current weight: 180.0


Recent Blogs:

Profile


Member Since: 6/19/2008

SparkPoints: 17,550

Fitness Minutes: 5,752

My Goals:
Current weight loss goal:
Lose 12 pounds (1 pound/week) during FEF challenge.

Current nutrition goal:
Continue gluten-free. Eat smaller snacks more frequently, especially on my 14 hour work days.

Current fitness goal:
Incorporate yoga.

My Program:
Fitness: Mostly walking, now that the weather is improving. Also DVDS like Flirty Girl Fitness, Tae Bo, and Pilates. Just got a beginner yoga one that I plan to start regularly.

Nutrition: Gluten-free (gluten is a migraine trigger). Lots of water. Trying to eat more fresh and seasonal and much less processed and packaged. I do find this hard when I work long hours, though - how do you pack for all that time?

Other Information:
I suffer from SEVERE migraines. If you do too, I'd love to know what works for you. Thanks!

Profile Image