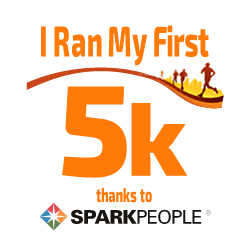 I have 13 pics in my gallery

Awards

Hello and welcome to my SparkPage! I am a musician and am looking to lose some weight in order to lower my blood pressure and cholesterol. I'm having fun taking new dance lessons, walking on my treadmill, and taking long hikes in Colorado's back country on the weekend with my husband.

And now for some inspirational quotes I've collected over the years from other members:

"Our greatest weakness lies in giving up. The most certain way to succeed is always to try ...
Hello and welcome to my SparkPage! I am a musician and am looking to lose some weight in order to lower my blood pressure and cholesterol. I'm having fun taking new dance lessons, walking on my treadmill, and taking long hikes in Colorado's back country on the weekend with my husband.

And now for some inspirational quotes I've collected over the years from other members:

"Our greatest weakness lies in giving up. The most certain way to succeed is always to try just one more time." ~Thomas Edison

Don't put your thoughts toward what might have been, put your energy into what is possible.

I will do what I need to do (exercise and eat right) in order to do what I want to do (live a full life).

There are 168 hours in a week. The gym is only asking for seven of them.

Never let the body tell the mind what to do.

The food you eat today is the body you wear tomorrow.

You're blessed to have legs that allow you to run.

You know your limit and this is NOT it.

You're stronger than you think you are!

Remember that today the possibilities are endless!

There are thousands to tell you it cannot be done,
There are thousands to prophesy failure;
There are thousands to point out to you, one by one,
The dangers that wait to assail you.
But just buckle in with a bit of a grin,
Just take off your coat and go to it;
Just start to sing as you tackle the thing
That "cannot be done," and you'll do it.
-Edgar A. Guest


"Nothing tastes as good as skinny feels."

"Success is the sum of small efforts, repeated day in and day out" - Robert Collier

Whether you think you can or think you can't, you're right.

I wake up every day with the realization that this is it, that there's only one shot at this life and I can either enjoy the ride and live it to its fullest and to my highest potential or I can stay the way I am.

"Never Give up on the commitment to yourself!"

"You have came too far to take orders from a cookie."

'The answer is not in the fridge'

It is never too late to be what you might have been-- George Elliot

"There are only 2 choices; make progress or make excuses."

Don't be intimidated by the impossibility,
Be motivated by the possibility!

"Because I'm worth it"

From Jillian Michaels Debunks Your Top 8 Excuses for Not Being Fit (http://health.yahoo.com/experts/healthier
you/14638/jillian-michaels-debunks-you
r-top-8-excuses-for-not-being-fit/):
Excuse: "I've hit a plateau; I give up."
Michaels says: "Get selfish! Don't think you're asking too much of the world or of yourself. Push through by believing the new, improved you is your destiny. There's no reason you can't have it all."



The Results Will Come
Though each effort does not bring an immediate result, keep going. The results will come.
Every achievement requires many efforts. Those individual efforts combine with each other to bring the desired result.

So keep going. Keep adding one effort on top of the ones before it.

And all the while, learn. Learn what works and what does not, and adjust your efforts to become even more effective.

Keep going, keep learning, keep working and keep getting better. Every day, every effort brings you closer.

Persistence is the way you prove you really want it. Persist, and you will have it.

-- Ralph Marston


Self-love is the only weight-loss aid that really works in the long run.
- Jenny Craig, diet guru


BUILD IT, BELIEVE IT, BECOME IT
Choose one word from each section below to create a motivational, get-it-done power chant.

A
Run
Go
Stride
Sprint
Be

B
Strong
Fast
Quick
Light
Fierce

C
Think
Feel
Embrace
Be
Hold

D
Power
Speed
Brave
Bold
Courage

SparkFriends

SparkTeams

My Ticker:
Pounds lost: 0.0


Recent Blogs:

Profile


Member Since: 5/15/2007

SparkPoints: 49,149

Fitness Minutes: 34,027

My Goals:
I'm hoping to bring my cholesterol and blood pressure numbers down to healthy numbers! .

My Program:
I'm following a low-fat, 1300-1620 calorie diet as well as walking on the treadmill or Nordic Skiing daily.

Personal Information:
I am a freelance musician and teacher.

Profile Image