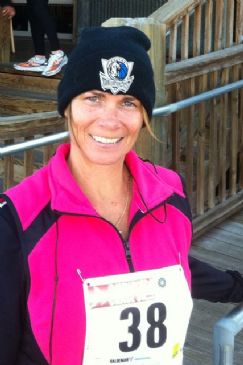 I have 15 pics in my gallery

Awards

Finding My Way
February 2013:
Hello, I'm Lori. 45 year old stay at home mom, ex~smoker, runner. I love Sparkpeople and I'm trying to work on my fitness, nutrition and inner peacefulness every day.
My main focus is on my running distance. I also try to focus on my nutrition. I need to eat better QUALITY and QUANTITY.
I also actively work on my inner peace EVERY DAY (meditation, reading positive material, praying, spending time with friends in person, or in conversation, listening to ...
February 2013:
Hello, I'm Lori. 45 year old stay at home mom, ex~smoker, runner. I love Sparkpeople and I'm trying to work on my fitness, nutrition and inner peacefulness every day.
My main focus is on my running distance. I also try to focus on my nutrition. I need to eat better QUALITY and QUANTITY.
I also actively work on my inner peace EVERY DAY (meditation, reading positive material, praying, spending time with friends in person, or in conversation, listening to music, reflecting on nature, soaking in the sun and salt air, interacting with critters and showing acts of kindness toward my fellow humans and/or animals that cannot help themselves. Mental health is just as important as physical health.

I struggle with health issues but continue to fight them. I have asthma. Also IC diagnosed Jan 2013 (Interstitial Cystitis).

My Important Dates:

Sept 4, 2009: Quit Smoking after 23 years

Sept 8, 2009: Joined Sparkpeople

March 2010: Completed C25K running program

May 2010: Ran my first race...4 mile leg in Beach 2 Bay relay (39:30 Minutes)

Jan 2011: Started P90X Lean Program

Feb 12, 2011: Ran Cupid Chase Run 5K (29:15)

April 2011: Completed P90X Lean Program only missing 6 workouts total.

May 2011: Ran Beach 2 Bay Leg 5- 4 miles (time unknown)

Jan 21 2012: Organ Donor Dash 5K (31:16)

Feb 25, 2012: Port Aransas Beach Dash 5K (32:09)

March 3, 2012: Boopa's Bagel Deli Family 10K (1:07)

April 29, 2012: South Texas Hero's 5K (32:10)

May 18, 2012: Beach to Bay Relay Marathon- Leg 3@ 4.36 miles. (47:40)

October 21, 2012: My first Half Marathon!! Corpus Christi Harbor Half (2:41)




Current Status:


SparkFriends

SparkTeams

My Ticker:
May Minutes: 1,654


Recent Blogs:

Profile


Member Since: 9/8/2009

SparkPoints: 22,826

Fitness Minutes: 42,039

My Goals:
Jan 2013:

*Work on Inner Peace.

*Become Soda Free

*Drink 64oz of water Daily

*Give my body clean, healthy nourishment within the guidelines of Calories/Protein/ Carbs/Fat (as given by Spark).

*Log and Journal Daily

*Run! Try to run 700 miles this year and a Half Marathon.

My Program:
*Run as much as possible, when possible.

*Stretch Daily

*Eating Healthy! Calorie Counting & Hydrating

*Logging, Logging, Logging!

*Meditate on the Good and Positive.

*Purge and Dismiss negative and poisonous people, things, concepts, and circumstances.



Personal Information:
44
5' 0"
29.9% body fat (April 2012)
19.7% body fat (May 2013)

108 lbs (July 2011)
123 lbs (Oct 2011)
120 lbs (January 2012)
118 lbs (February 2012)
121 lbs (March 2012)
119 lbs (April 2012)
118 lbs (May 2012)
114 lbs (June 2012)
112 lbs (July 2012)
108.5 lbs (Aug 2012)
106.8 lbs (Sept 2012)
106 (Oct 2012)
106 (Nov 2012)
110 (Dec 2012)
109 (late Jan/early Feb 2013)
106 (March 2013)
103..GOAL WEIGHT!! (April 2013)





Other Information:
IC Fighter (Interstitial Cystitis)

I live in beautiful S Texas: (Corpus Christi)

Married for 18 years.
Mom to 3 kids ages 15, 14, 12...(2 girls with a boy in the middle!).

Hobbies& Interests:
*Running
*Gardening
*Yard Work
*Fishing
*Antiquing & Estate Sales
*The Beach!
*TRAVEL
*Politics..Proud Democrat!

Profile Image