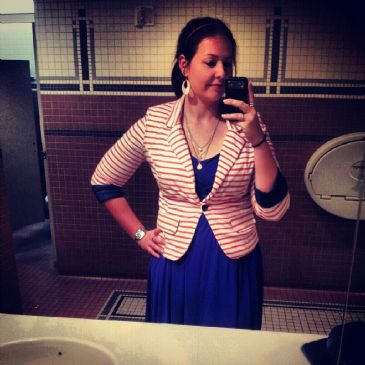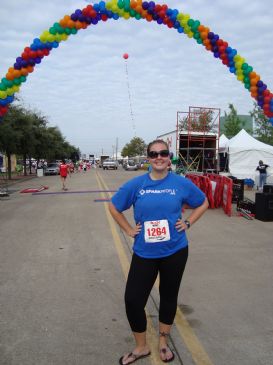 I have 49 pics in my gallery

Awards


Striving to be the odd duck!
Hello all! My name is Laura. I have been on spark since October 2008 and I can truly say that sparkpeople has changed my life! Below is my slightly wordy, but 100% honest story of my journey with weight and updates about where I am now.

I never had weight problems growing up. I was very athletic and spent most of my days active in sports or just playing outside. I slowly started gaining weight when I turned 16 and went to college (yes, I started early!) mostly because I gave up ...
Hello all! My name is Laura. I have been on spark since October 2008 and I can truly say that sparkpeople has changed my life! Below is my slightly wordy, but 100% honest story of my journey with weight and updates about where I am now.

I never had weight problems growing up. I was very athletic and spent most of my days active in sports or just playing outside. I slowly started gaining weight when I turned 16 and went to college (yes, I started early!) mostly because I gave up sports and eating the very clean and healthy food that my mom had fed me my entire life. My father passed away when I was 17 and my life really started to down spiral at this point. I started emotionally eating and I was constantly stressed out. I buried myself in activities, work or pushed myself too hard in school so I never had a moment to stop and deal with my emotions. When I did "unwind" or "de-stress" it was always with food and/or alcohol – with friends and without. I graduated college at age 21 and started working full time in an office job. During college I always had active jobs like waiting tables or tutoring students, so the switch in activity to a desk job took quite the hit on my body.

Also around the time of my graduation I was diagnosed with an underactive thyroid, which had also added on the pounds. In August of 2008 I was 22 years old and my doctor told me I had pre-hypertension and would have to start blood pressure medicine if I did not lose some weight. At this time I weighed 245 pounds (I'm 5'9"), which was a big difference from the 150-160 I weighed at age 16. I had never tried to lose weight prior to my doctor's advice and I was truly lost and clueless about where to start. In October 2008 I found spark people and immediately latched on to the program. While I found much success in the program, I still had many issues with sticking consistently to the program and with my stress. Emotional eating was still a very big struggle for me and I was still constantly feeling stressed out and lost in my life. I was constantly unhappy even though I had lost 15-20 pounds and had normal blood pressure again.

I decided to start seeing a psychologist to deal with my stress in July 2009. This was a pivotal time for me because I learned how to be myself again and I learned how to become independent and make decisions based on what I wanted and not what others thought I should do. I learned that it was okay to embrace my highly control freak Type-A personality. I learned of ways to deal with my stress instead of eating. I turned to organization, goal setting, planning, blogging and exercise instead of food. I also began running at this time and ran my first 5K in September 2009 and my first 10K in October 2010. I learned that I love running, spinning and water aerobics and that I love to cook healthy food and write my own recipes. I also realized around this time that my career in Finance was not going to be conducive to living a healthy life. Finance is a highly competitive and stressful field, and while I loved it, I knew I would never be able to be healthy and be very successful and fulfill my ambitions in the field without jeopardizing my health. My psychologist and I talked about other fields that I could pursue and we both agreed that becoming a Registered Dietitian would be the best career for me that would satisfy my ambition while also making my health a priority.

In January 2010 I started a dietetics program while working full-time. This was another pivotal time for me. I was still working in my Finance career, where I was unhappy, but pushed myself to complete 16 hours of school basics so I could start my new bachelors program. Those five months were some of the hardest in my life. I completed the 16 hours without being fired from my job (remarkably), while completing my goal of making a 4.0 for the first time in my life. I also learned that I NEED balance and personal time in my life. I barely had time to exercise or cook in those five months and I definitely gained some of the weight that I had lost back. I can say that after that grueling semester, I have finally realized that I cannot push myself to the extreme anymore without sacrificing the most important thing to me, my health. I finally learned to slow down and enjoy life for what it is, rather than trying to be superwoman and do everything. I also learned that perfection is unattainable and trying to achieve perfection is pure torture (this was a MAJOR step for me).

So that's where I am now. I officially left my finance job in August 2010 and went back to school full time to study nutrition. I graduated in May 2012 and started my dietetic internship in August 2012. I will be eligible to sit for the RD exam in June 2013 and I'll be spending the rest of my life helping other people with their nutrition and to be as healthy as they can be!

I seriously cannot thank spark enough for all the inspiration, motivation and the impact they have made on my life. I have met some truly amazing people while on spark, some of whom will be a major part of the rest of my life. My spark friends are incredible and without them, I would not be successful. Thank you to ALL of you who read my blogs, comment on my page and motivate me along this journey!

I also want to leave you with something I wrote right around the time I started racing my 5Ks. It is SO true and motivating (even for me, months later!) YOU CAN DO THIS. Start with the small things. Make goals. Strive to be the odd duck. Live to be the example, not the follower. Everyone else is eating cookies for dessert? Have an apple instead. You might inspire someone else to do the same. Instead of watching 30 minutes of TV, just get outside and take a walk. TRUST ME, you won't miss the TV. Have a bad meal, or worse bad weekend? Get back up and start over. Dust yourself off and make the next meal better. Start with those small changes and keep them up. Then start adding more small changes. They will begin snowballing and you will start to see results. Once the results start coming, you'll be motivated to work harder and harder. And before you know it, you'll be crossing those goals off your list and making new ones. YOU CAN DO THIS!

I look forward to meeting new spark members so feel free to message me, add me or say hi anytime! Good luck to all!

I also have a blog to chronicle all the changes in my life - weight loss plus more! Feel free to go read it.
http://OddDuckBlog.com
SparkFriends

SparkTeams



My Ticker:
current weight: 193.6


Recent Blogs:

Profile


Member Since: 10/28/2008

SparkPoints: 22,349

Fitness Minutes: 19,877

My Goals:
*Be a spark people motivator! DONE 9/8/09
*Run a 5K! DONE! 9/19/09
*Run a 10K! DONE! 10/17/10

*Complete a step class without taking a water break using TWO risers
*Pull myself out of the pool using my arms/body instead of the ladder
*Complete the one legged tree pose (see my pictures) in yoga
*Run a 8 minute mile
*Run a 5K in sub 35 minutes (goal for now, this will change as I get faster)
*Run a half marathon
*Be a pants size 10!
*LT weight goal: 145-155!

My Program:
This is a work in progress (and also because I'm constantly changing what I do!) I am focusing on getting the right nutrients each day as well as working out as much as I can right now. I'm working towards learning consistency and I strive for it every day!

I want to change and I will!

*First 5K: Addison Oktoberfest 5K 9/19/09
*First 10K: Ft Worth Mercury 10K 10/17/108

Personal Information:
I'm from the DFW area of Texas and live here with my wonderful boyfriend and our two crazy dogs. I grew up between Texas and Boston, so I'm a huge Red Sox fan! I recently decided to go back to school to become a Registered Dietitian.

My main passions in life are: cooking, running, baseball, organizing and working on my house.

Other Information:
my healthy lifestyle blog: http://OddDuckBlog.com

Find me on twitter! @LLBean75

I love bread, wine and cheese. Oh so much.

"A man who wants something will find a way; a man who doesn't will find an excuse." - Stephan Dolley Jr.

"Act as if what you do makes a difference. It does." William James


Profile Image