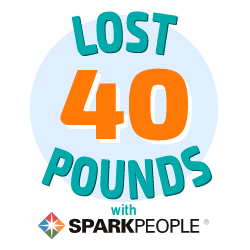 I have 1 pics in my gallery

Awards

Gym Lover
I am trying to be more healthy. I have the active part down- I go to the gym 6 days a week for at least 30 minutes and I do strength training.

I have just started the Couch to 5k training schedule and I am liking it so far. I didn't realize what a change running would make in my body. It's been good so far.

I have a hard time taking time off to rest. I've always been an all-or-nothing kind of person, so the guilt comes on pretty strong if I don't work really hard ...
I am trying to be more healthy. I have the active part down- I go to the gym 6 days a week for at least 30 minutes and I do strength training.

I have just started the Couch to 5k training schedule and I am liking it so far. I didn't realize what a change running would make in my body. It's been good so far.

I have a hard time taking time off to rest. I've always been an all-or-nothing kind of person, so the guilt comes on pretty strong if I don't work really hard at something, usually so hard I burn myself out quickly.

My biggest problems are keeping my motivation going and staying away from sugar! Chocolate and Pepsi are my downfalls. Any advice and support are welcomed!

QUOTES:

"In a year I'm not going to regret not eating something, but if I'm less fit this time next year, then I will regret that."

"There is a way to reach the goal. You just have to decide you're going to do it.

There are challenges, to be sure. Yet you've overcome challenges before and you can do it again.

Decide to do it, and make the commitment. Take the necessary actions, over and over again.

If you realize your approach isn't working, adjust it and improve it until you begin to make some progress. Then be grateful for what you've learned, and use it to move more quickly ahead.

Be sure to choose a goal that is truly yours. Making the goal meaningful is what makes it reachable.

Creating anything of value takes a lot of good, hard, solid work. Enjoy the journey and delight in reaching the destination."
— Ralph Marston
SparkFriends

SparkTeams



My Ticker:
current weight: 160.0


Recent Blogs:

Profile


Member Since: 1/16/2008

SparkPoints: 7,619

Fitness Minutes: 10,924

My Goals:
My goals for this year are to be able to run three miles without stopping (victory!), eat 1 serving of veggies a day (I know you need more and I eat more, but if I set such and easy goal I achieve it and feel all snug and happy), and to do one pull-up.

My Program:
I am really enjoying working out and I do at least 30 minutes 6 days a week and I strength train. I really want to be able to run 3miles at a time and I want to gain enough strength to do a pull-up. I am trying to cut out snacking on sugar, but that is so much harder for me!

Nov. 21st 2009- I finished my first 5K!

Nov. 23 2009- Hit my last goal weight, 134!

Personal Information:
I'm from Utah and I have a beautiful 2.5 year old baby girl.

I have a mild form of Hypothyroidism that has just been diagnosed. I am waiting to try out some medicine, should be getting it soon.

I have a blog: http://medicationoptional.blogspot.com/

Other Information:
I love TV. I don't think there is anything wrong with watching and enjoying TV, as long as you have other interests. I watch (current): Top Chef, Dexter, Big Love.
(Non-current) Gilmore Girls, Everwood, Joan of Arcadia, Sex and the City, Friends.

I also love to read and I try to read at least two books per week. I like fiction and non, and I love murder mysteries and horror.

I'm also into some message boards (Greecies for the win) and other websites, such as Pajiba and Shakesville.

Profile Image