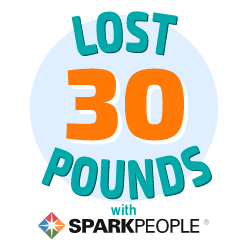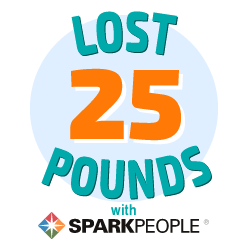 I have 12 pics in my gallery

Awards

WITH GOD'S HELP 2012 IS MY TIME TO WIN THIS WEIGHLOSS WAR! YEAH, LETS GO 2012
Hi I am Lisa and I am 28 years old and i have lost a total of 26.2lbs form changing my diet and excercising twice a day. and I am looking to lose another 71.2lbs to reach my goal of 140lbs. However during 2011 I gained all that weight back and I am at it again.


http://www.sparkpeople.com/resource/spar
kdiet.asp

SW = 240lbs 4/03/2012
CW = 231.5lbs 10/03/2012

Goal 1 5lbs 233.5 met ...
Hi I am Lisa and I am 28 years old and i have lost a total of 26.2lbs form changing my diet and excercising twice a day. and I am looking to lose another 71.2lbs to reach my goal of 140lbs. However during 2011 I gained all that weight back and I am at it again.


http://www.sparkpeople.com/resource/spar
kdiet.asp

SW = 240lbs 4/03/2012
CW = 231.5lbs 10/03/2012

Goal 1 5lbs 233.5 met 6/03/2012
Goal 2 10lbs
goal 3 15lbs
goal 4 20lbs


SparkFriends

SparkTeams



My Ticker:
Pounds lost: 58.0

Interact with LISASTRONGER







Recent Blogs:

Profile


Member Since: 8/1/2009

SparkPoints: 2,026

Fitness Minutes: 2,948

My Goals:
From the frist moment i started packing on the pounds I hated it. I loved being slim and able to walk at a fast pace or choose whatever clothes i wanted to wear. My goal is to shape up before December 18 2010 for my sister's wedding. I want to get rid of 34lbs. I also want to keep my blood preasure in check and stay of the meds, so far its working. With 10lb gone i now have 24 to be rid of.

My Program:
I do 30 mins cardio everyday or twice a day. I also do strengh - upper and lower body.

I eat healthy and lessen on the bread. I now eat more salads, protein, and vegetables with a small portion of brown rice at times.

Personal Information:
My name is Lisa and I am married to the most wonderful man who is my real strength and support. I like in Grenada, located in the Caribbean where everything is sunny and nice.

Other Information:
My favourite book is Cradle and All

My favourite movie
Sound of Music

My favourite colours
Pink, purple & green

My favourite singer
Tina Turner

My favorite movie actress
Queen Latifa

Profile Image