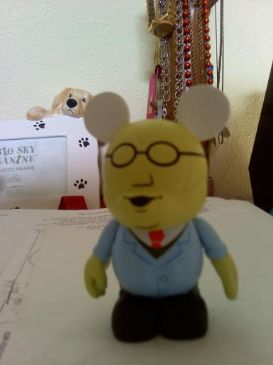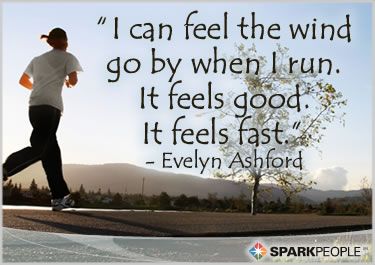 I have 25 pics in my gallery

Awards


It's My World and I Like it
These two sum up my feelings about running:

"You have to wonder at times what you're doing out there. Over the years, I've given myself a thousand reasons to keep running, but it always comes back to where it started. It comes down to self-satisfaction and a sense of achievement." - Steve Prefontaine

We may train or peak for a certain race, but running is a lifetime sport. By Alberto Salazar, American marathon
runner and coach

"The real purpose of ...
These two sum up my feelings about running:

"You have to wonder at times what you're doing out there. Over the years, I've given myself a thousand reasons to keep running, but it always comes back to where it started. It comes down to self-satisfaction and a sense of achievement." - Steve Prefontaine

We may train or peak for a certain race, but running is a lifetime sport. By Alberto Salazar, American marathon
runner and coach

"The real purpose of running isn't to win a race; it's to test the limits of the human heart. " by Bill Bowerman

It takes patience to become the best runner you can be. Top athletes realize that running is a long-term sport. It is set up for people who value delayed gratification and who like hard-earned success. - Anthony Famiglietti, two-time Olympian and six-time national champion

Jesse Owens said "We all have dreams. In order to make dreams come into reality, it takes an awful lot of determination, dedication, self-discipline and effort."

Current Status - Half Marathon training. I am using the FIRST plan. 10 weeks including track workouts and tempo runs along with 2 Long slow distance runs per week. The reason for two LSD runs is due to back to back half marathon runs (Disney's Donald Half and Disney's Chip & Dale's Marathon Relay)

Races for this season:
Oct 1 - Komen 10K - St. Petersburg 1:00:18 PR
Oct. 29 - Miami Beach Halloween Half Marathon
Nov 20 - Women's Half Marathon - St. Petersburg
Nov 27 - Space Coast Half Marathon
Dec - look at a few possibilities
Jan - Disney's Donald Half Marathon
Jan - Disney's Chip & Dale Marathon Relay
Feb 13 - Rock n Roll Half Marathon - St. Petersburg
Mar - Look at a few possibilities

I have been running on and off since 1999. I am back at it and have set my goal to become a Lifetime Runner. I was sidetracked in December 2009 when I found out that I had torn my peroneal tendon in my left foot, which required surgery in January 2010. I then returned to running in June of 2010.....

"In running, it doesn't matter whether you come in first, in the middle of the pack, or last. You can say, 'I have finished.' There is a lot of satisfaction in that."
-Fred Lebow, New York City Marathon co-founder

"There are no shortcuts to any place worth going."
– Beverly Sills

"Some people are always grumbling because roses have thorns. I am thankful that thorns have roses."
– Jean-Baptiste Alphonse Karr

He who deliberates fully before taking a step will spend his entire life on one leg.
--Chinese Proverb

"The difference between a successful person and others is not a lack of strength, not a lack of knowledge, but rather in a lack of will."
– Vincent Lombardi

"I always wondered why somebody doesn't do something about that. Then I realized I was somebody."
– Lily Tomlin

"A woman's wisdom is passed from one generation to the next. Today is a good day to reflect on the wisdom you've received and the wisdom you have to share with others."

"Ever tried. Ever failed. No matter. Try again. Fail again. Fail better."
– Samuel Beckett

"Be aware of wonder. Live a balanced life — learn some and think some and draw and paint and sing and dance and play and work every day some."
– Robert Fulghum

"I, not events, have the power to make me happy or unhappy today. I can choose which it shall be."
– Groucho Marx




Current Status:


SparkFriends

SparkTeams



My Ticker:
Pounds lost: 2.0

Interact with LIGHTNINGRUNNER







Recent Blogs:

Profile


Member Since: 7/23/2007

SparkPoints: 143,229

Fitness Minutes: 112,967

My Goals:
I want to maintain my goal weight and become healthy and fit. I want to be a lifetime runner. I also want to be around this world for a long time to come.

Simple enough goals, but sometimes it is so difficult to reach and maintain.

My goals for 2015
1. Continue to run and improve my speed and efficiency. Strive to be smart in my racing choices...when possible

2. Decrease my body fat, by increasing my lean muscle. Be consistent with a strength training program - including weights and resistance training.
3. Declutter my home by working a minimum of 30 minutes each day around my house. Keeping those items I love or need. Empty Space is freedom.
4, Reduce my purchasing to only those things that are truly needed or replacing broken/used up items. I do NOT need to be a consumer constantly.
5. Add major cross-training to my exercise schedule. I need to schedule workout

My Program:
I figured I had better begin my spark page. I started at Spark people back in early 2008. I forgot about it, and rejoined after gaining 25 pounds, when I had a frozen shoulder. I reached my goal weight +/- 3 pounds of 120 in mid-August of 2009.

Maintain weight of 120+/- 3 pounds.


Other Information:
I love to read books. Almost any fictional type genre also now I am reading lots of training and running books. I am also working on trying to simplify my life.

2014 Statistics
2 Triathlons - baby and a super sprint
Last Marathon
EVER - Big Sur
Changed gait - not finding speed.

2013 Statistics
Current 10K Armadillo 10K 59:55
Current Half Marathon PR 2:12:14 Lighthouse Loop
Current Marathon A1A 5:31:37

2012 Statistics
Current 5K PR 28:43.6
Half Marathon PR 2:12:47

2011 Statistics
*5K PR 30:16
*10K PR 1:00:18
*Half Marathon PR
2:14:53

2010 Statistics (Only 6 months of running-after 6 months off for tendon surgery)
*5K PR 32:27
*10K PR 1:07:56
*Half PR 2:20:24

2009 Statistics
*Current 5K PR 30:06.0
*Current 10K PR 1:01:08



Profile Image