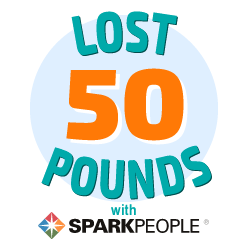 I have 41 pics in my gallery

Awards


Got to goal in 2009; Weight crept back 2011. Stalled since then :(
Going in for another try in May 2016! Trying the No S diet this time round: No snacks, no sweets, no seconds.

Here is my short history:
I'm from Ottawa, Canada. I'm 52. I have a husband and an 11 yr old son. I'm a former music teacher. I was on parental leave from 2005 -2010. Using plenty of tools in the diet world (Weight Watchers, Spark AND a diet doctor), I LOST 52.5 lbs in about a year and a half - from Dec 2007 to April 2009. I got into the best shape of my life. In ...
Going in for another try in May 2016! Trying the No S diet this time round: No snacks, no sweets, no seconds.

Here is my short history:
I'm from Ottawa, Canada. I'm 52. I have a husband and an 11 yr old son. I'm a former music teacher. I was on parental leave from 2005 -2010. Using plenty of tools in the diet world (Weight Watchers, Spark AND a diet doctor), I LOST 52.5 lbs in about a year and a half - from Dec 2007 to April 2009. I got into the best shape of my life. In September 2010, I faced the stark reality of going back to work. Let me tell you, working people, that if you can work AND get into, or even just STAY in shape, then you are a better person than I am. I couldn't do it. I gained 15 lbs during my year of work.

I'm off work again, but it's not easy to find the losing mode. Although I am pleased to have maintained most of my loss, I have been away from my goal weight for far too long. So,I am back sparking again, and trying to get back to 160, where I felt very lean and well, just about right!




My long story:
I got addicted to hiking at Pink Lake in the fall of 2007 (I weighed 210+ lbs at the time)-It's a 2.4 km hike around the lake with over 400 stairs. I drove there every single weekday in the fall. Every day that I hiked, I would be inspired and invigorated by the beautiful vistas and the physical effort. The trail closes in the winter, so in December, around the time I started trying to lose weight, I switched from hiking to XC skiing and skating. In the spring, when the snow was starting to melt, I joined the YMCA. (I'm not supposed to be outdoors in the sun for long due to my skin, so indoor workouts are my best bet). I started doing the machines and would work to stay at target HR for 30 minutes. Then I started watching out for hitting a target calorie burn. As I progressed, I started to work for distance and I set a goal to run a 10K in 1 hour in the Spring of 2009. (I did! I ran my first 10k in 56:44)

Now that's a bit about my exercise, but what about losing weight? In December 2007, I joined WW at 212.5 lbs - my highest weight ever. A friend convinced me to join. At first when she asked, I said no, and had another scone with double cream and berries. But a month later, I phoned her and said I'd had a change of heart. With even a small change in eating, I dropped 10 lbs fairly easily. Then I had a few bad weeks and gained 3 lbs. I tried to quit. My friend convinced me to come back, so I did. Well, after I came back to WW, it was my friend who quit! Darn her! She was entering into a stressful work situation, and there was no convincing her to stick with it: I tried.

On March 22, 2008, I read this quote somewhere which totally changed my slack approach to weight loss and after March 23rd, 2008 I tracked every calorie consumed and every calorie burned off through exercise. Here's the powerful quote:

quote: "A common trap people fall into is eating without being consciously aware of how much food they are eating...... a study published in the New England Journal of Medicine found that when people write down what they ate in a journal, they realized they have been underestimating their food consumption by an average of 1,053 calories per day..... through journaling you will gain control over your eating and consciously make healthy choices which will allow your body to release weight."

Once I started tracking, the weight seemed to come off more consistently. And once I joined SPARKS, I got motivated and inspired by how "boot camp" some folks were around here. I got down to business and started really feeling good in late summer 2008.

My friend (with whom I first joined WW) and I made a plan to go to NYC without the kids or hubbies for a weekend once we'd lost 25 lbs. Anyway, I got 25 lbs off by the spring, and even without my friend along, I took my reward in the fall. I visited NYC with a couple of pals. What a reward!! So memorable!

In YEARS of trying to lose weight, the lowest I'd gotten was the mid-180s. I hadn't been in the 160s once between 1995 to 2008. I FINALLY got back there in the fall of 2008. I was SOOOOO excited to finally make it. And it REALLY felt like a lifestyle change probably due to the exercise that I became addicted to. (I'd never really been that hard-core about exercise before, but I got almost religious about it!)

I kept losing throughout the spring of 2009, albeit slowly and I hit 160 that May. It had been my ultimate goal to get back to my wedding weight of 158. But on my wedding day, I was a "fat" thin, if you know what I mean. At 160, I felt lean and done. So I stopped.

The last 5-10 lbs REALLY are the most stubborn. And I think I achieved that final weight loss to get to goal by cutting out eating at night. I started a team called the 100-day challenge team (sadly the team is inactive now). I made it my challenge to not eat after supper for 100 straight days. It worked (I mean I never made 100 days in a row - probably only 85 out of 100). But, I hit my healthy BMI (160) feeling wonderful. I felt amazing and decided to hold it there. I stopped sparking, except rarely. I spent the summer training for a half-marathon. I'm not sure why, but this training was not as successful as my 10k training, and I fell far short of meeting my goal of doing the half in 2 hours.

By the fall of 2009, I started to gain back a little weight - just a few lbs. I was 163 on the day of my half-marathon in the fall (2:14:50). I moved my parents into a house which backs onto our house then too. My parents are dessert people, so sharing meals with them regularly has been a bit of a challenge. In September 2010 I went back to work and really struggled with the maintenance. By the end of a year of working I had gained 12 lbs and found myself back in the high 170s.

My ultimate goal is ONCE AGAIN to reach my 1994 wedding weight of 158. I feel that I need to get to 155 actually and then use a 5 lb buffer with 160 as my top weight. I feel good there, but anything above 162 feels fat. (It's SO bizarre that I used to gained 5 -10 lbs and not feel it.But when a person hits goal weight, every lb of gain can be felt)

After 155, do I dare to dream of reaching my high school weight of 145. When I left for university in 1982, I weighed that. I am much more muscular now so that number might not be achievable.

I am very lucky to have a husband who can support me financially, so in June 2011, I left my teaching job. Now I have NO MORE EXCUSES for not hitting and sticking my goal weight.

I am facing up to the fact that I have gained back 15 lbs. I want to get back into great shape. So off we go again!

Starting Measurements: when 212.5 lbs:
Chest - over 45
Waist - about 37
hips - about 46

June (185 lbs)/July (180)/Sept (175)/Oct (170)/Jan (163)
Neck 14.25/13.75/13.75/13.75/13.75
Arm 12.75/12.25/12.0/11.75/11.5
Bust 42.75 / 41.25/41.0/40.0/39.5
Waist 34.5 /34.25/33.75/32/31.75
Hip 43.5/42/41/40/39.5
Thigh 24.5 /24.25/23.5/23.25/23.25

(In HS I was about 37-27-38)

Fat Percentage:
2001 with diet doctor at 206 lbs = 44%
April 2008 new fat scale: 41% at about 200 lbs
July 2008: 35% at 181 lbs
Sept 2008: 34.5% at 174 lbs
Jan 2009: 31.6% at 165 lbs (I corrected the input of my height in my BF scale from 5' 6.5" to my most recent doctor's office measurement of 5'7.25"; this altered my fat percent from 32.4 to 31.6)
Goal #1: acceptable to "the Navy" 34%: met Oct 30. 2008
Goal #2: non-obese 31%
Goal #3: healthy 25%
It turns out that my BF is in the mid-20s percentage-wise. If a person does about 10 hours of exercise a week, they need to adjust their BF scale to the athletic setting. Once I did that I got some reading of around 23-27%. And I measured my body fat with calipers and it is "optimal" (when I weigh under 165.)

Throughout my journey, I was aiming to lose 5 lbs at a time. I gave a label to how I felt, or how I think I'll feel at each step of the way.
210s: blubbery, porky (Dec 08, 2007)
high 200s: plodding, (Dec 20, 2007)
low 200s: slow (Feb 2008)
high 190s: jiggly (March 2008)
low 190s: flabby (May 2008)
high 180s: pudgy (June 2008)
low 180s: heavy (July 2008)
high 170s: thick (July 27,08)
low 170s: curvy (Sept, 09, 08)
high 160s: muscular (Oct 07, 08)
low 160s: athletic (Dec, 08 , and returned Jan 21!)
high 150s: strong (March 24, 2009)
low 150s: sexy
high 140s: slim
low 140s: perky

Immediate Goals: hit and stick it (for a month or more) at 162.5 (50 lbs off), and make my WW goal weight of 160, (which would also put me at in healthy BMI range). I met this goal in the summer of 2009, but in the fall, I allowed my weight to creep up.


Other goals and, if achieved, the date achieved:
10% off: June 4, 2008
non-obese BMI: June 17, 2008
25 lbs off: June 17, 2008
under 180 lbs (not seen in 10+yrs): July 27,08
fit size 12 again:Sept, 08
low 170s: Sept 09, 08
34% body fat (acceptable to the "Navy"): Oct 30, 2008
31% Body Fat ("normal" BF range, but not "healthy"):
under 170 lbs (not seen since 1995): October 07, 08
169.7 lbs (weigh less than my husband): Oct 22, 2008
32 inch waist (healthy according to medical advice):Jan 2009
160 lbs (top of healthy weight range for WW):
158 lbs (my weight on my wedding day in Oct, 1994):
25% body fat ("healthy" body fat): March 2009
145 lbs (my weight through most of high school):
30 inch waist (just a little bigger than in HS)


WEIGHT WATCHERS "OFFICIAL" PROGRESS:
Week of the year/ Weight/ Change

September 2007: started hiking Pink Lake (2.4 km loop) daily

November 2007: I had tea date with 2 chubby friends. Chubby friend #1 had lost 35 lbs with diet doctor. Chubby friend #2 had recently joined ww and asked if I'd like to join with her. I said no, (and ate my clotted cream with raspberries).
Nov 2007: Bought XC ski pass for Gatineau Park and started to try to find new routes for winter exercise.

Dec2007: I phoned friend#2 and said I'd join with her.

Wk 48: 212.5 lbs (Start) Dec 08, 2007

Got the flu and took several weeks off hiking
Wk 49: 209 (-3.5)
Wk 50: 207.5 (-1.5) FIVE OFF!
Wk 51: 209.5 (+2)
2008
Wk 1: 209.5 (same) January 02, 2008
Wk 2: 205 (-4.5)

Recovered from flu and Christmas and re-started exercising.

Wk 3: 206.5 (+1.5)
Wk 5: 202.5 (-4) TEN OFF!
Wk 7: 204 (+1.5)

started weighing self daily.

Wk 8: 201 (-3)
Wk 9: 201 (same)
Wk 10: 198 (-3)

Wk 11: slipping,
Wk 12: wanting to quit
Wk 13: desperate to get back on track; read quote about the power of tracking and start faithfully tracking food intake and my weight daily

Wk 14: 201 (+3) friend#2 got me back to ww

joined the Y, started tracking exercise
Wk 15: 199 (-2)

bought a new home scale, fat-percent one
Wk 17: 199.5 (+0.5)

got HDTV for bedrm to avoid kitch./1st flr post-supper
Wk 18: 197 (-2.5) FIFTEEN OFF!

switched to a new daytime ww meeting
friend#2 quit ww this week
Wk 19: 196.5 (-0.5)

started graphing wt loss, + WI self morn. and eve.
Wk 20: 193.5 (-3)

friend#3 invited me to run 10 k with her next spring
started experimenting with running
Wk 21: 192.5 (-0.5) TWENTY OFF!!
Wk 22: 192 (-0.5)

saw friend#1 who lost 35, she gained all back + more
joined SPARK
Wk 23: 190 (-2) TEN PERCENT OFF!
Wk 24: 188.5 (-1.5)
Wk 25: 186 (-2.5) TWENTY FIVE OFF!!
wk 26: 186.5 (+0.5) and I starved all week! BOO!

Decided to "eat more". If I'm unhappy, I won't do it forever. I ate more, got happier, got over the plateau.
Wk 27: 185.5 (-1)

bought a WW "missed meeting" that lets me miss for vacations or for no reason at all.
Wk 28: missed
Wk 29: missed
Wk 30: 181.0 (-4.5) THIRTY OFF!
Wk 31: missed
Wk 32: 177.0 (-4) Aug 05, 08 THIRTY-FIVE OFF!

*started New Rules of Lifting 4 Women - 08-08-08.
Wk 33: missed
Wk 34: missed
Wk 35: missed
Wk 36: 176.0 (-1)
Wk 37: missed
Wk 38: missed
Wk 39: 176.5 (+0.5) boooo!

Wk 40: re-join diet dr after #days overeating 177.6 lbs
Wk 41: WWWI: 172.5 (-4) FORTY OFF!!
Wk 42: DDr: 169.8
Wk 43: WWWI: missed
Wk 44: DDr: 169.6
Wk 45: WWWI: 166.0 (-6.5) FORTY-FIVE OFF!
Wk 46: missed
Wk 47: DDr: 168
Wk 48: WWWI: 167.5 (+1.5) wearing my heavy jeans, but still forty-five off. oops
Wk 49: new low but none official
Wk 50: very low, but unofficial
Wk 51: slipping
Wk 52: slipping yikes
2009 - YEP, I put on 7 lbs of the dreaded holiday pudge, but took off most of it before any official WI.
Wk 1: Family Doc: 168 (+0.5)
Wk 2: DDr: 166.5 (-1.5)
Wk 3: WWWI: 165.5 (-1) YAY - a new low! (Never mind that I'm only down a half a pound since my previous low TEN weeks ago! A half a pound in 10 weeks! That's gonna change!)
Wk 4: DNW at WW - too peeved at being up. Started a new SPARK team "100 day challenge" (Day 1 was Jan 27) with my own personal challenge to not eat at all after supper for 100 days straight.
Wk 5: DDr: 165.5 (-)
Wk 7: WWWI: 165.0 (-.5)
Wk 8: DDr: 162.5 (-2.5) FIFTY OFF!
Wk 9: WW: 165.5 (+3). Stupid post-WI celebrating!
Wk 10: 165.5 (-)
Wk 11: missed
Wk 12: DDr: 161 (-4.5)
Wk 13: WW: 162 (+1)
I stopped attending WW meetings and also the diet doctor in 2009. I feel badly that I never made it to "lifetime", but I can't meet their super-strict weigh-in targets. Those targets are for people who are more disciplined than me (or who never exercise), not muscular women like me!


Current Status:


SparkFriends

SparkTeams



My Ticker:
current weight: 28.0 over


Recent Blogs:

Profile


Member Since: 5/30/2008

SparkPoints: 25,087

Fitness Minutes: 66,418

My Goals:
To never give up!
To pursue faster running times:
2 hour half-marathon (currently 2:14:50)
sub-55 10k
(currently 56:44)
sub-30 5k
(I ran 30:19 near the beginning of my running training)

Speed goals
1 mi goal pace:
Oct: 9'30 (met)
Nov: 9'15 (met)
Dec: 9' (met)
Jan: 8'45 (met)
Feb: 8'30
Mar: 8'15
Apr: 8'

2 mile goal time:
Oct: 19'30 (met)
Nov: 19' (met)
Dec: 18'45
jan: 18'30 (met)
Feb: 18'15
Mar: 18'00
Apr: 17'45
May: 17'30
June: 17'15
July: 17'
Aug: 16'45
Sept: 16'30
Oct: 16'15
Nov: 16'00

5k goal times:
Nov: 30' (met)
Dec: 29'45
Jan: 29'30
Feb: 29'15
Mar: 29'
Apr: 28'45
May: 28'30
June: 28'15

My Program:
I change something when I lose motivation.



Personal Information:
I'm from Ottawa, Canada
I'm married and we have a 8 yr old adopted son.
I'm a former music teacher, but now a stay-at-home mom.

Other Information:
I've lost 50 lbs so far with weight watchers
(start@ 212.5 lbs Dec 07),
with the Y
(Started @ 200.5 on Mar 27, 08)
and with SPARK
(Start @ 189.2 on May 31, 08).
On Sept 30th, I rejoined a diet doctor and he has me on a lower calorie/ lower carb program again. I'm not consistent about following it though.

Goal for my 14th wedding anniversary: 169 Goal Met!

Goal for my trip to NYC on Nov 15th: 165 (weighed 165.2 on returning from trip- GOAL MET!)

Goal for my 45th birthday (Dec 2008): 159 Yikes -didn't make it until March 24th, 2009

Goal for my dh's 45th birthday in Feb 09: 25%BF GOAL MET, I am 23.1% BF

Goal for end of 2009: Weigh between 155 and 166. And less than 25% BF. Done I am 24% BF
Run an 8 minute mile, and a sub-60 10k. Done: I ran a 56:44 10K

Profile Image