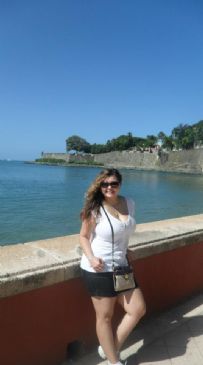 I have 8 pics in my gallery

Awards

"I took the one less traveled, and that has made all the difference..."
UPDATED - HAPPY NEW YEAR!!

I got my workout gear and I should be getting on the mail an Ipod Nano with Nike+ Technology. Looking forward to running and exercising with it.

I'm a 28 y/o latin girl who moved to USA in 2007 and gained about 65 pounds in the last 5 years. In 2011 I lost 15 of those 60 by taking Zumba, doing a bootcamp and being more active, but gained it back due to overload at work and lack of time/motivation. I'm planning to lose those 15 and 30 more! ...
UPDATED - HAPPY NEW YEAR!!

I got my workout gear and I should be getting on the mail an Ipod Nano with Nike+ Technology. Looking forward to running and exercising with it.

I'm a 28 y/o latin girl who moved to USA in 2007 and gained about 65 pounds in the last 5 years. In 2011 I lost 15 of those 60 by taking Zumba, doing a bootcamp and being more active, but gained it back due to overload at work and lack of time/motivation. I'm planning to lose those 15 and 30 more! As of January 7, 2013.

[My first goal in 2012 was the following:] ----Ideally I'd like to lose 20 pounds by June 16 to fit in a dress for my best friend's wedding in Panama. I have a long way to go. I love to dance and eat healthy but wasn't working out enough. I'm loving this new lifestyle and hope I can keep it forever! ----- I didn't lose those 20 pounds but only 5 and over the last semester of 2012 gained even more weight. Therefore I'm starting 2013 all over with a new goal !!

[This was Summer of 2012] I'm looking forward to enjoying more walks and fun activities now that the weather is nice! I recently got certified to teach Zumba but haven't had time to practice enough to be able to teach! I joined the ZIN network and love being part of it.

My dad still holds a 100 metres record in South America and he also went to the Munich Olympic Games representing my country. I believe I must have it in me and I just have to find it! I am a lawyer and work long hours at a law firm.

Over the Holidays I discovered some workout routines that were actually enjoyable, I'm planning to stick to those + Zumba + healthy eating. I'll let you know how it goes :)
SparkFriends

SparkTeams



Interact with LATINMUSE84






Recent Blogs:

Profile


Member Since: 4/5/2011

SparkPoints: 1,510

Fitness Minutes: 1,775

My Goals:
Lose 40 pounds and keep them off! (NOW 45!)

Fit in a dress I wore last year for a wedding. (Achieved! Although it didn't look as nice as it did the first time)

Be able to teach a whole Zumba Class (1 hour)

Fit in my own jeans again!

Drink more than 1 glass of water daily. I know, I know, I have issues!

Get more than 4-5 hours of sleep per day.

My Program:
Ideally Zumba 3 times a week, most weeks I do it once or twice. Dance as much as possible since it not only helps with my weight but also makes me happy!

Take walks depending on the weather. Start running on the treadmill. I'm loving an intervals program on the treadmill where I run for 10 seconds, slow down, run for other 20 and slow down and repeat this until I reach 100 seconds running and then decrease by doing 90 seconds, 80 seconds and so on...

Maximize my workout by using 2 pound dumbbells when walking.

Personal Information:
I'm originally from Ecuador but grew up in Panama. I lived in NYC for a couple of year and now I live in Atlanta, GA. I don't have kids and I work an average of 10 hours daily.

Other Information:
One of the biggest challenges for me is to stop eating out. I enjoy watching movies, listening to music and traveling.

I've been losing and gaining weight back. For example one week I gained 3 pounds and lost 2 the week after that. It can get really frustrating!

I joined Weight Watchers on May 13/2012 but it hasn't really worked for me that well. The back and forth game continues. I was doing better when I was doing Sparkpeople only. I've considered other meal plans. I am now considering detoxing options or fasting with juice.

Profile Image