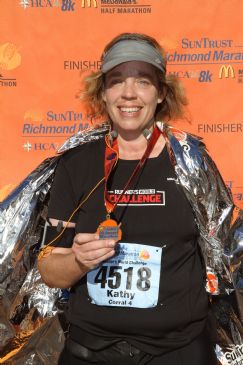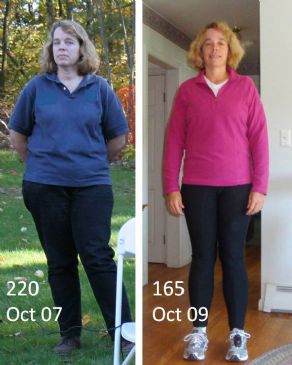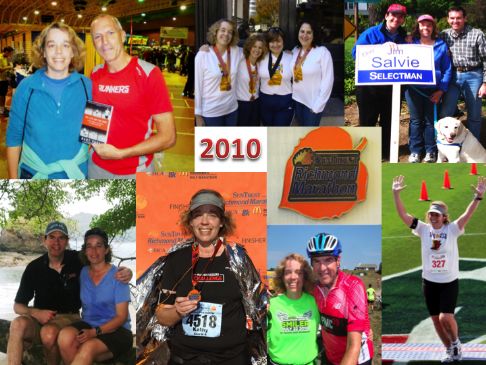 I have 45 pics in my gallery

Awards


2013 - Taking Flight!
"The person who says it cannot be done should not interrupt the person who is doing it." ~Chinese Proverb

I started Spark in January 2008. If ANYONE had told me back then that I would lose 50 pounds, keep (most of) it off, and become a distance runner, I would have told them that it could not be done. No way. Not gonna happen. But here I am -- more fit, healthy, and energetic at 50 than I was at 40 -- and that feels amazing. I've also realized that it takes constant hard ...
"The person who says it cannot be done should not interrupt the person who is doing it." ~Chinese Proverb

I started Spark in January 2008. If ANYONE had told me back then that I would lose 50 pounds, keep (most of) it off, and become a distance runner, I would have told them that it could not be done. No way. Not gonna happen. But here I am -- more fit, healthy, and energetic at 50 than I was at 40 -- and that feels amazing. I've also realized that it takes constant hard work.

LAB-LOVER'S JOURNEY FROM OBESE TO ALMOST NORMAL...

I've struggled with weight my whole life. At 221 pounds, I reached the point where I was fed up with being a fat, slow person who couldn't walk a mile without sore feet and had high blood pressure. I had a new job at work, was caring for a parent, and could have easily rationalized that I was too busy to fit healthy eating and exercise into my life. But in January 2008 on a snowy weekend in Portland, Maine, I decided to get honest with myself and make MY goals a priority.

For the first time in my life Iíve really been successful with healthy eating and exercise Ė and the results are amazing! My BMI has gone from obese to overweight. Iíve shrunk from a size 18/20 to 8/10. I've cut my blood pressure meds in half. I never imagined that I could be a runner, but I completed the Couch to 5K program in March 2008 and have been running ever since. I've run about a dozen races a year and completed my first marathon in Richmond in November 2010. I'm trying to run a half in every state and will have done 13 by the end of 2012. Iím a slow runner, but that doesnít matter muchÖ itís the improvement I see in myself that keeps me motivated. I can find something to be proud of almost every time I work out Ė even if itís something small. And itís a great feeling!

Thereís no magic to this Ė just hard work. But along the way Iíve learned that itís important not to get negative if you make bad choices. Be gentle with yourself. If you know you had a bad day, you are at least paying attention. Figure out WHY it happened, learn from your mistakes, and do better next time. As time goes by, success breeds success. Itís amazing how losing just 10 pounds can improve self-confidence in every aspect of your life and make you feel great! Thinner face, looser clothes, more energy! And oh, the compliments! Iíve been told I look thinner, younger and fit. Someone recently called me "skinny"! And I know that I have more energy, am sleeping better and feel great. All of this keeps me on track through the tough times and plateaus.

My Sparkbuddies and team members have also been a huge factor in my success. We have fun and support each other. I have made friendships with people I would have never crossed paths with in ďrealĒ life -- and some have now become real life friends! They were a huge source of support and a daily inspiration. We've tackled our food and body image issues together. With their encouragement, losing weight has given me the confidence I never expected to tackle other challenges in my life Ė personal and professional clutter that was weighing me down. I truly feel like thereís nothing I canít do if I put my mind to it. My weight loss and fitness success has inspired me to set goals in other areas of my life. And Iíve made a long list to keep me on track Ė health, fitness, professional, financial, travel, etc. I feel like Iím facing the future with a roadmap, rather than wandering aimlessly.

Iíve been upfront about telling people in real life about my goals and my successes. Having others tell me that Iím an inspiration is incredible. Itís allowed me to take risks, and to open myself to new possibilities and relationships. To me, thatís one of the powerful things about SparkpeopleÖ everyone has the ability to be an inspiration. And I'm honored to be quoted in "The Spark."

But my resolve to put myself first has been most critical. As SparkCoach Dean says: "If youíre not the loudest and most active member of your own fan club, your chances for long-term success will be pretty low. Other people may help you get started or keep you going on those inevitable bad days. But you are the one who has to be there for yourself each day when itís time to make the right decisions to reach your goals.Ē
____________________
------------------------------------
Never limit where running can take you.
-Bart Yasso
-------------------------------------
Take your head there and your body will follow.
-Craig Harper
------------------------------------
I am a river, forever changing. Struggle is perfect, and all that is here is for good. -Adrienne Young
---------------------------------------
"Although no one can go back and make a brand new start, anyone can start from now and make a brand new ending." ~ Roberta Brenick
--------------------------------------
"How bad do you want it? How bad do you need it?
Are you eating, sleeping, dreaming with that one thing on your mind?
How bad do you want it? How bad do you need it?
Cause if you want it all, you've got to lay it all out on the line "
-Tim McGraw
---------------------------------------
I WILL REACH MY GOAL ONE POUND AT A TIME

Sept 06 - Heaviest weight at 221
Jan 3, 2008 - 213 - Join SP
Jan 8 - 212 - Starting to "get" my way around the site
Jan 10 - 211 - Set small daily goals
Jan 13 - 210 - Got serious about 8 cups of water
Jan 20 - 209 - Notice my face is looking thinner
Jan 23 - 208 - Get "lost 5 pounds with SP icon"
Jan 29 - 207 - Started telling friends about my goals
Feb 5 - 206 - Pull "skinny me" clothes from closet to motivate me
Feb 14 - 205 - Post a "before" picture of myself in SparkGallery
Feb 16 - 204 - Intentionally tried to shink jeans in the dryer so they fit!Feb 18 - 203 - Get "lost 10 pounds with SP icon"
Feb 26 - 202 - Gotta exercise! Sign up for 10K/Start 10K team
Feb 28 - 201 - Wearing pants that didn't fit in January.
Mar 4 - 200 - Notice I don't enjoy taste of fries at McDs
Mar 8 - 199 - Onederland! Reached my 1st short term goal.
Mar 9 - 198 - 15 pounds lost! New SP Icon; 10% of me is gone
Mar 12 - Started Couch to 5K program
Mar 27 -197 - Make first appearance on my SparkPage
Mar 30 - 196 - Week 3 of Couch to 5K training, run 9 minutes
Apr 12 - 195 - Busted thru plateau. Bought new 4" smaller jeans
Apr 13 - 194 - Celebrated 100 days as a Sparkperson
Apr 14 - 193 - 20 pounds lost! XL T-shirts getting too big!
Apr 15 - 192 - 10% of me gone! Can run 5 minute intervals.
May 7 - 191 Week 8 of C25K, can run 2.5 miles without stopping
May 8 - 190 - I am "only" overweight! New BMI category!
May 11 - 189 - Skipped right over this one
May 11 - 188 - Lost 25 pounds! Have gone from Size 18/20 to 12/14
May 12 - 187 - Jettisoned four huge bags of clothes.
May 18 - Finished C25K. Ran/walked first 5K. Time 39:16 (12:38/mile)
Jun 8 - 186 - Halfway from Pre-Spark weight to goal!
Jun 9 - 185 - Wearing short shorts!
Jun 11 - 184 - Got my 10,000 point trophy today! WOO HOO!
Jun 21 - I am a SparkPeople Motivator! Thank you all!
June 23 - 183 - 30 pounds lost! I am now tucking my shirt in!
June 29 - River 5K - Ran whole way at 38:30 (12:23/mile).
July 6 - 182 - Notice I'm no longer avoiding mirrors!
July 8 - 181 - I've lost 40 pounds from my heaviest!
July 17 - 180 - I can run 4 miles without stopping to walk!
July 29 - 179 - Wearing MEDIUM shirts!, 20% of me is gone!
July 29 - 178 - 35 pounds lost on SP!
Aug 8 - 177 - Beginning to see myself as a "not fat" person.
Aug 26 - 176 - Mom passed away yesterday. Lost 45 lbs from heaviest.
Oct 13 - 175.5 - First 10K and set a new PR at 1:18:11 (12:35/mile) - faster than I did 14 years ago!
Nov 14 - 174 - Notice legs feel stronger, ran a mile in 11:33
Nov 21 - 173 - 40 lbs lost since joining SP!
Nov 27 - Gobbler 5K - New PR at 37:43 (12:08/mile) (clock, not chip)
Dec 14 - 5K - New PR at 37:00 (11:54 mile) (chip)

2009
Jan 6 - 172 - 1st loss since before Thanksgiving!
Jan 7 - 171 - 50 pounds off from heaviest! WOO HOO!
Jan 7 - 170 - got two huge compliments this week!
Feb 4 - 169 - WOO HOO! One-sixtyville! Just 10 lbs til normal!
Feb 27 - 168 - Notice that I don't mind the me I see in photos!
Mar 22 - 167 - Hubby says I have a "nice azz"
Mar 23 - 166 - 25% of me is gone!
Mar 25 - 165 - I keep up with colleagues hiking in the woods
Apr 19 - First ever 10 mile run!
May 3 - First ever 12 mile run!
May 18 - Hometown 5K - PR- 35:30 (11:25/mile)
May 24 - 1st Half Marathon - 2:52:51 (13:21/mile)
June 23 - Passed 500 miles in run across U.S.
June 27 - River 7.5 mile race PR: 1:32:07 (or 12:17/mile - chip)
July 5 - River 5K - New PR at 35:25 (11:24/mile- clock)
July 23 - Summer 5 Miler - 58:58 (11:48/mile - clock)
Sept 15 - I am called "fit" for the first time in my life
Sept 17 - I am called "thin" for the first time. It's a good week!
Sept 18 - 163 - Have lost 50 pounds on SP!
Oct 15 - Set a PR in 10K at 1:15:13
Nov 1 - 14.25 long run - longest run ever!
Nov 2 - Completed 1 year of Virtual Run across the US - 800 miles!
Nov 15 - Second half marathon in San Antonio with Sparkbuds!

2010
Jan 15 - Began strength training
Feb 4 - Doc says cut blood pressure meds in half
Feb 28 - Half Marathon - 2:51:35 (PR!)
May 15 - Made it to Missouri in virtual run across US
Sep 7 - Made it to Kansas in virtual run across US
Sep 12 - 1st ever 15 mile run
Oct 3 - Maine Half
Oct 17 - 1st ever 20 mile run
Nov 13 - Richmond Marathon! 6:13 chip time

2011
January - Florida Half (Miami)
February- New 10K PR
June - Seattle Half
July - Certified as Running Coach
August - First Relay - Hood to Coast! Amazing!
Sept - 185 - Begin Challenge to lose the pounds that have crept on
Oct - Newport RI Half (new PR 2:49:36)
November - Las Vegas Half

2012
April - St. Louis Half
May - Reach Montana in Virtual Run Across US.
June - Vermont Half

VIRTUAL RUN ACROSS THE US - Started 11/1/08
5/2012 - in Yellowstone

LONG TERM HEALTH AND EXERCISE GOALS
DONE 10/13/08 - Run/walk 10K in Fall 2008
DONE 10/13/08 - Run one 12 min. mile Ė 1st mile in 10K
DONE 10/25/08 - Run 2 consecutive 12 minute miles
DONE 11/16/08 - Run 7 miles for the first time
DONE 11/21/08 - Run 3 consecutive 12 minute miles
DONE 11/27/08 - 38 minute 5K (37:43 or 12:08/mile)
DONE 11/27/08 - Run a 11:30 mile
DONE 12/6/09 - Run 8 miles
DONE 12/14/09 - 37 minute 5K (37:00)
DONE 12/19/08 - Run 9 miles
DONE 1/7/09 - Reach 50 pounds lost milestone (171)
DONE 3/2/09 - Ran 3 speedwork miles at 11:45 each
DONE 3/23/09 - Reach 25% of me lost milestone (166)
DONE 3/27/09 - Run one 11 minute mile (10:38)
DONE 4/20/09 - Run 10 miles
DONE 4/25/09 - Run 11 miles
DONE 5/3/09 - Run 12 miles
DONE 5/18/09 - Run a 5K in 36 minutes (35:30 or 11:25/mile)
DONE 5/24/09 - First half marathon (first 13+ mile run)
DONE 6/28/09 - 1st 7.5 mile race - 1:32:07 (12:17/mile)
DONE 6/28/09 - Join the Ntl Weight Control Registry.
DONE 7/18/09 - Run one 10:30 mile (10:21:06)
DONE 7/23/09 - 1st 5 mile race (58:58 or 11:48/mile)
DONE 8/6/09 - Ran 2 nonconsecutive 10:00 quarter miles (2:30 laps).
DONE 9/18/09 - Reach 163# - 50 pounds lost on SP
DONE 10/15/09 - 10K PR - 1:15:13 (12:07/mi)
DONE 11/1/09 - Run 14 miles (14.25 miles!)
DONE 11/15/09 - 2nd Half Marathon - 2:58:06
DONE 2/28/10 - 3rd Half Marathon - PR!
DONE 9/12/10 - Run 15 miles (15.32 miles)
DONE 10/17/10 - Run 20 miles
DONE 11/13/10 - First marathon! Richmond!
DONE 7/11 - Certified by RRCA as running coach
DONE 8/11 - First Relay
DONE 4/12 - Broke 10:00 for a 1/4 mile
Run 2 consecutive 11:15 miles
Run 3 consecutive 11:15 miles
Reach 60 pounds lost milestone (161)
Leave 160ville forever
Normal BMI
Run a 5K in 35:00
Reach 70 pounds lost milestone (151)
Reach my weight loss goal
Run 2 11:00 minute miles
Run 3 11:00 minute miles
Run 2 10:30 miles
Run one 10 minute mile


2009 MM Times
6/19 - 10:44:08
7/18 - 10:21:06
7/26 - 10:28
10/25 - 10:24:06
SparkFriends

SparkTeams



My Ticker:
current weight: 187.4


Recent Blogs:

Profile


Member Since: 1/2/2008

SparkPoints: 54,731

Fitness Minutes: 58,647

My Goals:



Personal Information:
Runner
Red Sox Fan
Certified Running Coach
Yellow Lab Owner
Married
Blogger
Photographer
Business Owner
Nonprofit and Community Leader


Other Information:
MILESTONES:
o Lost 5 lbs - 1/23/08
o Lost 10 lbs - 2/18/08
o Lost 15 lbs - 3/9/08
o Lost 20 lbs - 4/14/08
o Lost 25 lbs - 5/11/08
o Lost 30 lbs - 6/23/08
o Lost 35 lbs - 7/29/08
o Lost 40 lbs - 11/21/08
o Lost 45 lbs - 3/3/09
o Lost 50 lbs - 9/18/09 (163)

MONTHLY WEIGHT LOSS:
Jan 08 - 6 lbs
Feb 08 - 6 lbs
Mar 08 - 5 lbs
Apr 08 - 4.5 lbs
May 08 - 5 lbs
June 08 - 5 lbs
July 08 - 4.5 lbs
Aug 08 - 2 lbs
Oct 08 - 1.5 lbs
Nov 08 - 2 lbs
Jan 09 - 2.5 lbs
Feb 09 - 1.5 lbs
Mar 09 - 3.5 lbs
Jun 09 - 1.0 lbs
Sep 09 - 1.0 lbs
Since - 0 new lbs



Profile Image