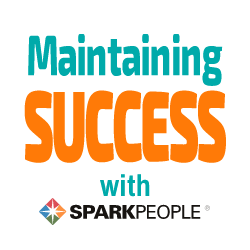 I have 19 pics in my gallery

Awards


When you see a person on a mountain top, just remember they did not fall there!
Thanks SparkPeople for getting me off the endless yo-yo rollercoaster. 7+ years and counting.

I started my SparkJourney in March 2007 when I was 10 lbs away from my goal weight.

Prior to finding SP I had lost 30 lbs doing WW online but was unable to lose the last 10.

After 6 years of fine-tuning, trial and error I finally reached my ultimate weight goal in early 2013, and am now maintaining within a +/- 3% radius.

I'm hanging out and hanging ...
Thanks SparkPeople for getting me off the endless yo-yo rollercoaster. 7+ years and counting.

I started my SparkJourney in March 2007 when I was 10 lbs away from my goal weight.

Prior to finding SP I had lost 30 lbs doing WW online but was unable to lose the last 10.

After 6 years of fine-tuning, trial and error I finally reached my ultimate weight goal in early 2013, and am now maintaining within a +/- 3% radius.

I'm hanging out and hanging in, still fine-tuning as I go. Maintenance does not mean you have it all figured out...

In the spring of 2012 I rediscovered hiking. It has become my passion. Okay, I'm obsessed. There is peace on the trail. It soothes my soul. And it builds some really mean leg muscle :)





SparkFriends

SparkTeams

My Ticker:
current weight: -1.6 under


Recent Blogs:

Profile


Member Since: 3/5/2007

SparkPoints: 41,972

Fitness Minutes: 62,018

My Goals:
1. Better nutrition: More veggies, more fruit, more whole foods, more water. It continues to be a challenge.

2. Improving my strength, endurance, and flexibility with continued regular workouts.

3. Achieving balance: Mind, body, and soul.

My Program:
1. Nutrition:
Focus will be on HYDRATION.
I'm terrible with water. Goal is 40 oz. a day. That's 5 cups. Even I should be able to do this.

2. Fitness:
Love to hike. You'll find me on the trail somewhere every weekend.

My favorite workout during the week is Zumba.

I also enjoy yoga to balance it all out.

3. Balance:
Aiming for at least 7 hours of sleep every night.




Personal Information:
No one is in charge of your happiness, except you. Smile. You donít own all the problems in the world. ~~

Life isn't about waiting for the storm to pass, it's about learning to dance in the rain!!
~ author unknown

Other Information:
Through humor, you can soften some of the worst blows that life delivers. And once you find laughter, no matter how painful your situation might be, you can survive it.
- Bill Cosby


Profile Image