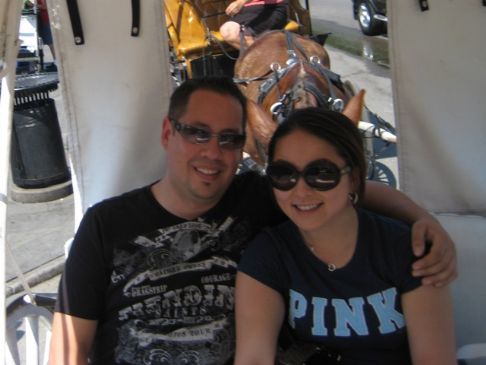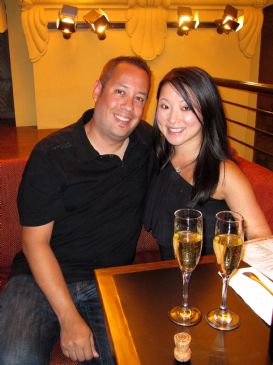 I have 49 pics in my gallery

Awards


Never say "NEVER"!!!!! :P
Hi! My name is Annie and I am a 32 year old back at SP for the 2nd (3rd?) time on the road to lose the poundage I gained back that should have stayed lost. o_O (If you're interested in my first go-around, scroll down)

Feel free to add me as a friend; I love meeting new Sparkies! One thing is for sure: healthy living is SO much easier (and fun!) with support. Thank goodness for SP. :):):)
====================================

OCTOBER 2011 GOALS
1) ...
Hi! My name is Annie and I am a 32 year old back at SP for the 2nd (3rd?) time on the road to lose the poundage I gained back that should have stayed lost. o_O (If you're interested in my first go-around, scroll down)

Feel free to add me as a friend; I love meeting new Sparkies! One thing is for sure: healthy living is SO much easier (and fun!) with support. Thank goodness for SP. :):):)
====================================

OCTOBER 2011 GOALS
1) Continue running
2) STRETCH!!! Increase flexibility.
3) Cook once a week minimum

====================================

SEPTEMBER 2011 GOALS:
1) Continue running 3x a week
2) Weigh once a week, twice at the most
3) Blog once a week

08/29/2011 - I may have lost five pounds on my own, but have lost EIGHT pounds since coming back to SP!!! I am finally starting to fit back into my old clothes and I feel so healthy and so strong. This is a long time coming since starting my workout program back up again in March.

I also recently increased my running from 2 to 3 times a week. Amazingly, I actually feel STRONGER during my runs now than when I ran on less days!
====================================

07/16/2011 - I'm back after a 2 year hiatus! After being away for so long, I am back, ready and working towards becoming a runner again, this time with completely healed ankles/tendons/Achilles Heel/knees, etc. Oh running, how I have missed you! *smoochsmoochsmooch*

For this time around, if there's one thing I have learned while being away it's that I need to take things slow(er). That is, lose weight slow(er) by being less restrictive, eat slower to get fuller faster, and not to push my mileage/training so that my joints decide to throw a tantrum and go on strike on me (after all, I am 30+ years old now!). I also learned to take it slow on SP/this healthy lifestyle thing... It should be a PART of my life, not BE my life, meaning I "should" make time to veg on the couch with a good book and hold impromptu dance parties in my living room with my kitties. It's just so hard because not only can I be obsessive with my ambitions, I find it fun to be 150% consumed with my goals. (yes, WEIRDO!) But that is just me and I need to expand my world to seek the "balance" that everyone speaks of. (I hear it's nice, I'll let you know.)

====================================

Hi, my name is Annie and I am having the time of my LIFE!

Until July 2008, I lived my life as a terribly inactive young lady. I ate unhealthily, was tired all the time and my self confidence and esteem were in the trash. There were times when I dieted and worked out, but they were a means to an end Ė I never thought about changing my LIFE.

My OMG moment came when I saw pictures of myself from 4th of July weekend in 2008. I was tired of only having pictures taken of me from the shoulders upÖ I needed a CHANGE!

I started with 20 minute brisk walks every day. When that got easy, I did the 10,000 steps a day program (it WORKS!), but soon it felt so good that I started taking DAILY 6 mile walks!

When the 6-milers were no longer challenging, I started the Couch to 5k Program Ė that was when my life took a HUGE turn. I was shocked that I Ė yes ME! Ė could actually be a ďrunnerĒ!!!

Not only was I losing weight steadily, but I could feel me adding years onto my life. My heart liked the pumping, my lungs enjoyed the expansion and my muscles loved the movement. I was having the best time ever with my new hobby, but when I needed support and help on nutrition, I signed up for SparkPeople.

I LOVE SP!!!!!!!!!!!!!!

I love the Sparkers, reading blogs, and sharing stories. There are seriously some gorgeous bodies on here! SP is amazing for motivation; thanks to SP, Iíve lost almost 15 pounds and tons of body fat, but GAINED awesome friendships.

I am feeling so good today. A brand new life in the active laneís opened so many doors to experiences. For example, kayaking Ė Iím going this summer with my DH! How about doing a duathlon? Sure, sounds doable. Triathlon? I need to learn to do freestyle (I hear doggy paddling won't cut it) but sure, ok! Oooh, but how about a MARATHON? OMGÖ am I really training for my FIRST in October?!

An active lifeís helped me to focus on me NOW. I learned that my completely unathletic past does not matter Ė what matters is what I am doing TODAY and my current abilities. Just the thought of running more than a second used to get me out of breath, but today, not only can I run a mile, but I can do ELEVEN and COUNTING without being out of breath! I was that kid who used to fail miserably in flexibility tests in PE, but today, after regular yoga classes, I can touch my toes!!! I used to hate my arms; I thought I was genetically doomed for flabby arms! Today, after regular strength classes and many (non-modified!) pushups, my arms are my trophies. So see, it doesnít matter who we used to be or what we could or could not do; itís about who we are doing today so that we can become *that* person tomorrow!

By the way, NEVER say never. I never thought Iíd like running, but thanks to the Couch to 5k and the One Hour Runner plans, Iím in love with it. Runs provide me a time of solace (I donít even use my iPod!) and makes my neighborhood grows smaller with ever step. Itís also provided me and my life a sense of purpose. Because of running, everything I do and eat has a purpose. My emotions no longer dominate what I eat! (Well, sometimes, but that is a work in progress, and Iím more far along than I was when I first started.) Iíve also noticed that Iím less about the perfect body these days; today, Iím more focused developing a strong and healthy body that will carry me to the finish line UNINJURED after running the full 26.2 miles. And every time my foot strikes the pavement, I find out so much more about myself and I understand the world just a tiny bit more.

Turning 30 has NEVER felt so darn good. Iím so excited. BRING IT ON!

P.S. Feel free to add me as a friend, I love making new friends!

♥ ♥ ♥ ♥ ♥ ♥ ♥ ♥ ♥ ♥ ♥ ♥ ♥ ♥ ♥ ♥ ♥ ♥ ♥ ♥ ♥ ♥ ♥ ♥ ♥ ♥ ♥

►Lessons I learned:
● Losing weight or getting that perfect body will not make life better permanently. Happiness comes from confronting our darkness and forgiving misgivings others AND ourselves.
● Your body is your BEST FRIEND. Would you treat your best friend by starving him or her? Thank it for carrying you day to day. Appreciate that even though you didnít treat it the best in the past, your body stuck with you and continued to help you live.
● Embarking on a new, active life might frustrate people in our life. Thatís okay, because sometimes itís the people who love us the most who donít want us to change. Change is frightening, but stick with it and it will become apparent that itís worth it!
● And while weíre on that topic, some people will HATE the health/fitness talk. Thatís okay too, because itís only our actions that inspire others to dream more, learn more, do more, and become more.

►Lessons Iím currently learning:
● The mind is handy tool, but it sure can play some dirty tricks. Develop a mantra to shut it up and listen to the body + logic instead.
● ďLimitationsĒ are set by the mind. Plenty of people start running in their 50s and 60s, and there are many blind people and amputees running marathons. Who says YOU canít?
● Setbacks are normal. It only sets us up for a BIGGER comeback! After all, itís never important that we fell off the horse; it all about how and when we get back on.
● Food is FUEL. Driving a car with an empty tank wonít get you anywhere. Overflowing the tank isnít good either.
● I can't make someone lose weight, become more active or be healthier. It has to come from WITHIN. The best that I can do is focus on turning my goals into accomplishments. It's actions that inspire people to dream more, learn more, do more and become more.
● Understand that sometimes it's the people who love us the most who don't want us to change; they really do love us JUST the way we are - even though we don't! Change is threatening and can be a mirror that reflects a frighening picture of a truth they are not yet ready to confront. The best thing to do is accept, continue to love them yet continue on our own road towards a healthy and active life. This is important to remember the next time they say "C'mon, it's just ONE brownie."

♥ ♥ ♥ ♥ ♥ ♥ ♥ ♥ ♥ ♥ ♥ ♥ ♥ ♥ ♥ ♥ ♥ ♥ ♥ ♥ ♥ ♥ ♥ ♥ ♥ ♥ ♥


►My Favorite Quotes

"The past does not define you, the present does." - Jillian Michaels

"The weak can never forgive. Forgiveness is the attribute of the strong." - Mahatma Ghandi ("Forgive" yourself for splurging on that slice of chocolate cake... WOWZA!)

"Speak little, do much." - Benjamin Franklin

"Live as if you like yourself, and it may happen." - Marge Piercy

"Nothing is a waste of time if you use the experience wisely." - Auguste Rodin

"The future comes one day at a time." - Dean Acheson

"It's not whether you get knocked down, it's whether you get back up." - Vince Lombardi

"The longer we dwell on our misfortunes, the greater their power to harm us." - Voltaire

"In the depth of winter I finally learned that there was in me an invincible summer." - Albert Camus

♥ ♥ ♥ ♥ ♥ ♥ ♥ ♥ ♥ ♥ ♥ ♥ ♥ ♥ ♥ ♥ ♥ ♥ ♥ ♥ ♥ ♥ ♥ ♥ ♥ ♥ ♥

►Monthly Wrap-Ups

●JULY 2008

07: ENOUGH!!! Itís time for a change. (I have no idea how much I weighed then, I just used 125 lbs because it was how much I happened to weigh on the day I began)
09: I am so out of shape! Start daily 20 min walks
2 wks later: Begin 10,000 step program
End of July: Dropped down to 121 lbs. Woohoo!

●AUGUST 2008

Ramp up the mileage walked. Start Couch to 5K Plan for additional challenge.
End of Aug: Power-walks or walking/running 6 miles/day EVERYDAY (as in Sun through Sat). Down to 117 lbs-ish. This month presented more struggles with motivation than July 2008.

●SEPTEMBER 2008

Iím learning how to eat out!
17: 60th consecutive day of exercise!
18: 114 lbs!!! Muscles are making an appearance again (welcome back!), start Curves and 100 Push-Up Plan.
25: I can run 45 minutes! One Hour Runner and a 10k - I can TASTE it!
29: Body fat is now 18%, down from over 26% last year! 4 more percentage points before I get my "abs of steel"

●OCTOBER 2008

07: 90th consecutive day of exercise! Next milestone: 120 consecutive days. Lost around 15 pounds in three months, a lot for a 5'0 lass like me. I feel strong, healthy and ALIVE!
10: Unstable market = big decisions = stress. Usually this leads to rummaging the cupboards, but I managed to stop myself every time. I learned chocolate makes me crave more chocolate, but jello stops my cravings immediately.
10 #2: My weigh-in showed 109 lbs, my FIRST goal weight - HOLY COW! I'm not going to count it until I see it next week (fluctuations, a "teaser"), but it sure made me misty eyed.
12: Done with the C25K! Now to One Hour Runner.
15: I HATE THE 100 PUSH UP PLAN! *sobs and pouts* Actually, I just hate failing. I won't give up. I CAN'T give up!
28: I'm "unofficially" on maintenance. I'm very happy where I'm at and am not going to actively chase the extra pounds to my goal weight. I'll continue to exercise daily, use the food log and let whatever happens happen. In other words, I'll be perfectly happy if I stay the same weight. :):):)
30: Numbers from Curves:
Weight: 106.2 lbs (this was b4 breakfast, so I'm sure my normal weight is more)
Body Fat %: 17.40% (down from 18.00% on Sept. 29)
BMI: 20.7 (down from 21.7 on Sept. 29)
31: One word to describe October 2008: SUCCESS!!!!

●DECEMBER 2008

3: I am eating clean again, starting TODAY
4: My excitement for fitness is back!!!
8: I'm a SparkPeople Motivator!!! Thanks for the votes, but it was YOU who motivated ME all along. :):):)
15: DH was super sick the entire weekend but guess what? I survived it without even a sniffle! I credit it to eating healthy. :):):)
18: I leave for my cruise today and I am so nervous about the food/exercise thing. I packed healthy snacks just in case I can't find any at the airport. Wish me luck! (I'll be back Jan. 1)

●NOVEMBER 2008

2: Right groin muscle's sore, so no running until better. :(
6: Went non-fitness clothes shopping for the first time today in OVER FOUR MONTHS! My body is so different now that I didn't know how to dress it - is that weird?
8: I burned over 4000 calories this week, my all time high!
9: Suffering from extreme exhaustion. Skipped workout and rested in bed all day. :(
10: Last week I ate nothing but crap, and since you are what you eat, I feel like crap. Time to get back on that healthy horse!
11: Celebrated my 120th Consecutive Day of exercise with an AMAZING run! I am so ready for that 5k.
18: I busted thru my plateau without trying! Running is taxing my body in new ways. Time to up carbs and protein and lower my ridiculously high amounts of veggies. New obsession: Ezekiel bread
23: My FIRST 5k - finished at 25:08, placed THIRD in my division and #51 out of 214!!!
24: Resized my engagement ring, an act of commitment towards my new healthy lifestyle
30: I worked out every day during my vacation! Food wise I was good too, altho I hit it bad when I came home. Champagne = bad food choices. Time to get back on the saddle again.
November = Plateau, also a win!

●JANUARY 2009

7: I am back! As in on SparkPeople, logging in my food, working out regularly, etc. My mom is visiting later this month, hopefully I can lose my vacation weight by then
8: My super awesome DH got me a gym membership, yay!!!!!
12: 7 mile run with nothing but hills. Miserable, but an accomplishment indeed! I am sooo exhausted...
13: My first fitness class, very fun! I am so excited and I can't believe I'm now working out because it's FUN. ;-)


●APRIL 2009

1: Celebrating my 5th year as a non-smoker!
7: Eating clean(er) again's helping me to lose the fat quick! I'm at about 112-ish now. :D
13: My FIRST 9-mile run!
17: Iíve been so tired. Maybe I need more food?
20: Upped caloric intake to 1500-1800/day
27: My FIRST 11-mile run! Energy is back, new calorie plan is working.
28: I gained a pound. Ugg. Itís Marathon vs weight loss. I choose marathon.

●JULY 2011
16: Son of a gun, I just found out that I am Motivator of the Day. This is my first week back. Is this a sign?


SparkFriends

SparkTeams



My Ticker:
current weight: 111.1


Recent Blogs:

Profile


Member Since: 8/22/2008

SparkPoints: 39,333

Fitness Minutes: 48,947

My Goals:
Fitness/Health Goals for 2012
1. Maintain my weight.
2. Track food - Important!
3. Keep running and cycling
4. STRETCH!
5. Keep exercising with my fiance xoxo
6. Keep reading healthy living blogs

Sport Accomplishments for 2012:
1. Do ONE half marathon this year. DONE!
2. Ride a half century on the bike.
3. 20,000 fitness minutes

Personal Goals for 2012:
Finish 6 books this year.

My Program:
(Revised 04/02/2012)

---WORKOUT ---

*Sun: Hike w/DH (400 cal)
*Mon: Run 5-6 miles (400 cal)
*Tue: EZ bike (200 cal)
*Wed: Run 5-6 miles (400 cal)
*Thu: EZ bike (200 cal)
*Fri: Run 5-6 miles (400 cal)
*Sat: Bike ride w/DH (400 cal)

*Plus: random evening cardio with DH

Goal Caloric Burn: 2000-2400/week

---NUTRITION---

1500 cals/day

I aim for a well-balanced diet filled with it all - veggies, meat, fat, and yes, even sugar! I wish I could go veggie or low-carb, but my body refuses it and demands meat AND fat (it's how I keep myself "regular" - true story!). So, nothing is denied; I just make sure I exercise portion control.

Coffee before 11:00 am. No diet drinks and no fruit juices. I don't drink water - I *CHUG* the stuff.

Personal Information:
As a health experiment, I've been living sober since July 25, 2011. It's been a great test of my will/discipline, but what stuns me more are the different "realities" that form when around people who drink. Will reassess when my 1 year anniversary comes up.

Other Information:
I'm really into independent movies and especially obsessed with Harry Potter at the moment!

Profile Image