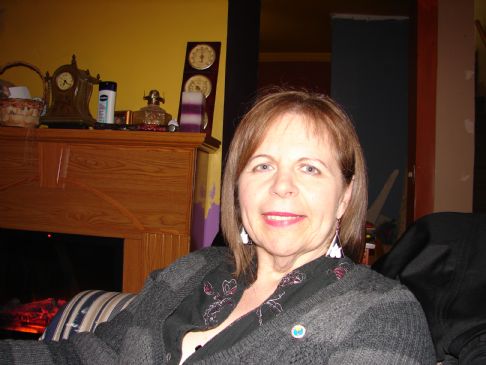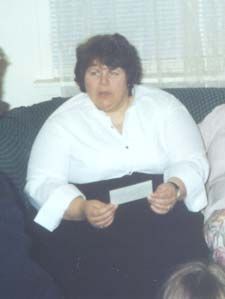 I have 11 pics in my gallery

Awards


Journey 2014: Moving More & Eating Less!
March 6, 2014. I weigh 234.4. I have dropped 25 pounds since Oct. 28, 2013.

Summer 2013: I returned to Sparkpeople after a year and some hiatus. I am now 259 pounds again! Starting over! One day at a time.


Seven pounds off in the first week, which means I mean what I say. I am going for it! Mark Twain said, "It's easy to quit smoking. I've done it hundreds of times." I am kinda feeling like Mark Twain right now with the food!

In 2002, I began ...
March 6, 2014. I weigh 234.4. I have dropped 25 pounds since Oct. 28, 2013.

Summer 2013: I returned to Sparkpeople after a year and some hiatus. I am now 259 pounds again! Starting over! One day at a time.


Seven pounds off in the first week, which means I mean what I say. I am going for it! Mark Twain said, "It's easy to quit smoking. I've done it hundreds of times." I am kinda feeling like Mark Twain right now with the food!

In 2002, I began my weightloss journey. I had reached my top weight of 335 pounds. I lost 50 pounds in 2002, and by August 2003, I had lost 100 pounds. By the end of 2004, I had lost another 50 pounds. I had gone down to a weight of 169 and have hovered between 175 and 195 for 4 years! Between 2007 and 2010 I struggled with learning to manage my binge-behavior, acknowledged my clinical depression, and possible hypomanic behavior. I gained 15 pounds back by the end of 2010. I want to lose 50 pounds by August 30, 2011, approximately 25 weeks from now. I can do it! I have got to stop fearing meeting my goal weight. I want to succeed at this, and I will succeed at it. I do not have to be defined by my weight or my binge-behavior.

Starting weight February 15, 2011 - 203 (Weeks 1 - 25)
February 22
March 2 - 200.8 (-2.2 lb.)
March 9- 201.4 (+.06)
March 16 : 201.4 (same)
March 23 : 200.0 ( -1.25)
March 30: 200.4 (+.04)
1/4-way April 6 : 199.2 (-1.2 lbs)
April 13: 197.8 (-1.4 lbs)
April 20: 200.2 (+2.4lbs)??
April 27: 201.2 (+1 lb.)
May 4: 199.6 (-1.6 lb)
May 11 198.2 (-1.4 lb)
1/2 way May 18 : 198.2 (same)
May 25 :199.6 (+1.4 lb)
June 1 : 199.4 (-.02 lb)
June 8 :200.6 (+1.2 lb.)
June 15: 198.2 (-2.4 lb)
June 22: 196.6 (-1.6)
3/4 way June 29 : 196 (-.06)
July 6: 197.2 (+1.2 lb) bad week with cold!
July 13: 197.4 (+.02)
July 20: 194.0 (-3.4 lbs)
July 27: disaster week!
Aug. 3: 197 (=3 lbs!)
August 10



Starting weight January 5 2009 - 203
" " February 5. 2009 - 199.6 (3.4 pounds)
" " March 5, 2009 -198.8 (0.8 pound)
" " April 5, 2009 - 199.2 (0.04 pound gain!)
" " May 5, 2009 - 195.2 (4 pound loss!)
" " June 5, 2009 - 190.4 (4.8 pound loss!)
" " July 5, 2009 - 189.2 (1.2 pound loss)
" " August 5, 2009 - 192.8 (3.6 pound gain!)
" " September 5, 2009 - 194.8 (2 pound gain)
" " October 5, 2009 - 190.6 (4.2 pounds LOSS!)
" " November 5, 2009 - 190.2 (.04 pound loss)
" " December 5, 2009 -187.4 (2.8 pound loss)
" " January 5, 2010 191.4 (+4 Christmas!)
" " February 5, 2010 192.4
" " March 5, 2010 192.2
" " April 5, 2010 195.6 - eating too much & moving too little!!
May 5,2010 197.9 (acknowledging my depression)
" " June 5, 2010 196.4 (-.5) Better than nothing! Working on my depression and it is looking good.!
" " July 5, 2010 192.2 (-4.2) !!!!!
Aug 5,2010 191.6 (-.06)
Sept 5,2010 188.6 (-2) !!
oct. 5,2010 188 (-.06) (ok, not great but..)

WEEKLY CALORIE DEFICIT (-3500 = 1 pound)

Apr. 19 - Apr. 25 : 3810
Apr.26 - May 2 : 3684
May 3 - May 9 : 2980 (sick with a cold)
May 10 - May 16: 3787
May 17 - May 23: 3265
May 24 - May 30: 3713
May 31 - June 6: 4093
June 7 - June 13: 2380 (binge on June 7)
June 14 - June 20: 4688
June 21 - June 27; 3939
June 28 - July 4: 3918
July 5 - July 11: 3209
July 12 - July 18: 3757
July 19 - July 25: [ 424] binge on July 23,24,25!
July 26 - Aug.1: [747] binge 28, 29, 30!
Aug. 2 - Aug. 8: 2557 [getting it back!]
Aug. 9 - Aug. 15: 3074
Aug. 16 - Aug.22 1807 [good at food; not at exercise!]
Aug. 23 - Aug 29 1753 (still not all back on track!]
Aug. 30 to Sept. 5 4139 (Yes! a great week!)
Sept. 6 to Sept.12 4968 (full week below 1550 cal.)
Sept.13 to Sept. 19 4842! (mini binge on Sunday!)
Sept.20 - Sept.26 5287 (good week!)
Sept.27- Oct.3 5510 (good week!)
Oct.4 - Oct.10 4841 (good week!)
Oct.11 - Oct. 17 3672(good week but mini binge!)
Oct. 18 - Oct.24 5006 (good active week renovating!)
Oct. 25 - Oct. 31 5787 (good active week moving!)
Nov 1 - Nov. 7 [1582] (4 binge days this week!)
Nov.8 - Nov. 14 3476 {back to healthy eating!)
Nov.15 -Nov.21 4050 - healthy but frail..
Nov. 22 - NOv. 28 5523 - good non-binge week!
Nov. 29 - Dec. 5 4406 (even with 1 binge-day!)
Dec.6 - Dec.12 2352 (a few Xmas receptions!)
Dec.13 - Dec.19 3555 ( a bit better!)
Dec. 20 - Dec.27 1519 (What can I say? Its Xmas!)
Dec.28 - Jan. 2 5660(Painting exercise!)
Jan.3 - Jan 9 3826 (still painting somewhat!)
Jan.10 - Jan.16 4507 (still renovating!)
Jan17 - Jan 23 4143 deficit
Jan.24 - Jan 30 2687 deficit
Jan 31 - Feb. 6 + 327 calories (bad week with h/h crises!)
Feb. 7 -13 - 3464 (bit more exercise!)
Feb. 14 to 20 + 561 (not a good week)
Feb, 21 - Feb 27 -3250 (Yes, back in the saddle!)
Feb. 28 - March 6 - 1441 (not a good exercise week!)
March 7 - March 13 - 1549 ( a little better, but...)
March 14 - March 20 - 2575 (much better - more exercise!)
Mar. 21 - March 27 - 3199 (little better still!)
Mar 27 - Apr 3 - 3057 (stable but Easter ends the week!)
Apr 4 - Apr 10 - 2948 (back to running 3 x week)
Apr 11 - Apr.17 - - 2687 - (not great food week)
Apr.18- Apr 24 -2195 - (too much food but still running 3xwk)
Apr. 25 -May 1 +202 cal. (depression this week!)
May 2 May 8 -3712 cal. (don't know if this is accurate!)
May 9 - May 15 -198 (starting anti-depressants)
May 16 - 22 -3824 (good week exercise & food!)
May 23 - May 30 - 4432 (good week exercise & food)
May 31 - June 5 - 3457 (another good week - heading in the right direction!)
June 6 - June 12 - - 3629 (good week - food and exercise & emotionally!)
June 13 - June 19 - 4556 (one bad day and several fantastic days this week!)
June 20 - June 27 - 4815 (pretty good week. Need to do more toning!)
June 28 - July 3 - 4447 (more carbs than I needed...but active week)
July 4 - July 10 - 6079 (a good balanced week with exercise everyday )
vacation July 11 - 17
July 18 - July 24 - 5054 (feeling good!)
July 25 - Jl 31 - - 2314 (went on holidays!)
Aug. 1 - Aug 7 - 4278 (weekend at cottage painting!)
Aug 8 - Aug14 - 5169 (great week with food and activity!)
Aug 15 - Aug 22 - 2826 (a few difficult days!)
Aug.23 - Aug 29 - 2863 (too many calories at cottage!)
Aug 30 - Sept 4 - 4522 (yes! Getting it back!)
Sept 5 - Sept 11 - 6153 (lots of painting activity!)
Sept 12 - Sept 18 - 3113 (a few bad days!)
Sept.19 - Sept.25 +1065 (really bad food week!)
Sept 26 - Oct 2\ - 5464 (lots of walking & no binging!)
Oct 3 - Oct 11 - 2022 (too many carbs at the cottage!)
**Read Montagnac and Gineen Roth. Montagnac principles good but too restrictive for my binge-eating problems. I am trying Gineen Roth's permissive eating!
Oct. 12 - Oct. 18 (trip to Ottawa & Montreal) permissive eating but not bingeing.
Oct. 19 - 26 - reading Gineen Roth (permissive eating)
Oct. 27 - spiritual retreat this weekend (permissive eating)
SparkFriends

SparkTeams



My Ticker:
Pounds lost: 24.6


Recent Blogs:

Profile


Member Since: 4/18/2006

SparkPoints: 75,421

Fitness Minutes: 75,598

Profile Image