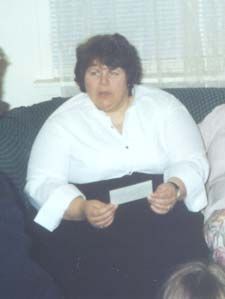 I have 15 pics in my gallery

Awards


Journey 2015: eating better & moving better!
August 30, 2015 I am 65 pounds down. 45 pounds to my goal weight.

August 9, 2015. Today I am 60.6 pounds down and therefor am at my interim goal. My next goal is 50 pounds down.

July 5, 2015 I have lost 50 pounds since January 1, 2015. I am following the Dr. Herring Fast 5 Plan, and it is the least emotionally draining way to lose weight I have ever used, and believe me I have dieted plenty in my lifetime. I feel great. Hey, I am carrying 50 fewer pounds around. Of ...
August 30, 2015 I am 65 pounds down. 45 pounds to my goal weight.

August 9, 2015. Today I am 60.6 pounds down and therefor am at my interim goal. My next goal is 50 pounds down.

July 5, 2015 I have lost 50 pounds since January 1, 2015. I am following the Dr. Herring Fast 5 Plan, and it is the least emotionally draining way to lose weight I have ever used, and believe me I have dieted plenty in my lifetime. I feel great. Hey, I am carrying 50 fewer pounds around. Of course I feel great!

June 21, 2015. Down 46 pounds since January 1, 2015. Still on the Dr. Herring Fast 5 lifestyle. It is working for me. 2 - 3 lb. weight loss per week. The weightless will stabilize once most of the excess fat is off my body. It feels great not to be carrying around that extra 50 pounds!

May 29, 2015 Down 36 pounds on the Dr. Herring Fast 5 Diet. It is working for me. Another 60 or so to go! One pound at a time.

April 14, 2015. Woo Hoo! I got the 20 pounds off!! Ok, it did not happen overnight, but I am down from this time last year. And this has motivated me to stay on track. I have the recumbent bike set up in my bedroom. And I am using it every day. The first thing I see in the morning is not a man ; it is my recumbent bike! I guess our priorities change as time goes on. Just kidding! I have been walking more,too, now that we are shovelled out of the winter.


January 23, 2015. I gained 20 pounds since April, 2014. Lots of reasons why I had additional stress,but that is no excuse. A new day and a new beginning.

March 6, 2014. I weigh 234.4. I have dropped 25 pounds since Oct. 28, 2013.

Summer 2013: I returned to Sparkpeople after a year and some hiatus. I am now 259 pounds again! Starting over! One day at a time.


Seven pounds off in the first week, which means I mean what I say. I am going for it! Mark Twain said, "It's easy to quit smoking. I've done it hundreds of times." I am kinda feeling like Mark Twain right now with the food!

In 2002, I began my weightloss journey. I had reached my top weight of 335 pounds. I lost 50 pounds in 2002, and by August 2003, I had lost 100 pounds. By the end of 2004, I had lost another 50 pounds. I had gone down to a weight of 169 and have hovered between 175 and 195 for 4 years! Between 2007 and 2010 I struggled with learning to manage my binge-behavior, acknowledged my clinical depression, and possible hypomanic behavior. I gained 15 pounds back by the end of 2010. I want to lose 50 pounds by August 30, 2011, approximately 25 weeks from now. I can do it! I have got to stop fearing meeting my goal weight. I want to succeed at this, and I will succeed at it. I do not have to be defined by my weight or my binge-behavior.

Starting weight February 15, 2011 - 203 (Weeks 1 - 25)
February 22
March 2 - 200.8 (-2.2 lb.)
March 9- 201.4 (+.06)
March 16 : 201.4 (same)
March 23 : 200.0 ( -1.25)
March 30: 200.4 (+.04)
1/4-way April 6 : 199.2 (-1.2 lbs)
April 13: 197.8 (-1.4 lbs)
April 20: 200.2 (+2.4lbs)??
April 27: 201.2 (+1 lb.)
May 4: 199.6 (-1.6 lb)
May 11 198.2 (-1.4 lb)
1/2 way May 18 : 198.2 (same)
May 25 :199.6 (+1.4 lb)
June 1 : 199.4 (-.02 lb)
June 8 :200.6 (+1.2 lb.)
June 15: 198.2 (-2.4 lb)
June 22: 196.6 (-1.6)
3/4 way June 29 : 196 (-.06)
July 6: 197.2 (+1.2 lb) bad week with cold!
July 13: 197.4 (+.02)
July 20: 194.0 (-3.4 lbs)
July 27: disaster week!
Aug. 3: 197 (=3 lbs!)
August 10



Starting weight January 5 2009 - 203
" " February 5. 2009 - 199.6 (3.4 pounds)
" " March 5, 2009 -198.8 (0.8 pound)
" " April 5, 2009 - 199.2 (0.04 pound gain!)
" " May 5, 2009 - 195.2 (4 pound loss!)
" " June 5, 2009 - 190.4 (4.8 pound loss!)
" " July 5, 2009 - 189.2 (1.2 pound loss)
" " August 5, 2009 - 192.8 (3.6 pound gain!)
" " September 5, 2009 - 194.8 (2 pound gain)
" " October 5, 2009 - 190.6 (4.2 pounds LOSS!)
" " November 5, 2009 - 190.2 (.04 pound loss)
" " December 5, 2009 -187.4 (2.8 pound loss)
" " January 5, 2010 191.4 (+4 Christmas!)
" " February 5, 2010 192.4
" " March 5, 2010 192.2
" " April 5, 2010 195.6 - eating too much & moving too little!!
May 5,2010 197.9 (acknowledging my depression)
" " June 5, 2010 196.4 (-.5) Better than nothing! Working on my depression and it is looking good.!
" " July 5, 2010 192.2 (-4.2) !!!!!
Aug 5,2010 191.6 (-.06)
Sept 5,2010 188.6 (-2) !!
oct. 5,2010 188 (-.06) (ok, not great but..)

WEEKLY CALORIE DEFICIT (-3500 = 1 pound)

Apr. 19 - Apr. 25 : 3810
Apr.26 - May 2 : 3684
May 3 - May 9 : 2980 (sick with a cold)
May 10 - May 16: 3787
May 17 - May 23: 3265
May 24 - May 30: 3713
May 31 - June 6: 4093
June 7 - June 13: 2380 (binge on June 7)
June 14 - June 20: 4688
June 21 - June 27; 3939
June 28 - July 4: 3918
July 5 - July 11: 3209
July 12 - July 18: 3757
July 19 - July 25: [ 424] binge on July 23,24,25!
July 26 - Aug.1: [747] binge 28, 29, 30!
Aug. 2 - Aug. 8: 2557 [getting it back!]
Aug. 9 - Aug. 15: 3074
Aug. 16 - Aug.22 1807 [good at food; not at exercise!]
Aug. 23 - Aug 29 1753 (still not all back on track!]
Aug. 30 to Sept. 5 4139 (Yes! a great week!)
Sept. 6 to Sept.12 4968 (full week below 1550 cal.)
Sept.13 to Sept. 19 4842! (mini binge on Sunday!)
Sept.20 - Sept.26 5287 (good week!)
Sept.27- Oct.3 5510 (good week!)
Oct.4 - Oct.10 4841 (good week!)
Oct.11 - Oct. 17 3672(good week but mini binge!)
Oct. 18 - Oct.24 5006 (good active week renovating!)
Oct. 25 - Oct. 31 5787 (good active week moving!)
Nov 1 - Nov. 7 [1582] (4 binge days this week!)
Nov.8 - Nov. 14 3476 {back to healthy eating!)
Nov.15 -Nov.21 4050 - healthy but frail..
Nov. 22 - NOv. 28 5523 - good non-binge week!
Nov. 29 - Dec. 5 4406 (even with 1 binge-day!)
Dec.6 - Dec.12 2352 (a few Xmas receptions!)
Dec.13 - Dec.19 3555 ( a bit better!)
Dec. 20 - Dec.27 1519 (What can I say? Its Xmas!)
Dec.28 - Jan. 2 5660(Painting exercise!)
Jan.3 - Jan 9 3826 (still painting somewhat!)
Jan.10 - Jan.16 4507 (still renovating!)
Jan17 - Jan 23 4143 deficit
Jan.24 - Jan 30 2687 deficit
Jan 31 - Feb. 6 + 327 calories (bad week with h/h crises!)
Feb. 7 -13 - 3464 (bit more exercise!)
Feb. 14 to 20 + 561 (not a good week)
Feb, 21 - Feb 27 -3250 (Yes, back in the saddle!)
Feb. 28 - March 6 - 1441 (not a good exercise week!)
March 7 - March 13 - 1549 ( a little better, but...)
March 14 - March 20 - 2575 (much better - more exercise!)
Mar. 21 - March 27 - 3199 (little better still!)
Mar 27 - Apr 3 - 3057 (stable but Easter ends the week!)
Apr 4 - Apr 10 - 2948 (back to running 3 x week)
Apr 11 - Apr.17 - - 2687 - (not great food week)
Apr.18- Apr 24 -2195 - (too much food but still running 3xwk)
Apr. 25 -May 1 +202 cal. (depression this week!)
May 2 May 8 -3712 cal. (don't know if this is accurate!)
May 9 - May 15 -198 (starting anti-depressants)
May 16 - 22 -3824 (good week exercise & food!)
May 23 - May 30 - 4432 (good week exercise & food)
May 31 - June 5 - 3457 (another good week - heading in the right direction!)
June 6 - June 12 - - 3629 (good week - food and exercise & emotionally!)
June 13 - June 19 - 4556 (one bad day and several fantastic days this week!)
June 20 - June 27 - 4815 (pretty good week. Need to do more toning!)
June 28 - July 3 - 4447 (more carbs than I needed...but active week)
July 4 - July 10 - 6079 (a good balanced week with exercise everyday )
vacation July 11 - 17
July 18 - July 24 - 5054 (feeling good!)
July 25 - Jl 31 - - 2314 (went on holidays!)
Aug. 1 - Aug 7 - 4278 (weekend at cottage painting!)
Aug 8 - Aug14 - 5169 (great week with food and activity!)
Aug 15 - Aug 22 - 2826 (a few difficult days!)
Aug.23 - Aug 29 - 2863 (too many calories at cottage!)
Aug 30 - Sept 4 - 4522 (yes! Getting it back!)
Sept 5 - Sept 11 - 6153 (lots of painting activity!)
Sept 12 - Sept 18 - 3113 (a few bad days!)
Sept.19 - Sept.25 +1065 (really bad food week!)
Sept 26 - Oct 2\ - 5464 (lots of walking & no binging!)
Oct 3 - Oct 11 - 2022 (too many carbs at the cottage!)
**Read Montagnac and Gineen Roth. Montagnac principles good but too restrictive for my binge-eating problems. I am trying Gineen Roth's permissive eating!
Oct. 12 - Oct. 18 (trip to Ottawa & Montreal) permissive eating but not bingeing.
Oct. 19 - 26 - reading Gineen Roth (permissive eating)
Oct. 27 - spiritual retreat this weekend (permissive eating)


Current Status:


SparkFriends

SparkTeams



My Ticker:
Pounds lost: 64.8


Recent Blogs:

Profile


Member Since: 4/18/2006

SparkPoints: 83,345

Fitness Minutes: 82,570

My Goals:
Enter a summary of your goals, or just a few you would like to share.

170 by December 2015
150 by March 2016
Finish writing my book by spring 2016
Travel to Scotland and Berlin by spring 2016
Costa Rica next winter!

My Program:
Give an overview of what you are doing to meet your goals.
1. Walk everyday
2. Fast five diet a la Dr. Herring
3. Read Eckhart tolle on stopping the racing thinking
4. Treatment for lifelong depression

Profile Image