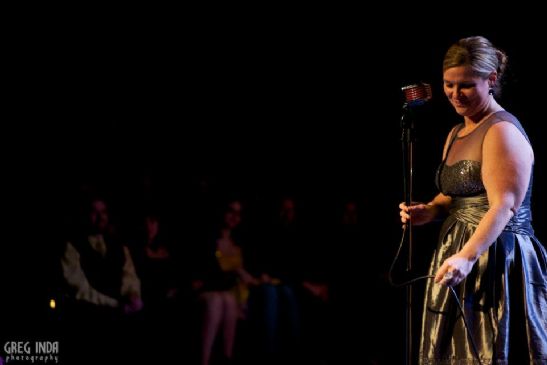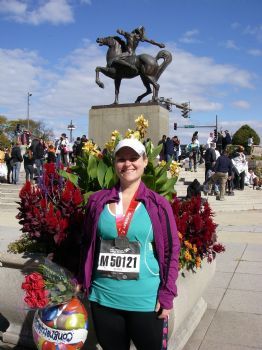 I have 48 pics in my gallery

Awards


Three's The Charm - 3 Years of Spark, The Third Phase of My Personal Journey and Training for a TRI!
"Accountability, Acceptance, Affirmation...and now, Sustainability"

"If we wait for the moment when everything, absolutely everything is ready, we shall never begin." ~Ivan Turgenev

"Man is so made, that whenever anything fires his soul, impossibilities vanish." ~La Fontaine


My name is Jenn. I've been overweight since I was 4 years old. In 2005 I made some major life changes to start my recovery process from food addiction. By April of 2010, ...
"Accountability, Acceptance, Affirmation...and now, Sustainability"

"If we wait for the moment when everything, absolutely everything is ready, we shall never begin." ~Ivan Turgenev

"Man is so made, that whenever anything fires his soul, impossibilities vanish." ~La Fontaine


My name is Jenn. I've been overweight since I was 4 years old. In 2005 I made some major life changes to start my recovery process from food addiction. By April of 2010, through therapy and nutrition counseling, I was finally ready to start trying to lose weight - in a healthy way this time. I started this journey at 313 pounds and I'm aiming to lose almost 200 of those!

If there's a diet out there, I've tried it. I've yo-yo'ed more times than I have fingers and toes to count. I came across SparkPeople when looking for a way to food journal that was online and a little more interactive than carrying a notebook around in my purse. I was skeptical about starting any kind of "plan," but this one seemed to allow for personal tweaks, was all about starting slowly, and didn't prescribe anything too scary sounding, so I signed up! The rest is history!

50 Pound Update! - Spark is the place to be. Everything about this plan works for me and for my doctors. I'm doing this and I can't believe it! For all of the attempts I've tried and failed in the past, I was hesitant about trying ANYTHING new, but 6 months later and 50 pounds lighter I have the confidence I need to carry me through to the end of this weight loss journey and beyond. Thank you SparkPeople! I'm currently running twice a week, swimming once a week and doing a Zumba class once a week (this coming from a person who LOATHED all forms of exercise at the beginning of this program). Sometimes I switch up my activities, but I'm really happy with my exercise schedule now and how it's working in conjunction with my work and social life. I'm staying within my Spark calorie ranges about 95% of the time and the weight loss seems to be cooperating. Getting ready to run my first 5K, November 6, 2010 - Hot Chocolate 5K with a bunch of my Spark friends in Chicago. It's going to be an awesome weekend!

75 Pound Update! - This just keeps getting better. After a bit of a slow-down over the month of December with a trip to Germany and the Christmas holidays I was able to maintain my loss and keep right on going - a sure sign that I am on the right track to continue this journey for life. I'm so excited about being that much closer to 100 pounds lost! I did run that 5K in November, and now I'm training for the 8K Shamrock Shuffle in April (as well as numerous other runs in 2011), running OUTSIDE all winter long. I feel invincible! The three words that I started with at the top are still true of my time here - Accountability to myself and my peers through the tracking systems here on Spark, Acceptance for my past mistakes and the person that I used to be, and Affirmation of a better today and tomorrow through all of my hard work and perseverance. But I have a new word now too - Sustainability. That is the new goal and the new way of life I have discovered through Spark. The ability to sustain my weight loss, my spirit and the new way of life that I continue to forge for myself every day.

100 Pound (and 1 Year of Spark) Update! - I did it! I lost 100 pounds in 1 Year of being on Spark! I still have 100 left to go, but I know now that it will come off. All of it. I don't have any doubts in my mind. I have never been more confident or sure of myself before (and I'm a pretty level headed person for the most part). The next 100 may not come off as quickly or as easily as the first 100 did, however, what is important is that I have learned to live my life in balance. I have fun and enjoy every day as much as I can. I still LOVE food, but I don't feel guilty about it any more. I indulge when I need to and make up for it in other places. I ran the Shamrock Shuffle 8K and achieved a Personal Best! Now I'm on to training for a 10K & 15K this year and hopefully a Half Marathon and the Chicago Marathon in 2012. My goal of sustainability has become a reality - I couldn't be more thrilled!

125 Pound Update! - Whew! The last few months have NOT been easy going. Since losing 100 pounds, my body decided to slow right down and take another 6 months to go a quarter of the way of what I did last year. But that's ok. I'm still here, I'm still losing and after busting through a 2-3 month plateau with my first 10-mile run, I feel GREAT!!! I'm on schedule to run a half marathon (maybe before the year is out) and am officially training for the Chicago 2012 Marathon. Unbelievable. I have trekked through Africa and Istanbul, am in a wonderful relationship with a really great guy, am looking so forward to strapping on my ski boots for the first time in over 5 years this Christmas to ski the Rocky Mountains, and only have more good things ahead of me. Chug, chugging along - I am doing this, every single day.

When It Gets Hard - March 1, 2013 - Starting Again. It's not that I've lost sight of any of my goals, in fact I think about them every single day (which tells me I can still do this), but sometimes life happens and the brain changes at a different pace than the body does. Unfortunately for me, the last year has been more of a mental and emotional struggle than anyone could hope for, and as my tried and true defense mechanism of eating kicked in, the pounds came back on. But I'm nipping this issue in the bud before it gets out of hand and getting back to the leaner, meaner, more true version of me I was when I started here 3 years ago. Stay tuned!

3 years of Spark - April 15, 2013 - Everything is new again on my anniversary date. I am newly single again, quit my job that has been weighing me down (mentally and physically) for years and am throwing all caution to the wind and going into business for myself. I'm still struggling, having put on almost 30 pounds since running the marathon, but I truly believe that it is more situational than anything else and that once I am am freed from the mental stress that is causing the gain, I will be able to look at myself with clear eyes again and forge forward. Not a day goes by that I don't think of my journey here and my ultimate goal and so I am continuing to trudge forward into the unknown and get what I know in my heart I deserve.

______________________________________

Keeping Track of My Weight Goals & Rewards!

About 3.5 months into my Spark journey I realized that I need more regular rewards than just for weight loss, since the weight loss is slowing and time between awards is getting longer - so I've added in monthly rewards for sticking with the program, and other "event" rewards, like starting my running program or setting a personal best in the pool.

SCALE REWARDS
10lbs - new walking shoes - DONE
12.5lbs - 2 new sundresses - DONE
15lbs - mani/pedi & new summer sandals - DONE
20lbs - hair cut & colour - DONE
25lbs - new jeans (size 22!), shirts (size 18!) - DONE
30lbs & 10% - new workout clothes and a pedicure! - DONE
37.5lbs - flowers - DONE
40lbs - NEW CLOTHES! Size 14/16 tops, 20 bottoms! - DONE
50lbs - Zumba shoes - DONE
60lbs - being the weight on my drivers license! - DONE
70lbs - new black flats - DONE
75lbs - hair cut & colour - DONE
80lbs - BOOTS! - DONE
90lbs - new spring clothes (thrifting for the 1st time!) - DONE
100lbs - photo shoot with my friend Greg - PENDING
110lbs - pedicure - DONE
113lbs & Entry to ONEderland! - more new summer clothes - DONE
120lbs - hair highlights - DONE
125lbs (cause it took so damn long to get here!) - new lunch bag - DONE
130lbs - Spark People Cookbook - DONE
140lbs -
150lbs & No longer Obese! -
156.5lbs (HALF of the person I was when I started) -
160lbs -
170lbs -
180lbs -
190lbs & GOAL!!! -
200lbs & GOAL!!! - Pin-Up Photo Shoot with Windy City Pin-Up -

EVENT REWARDS
3 months on Spark - bouquet of fresh flowers - DONE
Started C25K - new scale, tape measure, food scale - DONE
Being Named Done Girl of the Day - new Adidas Runners - DONE
4 months on Spark - new bike seat & basket - DONE
5 months on Spark - pedicure! - DONE
6 months on Spark - Saucony running shoes - DONE
Graduating C25K Training! - new tech gear - DONE
Running my First 5K! - SparkPeople T-Shirt - DONE
Completing my WW1 Challenge - Gap sweaters - DONE
Completing my WW2 Challenge - flowers - DONE
Running my First 8K! - Bragging Rights! - DONE
ONE YEAR Sparkversary - Old Navy Shopping Spree! - DONE
ONE HUNDRED POUNDS LOST! (it deserves to go on both Reward lists!) - My 100 Pound Blog Entry with Photo Shoot - PENDING
Entering Into ONEderland - my first bikini since I was TWO! - DONE
Running my First 10K - new gear - DONE
Running my first 15K - NEW SHOES!!! - DONE
Being smaller than I have ever been in my adult life (180 pounds)- blanket rack - DONE
Running my First Half Marathon - More new shoes! - DONE
Running the Chicago 2012 Marathon! - New Fall Wardrobe - DONE
3 Years of Spark - New Tri Bike - DONE
Being Overweight! (Not Obese! 163 pounds) -
Being HALF my starting size (156.5 pounds) -
Reaching Goal (Between 113-123lbs) - trip to Vegas -

______________________________________

Things I Am DONE With . DONE Being a Fat Girl! - April 21, 2010 . DONE with 10 pounds & being in the 300s! - April 26, 2010 . DONE with Size 26 jeans - May 5, 2010 . DONE with 15 pounds - June 2, 2010 . DONE with 20 pounds - June 16, 2010 . DONE with 25 pounds - June 30, 2010 . DONE with 30 pounds & 10% - July 28, 2010 . DONE Girl of the Day! - August 10, 2010 . DONE with 40 pounds - September 3, 2010 . DONE with gaining weight during tech week - September 15, 2010 . DONE with 50 pounds! - October 6, 2010 . DONE with C25K Training - October 26, 2010 . DONE with 60 pounds! - November 7, 2010 . DONE with the WW1 Challenge! - November 17, 2010 . DONE with 70 pounds! - December 15, 2010 . DONE with 75 pounds! - January 15, 2011 . DONE with 80 pounds! - February 1, 2011 . DONE with 90 pounds! - March 7, 2011 . DONE with 100 pounds! - April 15, 2011 . DONE with the 200s!!! - June 24, 2011 . DONE with 125 pounds! - October 19, 2011 . DONE with 130 pounds! - May 11, 2012
SparkFriends

SparkTeams



My Ticker:
Pounds lost: 106.2

Interact with KITHKINCAID






Recent Blogs:

Profile


Member Since: 4/15/2010

SparkPoints: 35,484

Fitness Minutes: 32,174

My Goals:
* to lose 60% of my starting weight - so far I've lost 34.19%

*not having to wear a seat-belt extension when I fly - DONE!

*being able to cross my legs - DONE!

*being able to wrap a hotel-sized bath towel ALL the way around my naked behind - DONE!

*being able to go for a piggy-back ride without thinking I'm going to kill the person carrying me!

*being able to buy boots that fit my calves - DONE!

*finding balance in my life between food, activity, family, and career

*complete a marathon and a triathlon because I am an ATHLETE! - HALF DONE!

My Program:
Currently:

- started running with the C25K training program August 2, 2010 - finished the program October 26, 2010. On October 7, 2012 I ran the Chicago Marathon!
- swimming up to 1.5K once a week
- Zumba classes when I can
- continuing my personal journey with my therapist
- loving my relationship with food - whole foods, clean foods and having FUN in my kitchen prepping healthy stuff to eat
- taking my weight loss in increments of 10 pounds at a time!

Personal Information:
I'm a true Canadian - born & bred - although currently I live and work in Chicago.

I recently quit my full-time job to start my own company. More about my personal journey can be found on my blog - http://jenn-of-all-trades.blogspot.com/

Other Information:
My page title used to be "The Day Will Come, Jenny Wren Will Sing". When I officially lost 100 pounds, I changed my page to represent the second leg of my journey here on Spark - the quest for the Marathon. "The Year of the Marathon - Owning 2012 One Mile at a Time!" became my motto until I met that goal in October. I have now graduated to a third phase of my journey. I am back to hopefully losing more weight and will train for the Chicago Triathlon in 2013. My dreams and goals are now my daily reality and I'm so excited to do it all over again!

Profile Image