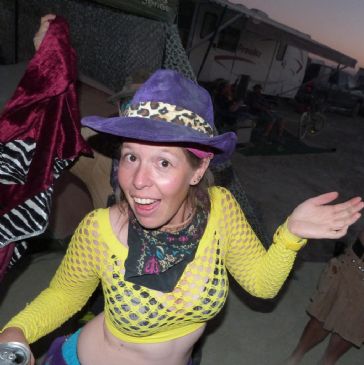 I have 19 pics in my gallery

Awards

We become what we want to be by consistently being what we want to become each day.
Summer 5% Challenge Commitment (7/27/13)
I made my goal for the Winter 5% Challenge (see below), which was amazing! But then I slacked off during the Spring Challenge and gained a bit of it back. For the Summer Challenge, my goal is to lose 7.5 pounds. I know it's possible now, it just takes a serious commitment from me. I'm going to do it again and I'm not going to drop the good habits at the end.

I'm also training for a marathon so that should help. On October 20, 2013, I ...
Summer 5% Challenge Commitment (7/27/13)
I made my goal for the Winter 5% Challenge (see below), which was amazing! But then I slacked off during the Spring Challenge and gained a bit of it back. For the Summer Challenge, my goal is to lose 7.5 pounds. I know it's possible now, it just takes a serious commitment from me. I'm going to do it again and I'm not going to drop the good habits at the end.

I'm also training for a marathon so that should help. On October 20, 2013, I will run the Denver Rock-n-Roll Marathon. I'm super excited and a little worried because I feel behind in training. But this is crunch time and I think if I can just stay focused, I'll do all right.

My boyfriend and I bought a house in July and we're doing tons of work to it this summer to make it completely ours. Throw in a little partying because it's summer and I have a full plate. I'm going to try to make sure that plate includes some veggies too!

Winter 5% Challenge Commitment (2/10/13)
I'm joining a 5% Challenge for the first time to see if I can really push myself into losing the next few pounds. Before the official weigh in, it's looking like that will be about 8 pounds. In 8 weeks. If you've read my blogs you know I lose very slowly, so this will be a HUGE challenge for me. But I have learned over the last two months that food is my biggest obstacle so that will be where I focus during the challenge. I'm going to be very active on my team and really make an effort. If I succeed in losing 8 pounds, that will put me at my lowest weight since high school and only 3 or 4 pounds from my evaluation weight. I'm going to continue to try to get in 5 solid workouts a week, including starting a few mornings so that my evening activities don't get in the way.

I'm starting to get the hang of a healthier lifestyle, but it's still a lot of work. I lost approximately 15 pounds last year and really made an effort to work exercise and some better food choices into my routine. I have found that planning is key here: planning when I will work out and planning my meals. I also try to plan for anything that might derail me. For instance, I work good snacks into my day (and prep them all at once on Sunday) and I try to carry spare everything-I-might-need-for-the-gym in my car. I look at my week on Sunday and I think about when I can work out and how each day.

One of the biggest things lately that has kept me on track is taking 10 minutes EVERY DAY for some activity. On rest days, this might just be a quick walk with the dog or hula hooping in my living room.

I have about 12 pounds to go until I really stop and evaluate how I feel and look to decide if I want to lose more or if I want to maintain.

I'm in love with quotes, and cheesy fitness quotes are no exception. Check me out on Pinterest! http://pinterest.com/kelseyl/fitness/






Current Status:


SparkFriends

SparkTeams



My Ticker:
December Minutes: 152


Recent Blogs:

Profile


Member Since: 7/13/2010

SparkPoints: 19,526

Fitness Minutes: 23,544

My Goals:
My goals are to eat better, move more, and lose weight. My biggest fitness goal for 2013 is to run a marathon.

I ran a lot of races last year. This year I'm not doing quite as many, just really fun/unique ones
*Cookie Chase Race for Wishes 4/19/12
*BolderBoulder 5/28/12
*Let Freedom Run 7/4/12
*Drop Your Drawers and Run Wild 7/20/12
*Firefly Illuminated Race 8/17/12
*Sombrero Trail Run 9/24/12
*Anthem Fun Run 5K 11/1/12
*ColderBolder 12/1/12

2013:
*Rave Race 4/20/13
*Flat Out 5K 5/11/13
*BolderBoulder 5/27/13
*Color Run 6/16/13
*Firefly 5K 7/19/13

Next:
*9/11 Remembrance Half Marathon (9/7/13)
*Denver Rock-N-Roll MARATHON (10/20/13)

My Program:
Some days I take Khaleesi (my puppy) on runs using a Couch to 5K audio guide, some days I go to a boot camp class at my gym, and some days I try to work out through a recreational activity like hiking.

I'm learning that you just have to keep yourself motivated and some days, you have to force yourself into it, you'll always feel better after!

Personal Information:
I live in beautiful Arvada Colorado. I'm a very social person who likes to go out at night and on the weekends, so I'm learning to balance drinking with being healthy. I will take any excuse to dress in costume (even running a race!)

Other Information:
To change one's life, start immediately. Do it flamboyantly. No exceptions. (William James)

In the depths of winter I finally learned there was in me an invincible summer. (Albert Camus)



Profile Image