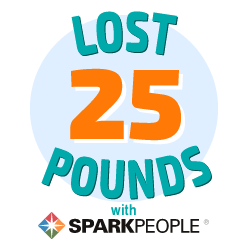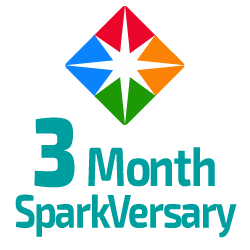 I have 4 pics in my gallery

Awards

KikooMagoo's Page
This is my second time trying to lose (a lot of) weight with SP. The first time I lost about 35 and this time it's that plus more.

My first goal to to reach 190 from my current 206 DONE!

My second goal is to reach 174 from 185. This will put me out of the obese BMI range for my height

Month 1: 6.0 lbs lost (200)
Month 2: 5.6 lbs lost (194.4)

During the second month I injured my knee (from mulching my flower beds) and had to stop ...
This is my second time trying to lose (a lot of) weight with SP. The first time I lost about 35 and this time it's that plus more.

My first goal to to reach 190 from my current 206 DONE!

My second goal is to reach 174 from 185. This will put me out of the obese BMI range for my height

Month 1: 6.0 lbs lost (200)
Month 2: 5.6 lbs lost (194.4)

During the second month I injured my knee (from mulching my flower beds) and had to stop using the treadmill. Today I will get back on and walk to see how it feels under stress. Crossing my fingers!

Baby steps, Baby! On to month 3...

Month 3: 6.4 lbs lost (188)

I can hardly believe it! Below 190 and the food seems to be getting easier to understand. I'm still wearing my same clothes though I probably should go try some smaller ones on. Pants are really loose, and the 'fat jeans' that brought me back to SP are too big.
I am able to run 5 minutes without stopping now, too. Not much for the real runners out there, but huge for me :)
WooHoo for scale and non-scale successes!

Month 4: 3 pounds lost (185) reward: new Wii Fit Plus game and new shirts a size smaller.

25 pounds lost - 8/4/11 reward: pedicure




SparkFriends

SparkTeams

My Ticker:
Pounds lost: 0.0


Recent Blogs:

Profile


Member Since: 3/16/2011

SparkPoints: 0

Fitness Minutes: 4,909

My Goals:
To be healthier and happier in my skin, one day at a time

My Program:
Stick to the given calorie range, stay away from sugary sweets for the most part, walk 5 miles a week.

Personal Information:
From the great state of Virginia, with my husband and two children.

Other Information:
I love to crochet and recently learned tunisian crochet. I love to bake and decorate goodies but this may have to be put off for a while. I like offering our home to foster children who need safety and someone to love them.

Profile Image