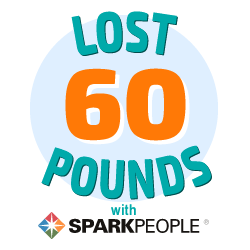 I have 7 pics in my gallery

Awards

This is My Gift to the Future Me
Hi, I'm Kimb. (The "b" is silent.)

My family's cursed. I'm convinced that 100 years ago, one of my ancestors did something stupid like steal a witch doctor's goat and now we have to pay the price. We have a lot of medical problems. I won't lie, it scares me. So, I've decided to do what I can now to give my future self a fighting chance.

Each step I take, each new challenge I try to overcome: I do it for me. The Future Me.

My weight history:
...
Hi, I'm Kimb. (The "b" is silent.)

My family's cursed. I'm convinced that 100 years ago, one of my ancestors did something stupid like steal a witch doctor's goat and now we have to pay the price. We have a lot of medical problems. I won't lie, it scares me. So, I've decided to do what I can now to give my future self a fighting chance.

Each step I take, each new challenge I try to overcome: I do it for me. The Future Me.

My weight history:

Was slightly over weight through high school with the exception of a brief period where I lost 20lbs from swimming.

At college, in addition to the freshman fifteen, I got the sophomore thirty-four.

Senior year, I appealed to my doctor to help me lose weight and he put me on the South Beach diet. I started at 213 pounds and ended with 170.

Last year, I braved the scale and found that I was the heaviest I ever was: 225lbs.

November 1st: started a more relaxed version of the South Beach Diet, weight 222lbs

December 21st: started taking deep water classes at the YMCA, weight 205lbs

January 21st: joined sparkpeople, weight 200lbs

February 25th: started the Biggest Loser Challenge on SP on the Silver Star team (Go Silver Stars!), weight 195lbs

May 6th: Finished the BL Spring challenge, 182 lbs

May 27th: Started the Biggest Loser Summer Challenge, GO SASSY SILVER STARS!!!, weight 181 lbs

August 5th: Finished BL Summer Challenge, 170 lbs
SparkFriends

SparkTeams

My Ticker:
current weight: 168.0


Recent Blogs:

Profile


Member Since: 1/21/2010

SparkPoints: 0

Fitness Minutes: 5,924

My Goals:
Eat a healthy diet.

Attain a normal weight.

Become a Registered Nurse.

My Program:
Learn, Learn , Learn!
Knowledge is power!

Personal Information:
I live in the suburbs of St. Louis, MO. I love swimming, reading, watching movies, and speaking French.

Profile Image