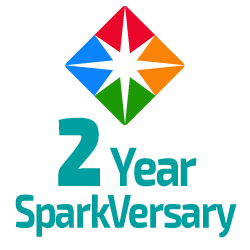 I have 15 pics in my gallery

Awards

Keeping Up with Karishma
Slim, Smart, Sweet: K's Health Journey
Hi, fellow Sparkperson!
I'm Karishma and I appreciate you coming by to "see" me!
I'm joined SP working toward a weight loss goal to improve and ensure my health overall. I've been been in an on/off relationship with SP for the past few years, but I think I'm ready to commit and make things work.
I'm in my late-20's, doing that whole graduate school, get my life together and life figured out thing. ...
Slim, Smart, Sweet: K's Health Journey
Hi, fellow Sparkperson!
I'm Karishma and I appreciate you coming by to "see" me!
I'm joined SP working toward a weight loss goal to improve and ensure my health overall. I've been been in an on/off relationship with SP for the past few years, but I think I'm ready to commit and make things work.
I'm in my late-20's, doing that whole graduate school, get my life together and life figured out thing.
Weight loss and healthy living are just one step/component of getting me to where I want & need to be as the phenomenal woman I envision for myself.
I love to read, dance, watch TV/movies, listen to music, hangout with friends and enjoy be involved in the community.
I came to SP to help me through structured, but flexible tools and proper information, to stay motivated and driven in getting back down to my healthy & gorgeous weight range of 108-115 pounds. I hope the weight loss will resolve some of my health conditions or better manage them and this journey becomes the catalyst for living mentally, emotionally/spiritually & physically healthy. As I mentioned earlier, it's been a long time, however, I truly feel I need to do this now or its never, so I'm recommitting myself to SP.
If you have any positive advice, suggestions or motivational tips, I welcome your input.
Good luck to you in your own health journey and thank you for checking in on me! =)
In friendship (and exercise and diet) ,
K

SparkFriends

SparkTeams



My Ticker:
Pounds lost: 0.0

Interact with KARISMATIC1





Recent Blogs:

Profile


Member Since: 12/2/2007

SparkPoints: 2,108

Fitness Minutes: 276

My Goals:
Short -term Goals:

To eat breakfast/brunch everyday.
To walk for at least 25-30 mins daily.
To track my eating.
To complete my full course of Physical Therapy!

Long -term overall Goals:

To be more toned.
To have more flexibility.
To build my endurance and stamina.
To be more fit and have energy.
To improve my health conditions.
To feel more confident about how I look.
To lose weight in increments of 12 lbs until I reach 108- 110!!

My Program:
Food journaling, making myself go to gym/walk as much as possible during the week...I'm going to modify this as I go along.

Personal Information:
Atlanta, GA

Other Information:
Act is if you're already at what you aspire to be. Action often precedes motivation. It can change how you think & feel, as your mind & heart will soon catch up to your actions. It will be " what you do" & not just " how you think" or " how you feel" about things. It is the inertia of the momentum .. the movement of things that kicks off the motivation.

Profile Image