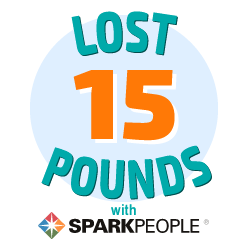 I have 4 pics in my gallery

Awards

"That it will never come again is what makes life so sweet."
If you are here wondering why in the world I added you, it's because you are totally inspiring! I tend to add anyone around my height (5'2), since I find looking at their pages really motivational. Plus, I'll add anyone else whose stories I find familiar and/or impressive. Yeah, kind of stalkerish, but I'm completely benign, honest. It's simply nice to have a ready list of amazing people who have succeeded at this. Thank you for inspiring me!

I'm 21 and about to start my last year ...
If you are here wondering why in the world I added you, it's because you are totally inspiring! I tend to add anyone around my height (5'2), since I find looking at their pages really motivational. Plus, I'll add anyone else whose stories I find familiar and/or impressive. Yeah, kind of stalkerish, but I'm completely benign, honest. It's simply nice to have a ready list of amazing people who have succeeded at this. Thank you for inspiring me!

I'm 21 and about to start my last year of college. I have always been chubby, but in my first two years of college I put on 20 extra pounds, putting me at an all-time high of 156. I know there are many people who are able to live happy, social lives in spite of their weight, but I've struggled with feeling "too fat" to go places or do things I really would love to do (e.g. swimming, rock climbing, socializing with my co-ed fraternity, going to parties, seeing old friends and relatives, etc.) . I'm tired of sitting around wishing I was doing something, so it's time to get moving, get healthy, and get rid of this weight for good!

Weigh-Ins
2/6/09: 156 Highest weight ever!
7/25/09: 155 (-1)
8/31/09: 152.5 (-2.5)
11/25/09: 147 (-5.5)
12/19/09: 145 (-2)
12/26/09: 147 (+2)
1/03/10: 145 (-2)
1/09/10: 143.5 (-1.5)
1/11/10: 145.5 (+2)
1/18/10: 141.4 (-4.1)
1/25/10: 140.4 (-1)
2/1/10:
2/8/10:
2/15/10: Goal 137
2/22/10:
3/1/10:
3/8/10:
3/15/10: Goal 133
3/22/10:
3/29/10:
4/5/10:
4/12/10: Goal 129
4/19/10:
4/26/10:
5/3/10:
5/10/10: Goal 124
5/17/10:
5/24/10:
5/31/10
6/7/10: Goal 120
6/14/10:
6/21/10:
6/28/10:
7/5/10: Goal 116

AE Jean Size Goals
1. Size 10 by December: DONE! 12/19/09
2. Size 8 by March
3. Size 6 by May
4. Size 4 by July
5. Size 2 by September



SparkFriends

SparkTeams

My Ticker:
current weight: 134.0

Interact with JUSTCOUNTING




Recent Blogs:

Profile


Member Since: 7/31/2009

SparkPoints: 0

Fitness Minutes: 616

My Goals:
2010 Goals:
- Reach goal weight this summer
- Keep my apartment clean
- Get 7+ hours of sleep 5x week
- Run 1000 miles
- Do a summer internship
- Apply to grad school (4 recommendations, essay sample, & resume)
- Volunteer every week

Lifestyle Goals :

Rock climb without feeling self-conscious about my size.
-
Run a 8 minute mile!
-
Feel like hot stuff during the family cruise.
-
Go to yoga classes in a cute yogi outfit
-
Wear skinny jeans with boots
-
Call myself skinny/fit/petite/etc. and mean it!

Awards:
-Vibram FiveFinger shoes
-iTouch
-Build new wardrobe (casual, work, night, fitness)

My Program:
1. Track every bite every day
2. Be moderate with dry carbs/processed foods
4. Cardio 5x a week
5. Strength training 2x a week
6. Keep it real.

Profile Image