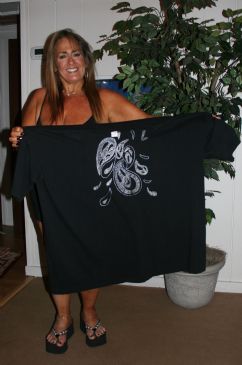 I have 50 pics in my gallery

Awards


My Journey of a thousand steps ...
Note: To add me on Facebook:
www.facebook.com/JoanneGulinoSwitzer

In April 2002, out of total desperation, I devised a weight loss
and exercise program to begin the very first step of what was to become, my personal journey of a thousand steps. I finally had admitted to myself that I was sick and tired of being sick and tired -- and, perhaps more importantly, I was sick of being fat ... of living my life in poor health; isolated and alone; embarrassed, ashamed and ...
Note: To add me on Facebook:
www.facebook.com/JoanneGulinoSwitzer

In April 2002, out of total desperation, I devised a weight loss
and exercise program to begin the very first step of what was to become, my personal journey of a thousand steps. I finally had admitted to myself that I was sick and tired of being sick and tired -- and, perhaps more importantly, I was sick of being fat ... of living my life in poor health; isolated and alone; embarrassed, ashamed and angry that I didn't know how to love and honor myself enough that I would allow myself to get "there" ... a place so dark, so sad, so alone, that there was no place to go but up. The reality was clear: in the daily course of my life, I was unable to do most people take for granted.

The past 8 years has been a wild ride, to be sure: experiences that were humbling; lessons to be learned -- and re-learned. Sometimes a teacher, and always a student, I will be honored to share my weight loss experience with you. I hope that you, too, will honor me by sharing your life story and journey ... It is with understanding and compassion that I will listen -- without judgment, without opinion .... one human being to another.

Although this synopsis is the abridged version of my journey of a thousand steps in my quest to be healthy and fit, the single most important lesson I have learned thus far is that it is the journey -- not the destination, that matters most. Why? Because life is a process -- not an event -- of this I am sure! I didn't get to 278 lbs. overnight (size 26W) -- and taking it off took dedication and commitment to mySelf as I made ME the Number One Priority in my life.

Several readers have asked me how I lost weight and how I have kept it off. I kick started my weight loss journey with Medi-Fast's high protein soy shakes. Through good old-fashioned diet (calorie restriction) and exercise (hittin' the gym 6 days/week) over the course of 8 years, I lost a total of 162 lbs.

The following are some of the Life Lessons Learned along the way that I found necessary and an integral part of the process of my self-discovery and continuing unfoldment. I share these lessons in hopes that they resonate with you in some small way and assist in your own unfoldment and journey:

I had to learn to love myself and accept me for all that I was and all that I wasn't ....

I had to learn that there is no food whose taste is worth not living life healthfully, fit and happy... Nothing!!!!

I have learned that you no longer have to search for love when you experience love and acceptance from within ...

I had to learn that serenity and inner peace is not realized until I began accepting rather than expecting ...

I have learned that faith makes all things possible ... not easy.

I learned that there is no path to happiness. Happiness is a place of being -- not doing...

I had to learn to honor myself by choosing to be lean, strong and healthy.

I learned to not let others define me and who I am.

I learned to not let others tell me what I cannot have.

I have learned that the energy that I am willing to put into something is directly proportional to what I will get in return ...

I have learned to not exchange my good judgment for the opinions of others ...

I have learned that people must earn our love, trust and friendship.

I have come to learn that energy follows actions.

I have learned that although I am blessed to be a wife, mother, grandmother, sister, friend and aunt -- First and Foremost, I AM ME!!!!!

I had to learn that there are no magic pills, potions, shots or diets to lose weight.

I had to learn that the "failures" of my past would become the road map for my future.

I learned that I chose "unconscious eating" so I could be unaccountable for the large amount of calories I was consuming ...

I have learned that, the greatest lie I ever told, is the one I was willing to tell myself ...

I had to learn that diets don't work -- but a specific, detailed plan, commitment and exercise DO!!!

I have learned that when I am least lovable is when I need the most love ...

I had to learn that I had value and worth-- regardless of what I weigh...

I learned that healing must take place three-fold: Mind, Body and Spirit .. And all work beautifully when in balance.

I have learned that I no longer needed to hide and isolate from the world ...

I have learned that the prison of shame and guilt that I had built was my own creation and that I had the power to tear it down.

I have learned that the pain of my history does not define who I chose to be today.

I had to learn to forgive myself for past 'mistakes' so I could accept where I am now and where I am going.

I had to learn to take personal responsibility for every bite of food that I put into my mouth.

I had to learn that you either do it (diet/exercise), or you don't -- there's no middle ground.

I learned that, if I choose foods that are unhealthy, I am choosing to be unhealthy and unwilling to do the necessary work to be fit and healthy.

I have learned that it is living in the now -- living in the moment -- that we are able to live a conscious, committed life so we can accept and appreciate all of the Universe's **many** Blessings!

I learned that overeating was not an effective way to cope with life's challenges.

I learned that I could acknowledge myself in ways other than eating.

I have learned that we ALL possess the personal power; inner strength and ability to create the life -- and body -- that we want.

I had to learn that it was ok to say "I gotta take care of me first...."

I learned to admit that I was fat and unhealthy because I chose to overeat and I chose foods that were unhealthy and fattening.

I learned that I could enjoy exercising -- and actually look forward to running and exercising every day -- and not worry about sweating while doing it!!

I learned that I needed to set up a diet plan to win big this time -- even though all my past diets were not total "successes."

I learned that I am not a failure even though I may have "failed" when I dieted in the past.

I have learned that we are never, ever alone ...

I had to learn that there is balance -- and peace -- in all things!!

I have learned that if you listen closely, people will reveal their true selves to you.

I have learned that I had to make an honest assessment of my past in order to make peace with mySelf today...

It is through acceptance of all that I am, and all that I am not, that I have learned to truly love mySelf.

I have come to learn that it was in loving and accepting me, that I can love and accept others.

I have learned that what I resist, persists!!

I have learned that it is in forgiveness that all things are possible ..

I have learned that "temptations" along my journey are merely a test to my commitment.

I have learned that guilt and shame are two needless emotions ...

I have learned we are all perfect in our Divinity.

I have learned that wherever we are on our path, it is **exactly** where we need to be at this point on our journey!

I have learned that losing weight is not the end result but the beginning of a new chapter -- complete with new challenges, commitments and dreams!

I have learned that when I totally surrendered, I could begin my life anew!!

It is because of all of these lessons -- and more --- that I have come to live an enriched, charmed, enlightened and blessed life!!

~~~~~ If one of these Life Lessons Learned touches your heart, feel free to write to me and share your thoughts and your life story -- I will be honored to listen to YOU!!

And, always remember:
You are worth it!
You deserve ALL of your hard work and efforts!!
Whatever your mind can see and believe, will be YOURS!

My Three C's of success: COMMITMENT, COURAGE, CONVICTION!

PERSONAL INFO:

I am 56 and live in Connecticut by way of South Florida where I grew up and lived for over 45 years -- with sand between my toes and warm tropical breezes at my back!!! I am married (35 years on February 28th, 2010!!) and we have 2 great kids -- Tom & Tiffany -- who are incredibly, gifted, loving parents to 3 awesome boys -- my grandkids. My oldest grandson and best bud, Tyler, who lives in Florida, is spending the entire summer with us. My fur children are the other loves of my life -- Bentley James, a Golden Retriever, who is 3 1/2 years old. His predecessor, "Morgan" was a dog who graced my life for 15 years -- who saw me through the harrowing days, months and years after my car accident in 1989 until he passed away in my arms 4 years ago. (I will always love you, Morgie!). We have 1 cat -- Molly Anna, our newest addition to the family. Molly is a rescue kitty who was found on the streets of Hartford, CT. My precious baby girl, Mallory Anna, the subject of much of my work and Spark Blogs, died May 10, 2010, in our bed surrounded by the family who loved and adored her. We all miss you, Darling Mallory...

For many years, I enjoyed photography. Combined with my love and adoration of Mallory Anna as a kitten and the introduction of digital cameras/photography in the late 1990's, my interest grew exponentially. With my precious muse, Mallory Anna and the support and encouragement from my husband, Earl and brother, David, I enrolled in the New York Institute of Photography from where I proudly graduated on December 10, 2009. I also attended VTC University and took several additional courses including Photoshop CS3 Extended; PSP Pro Photo2 and Adobe Lightroom2. On June 21, 2010, with great excitment and anticipation, my brother Dave and I opened our newly formed start up, Pixel-Pros, LLC, (www.pixel-pros.com), a firm that specializes in digital restoration, retouching, repair and Special FX of pictures. Feel free to stop by Pixel-Pros and give us your thoughts and comments.

I love the beach; swimming and hangin' out at the pool; scuba diving; sunrises and sunsets; boating; music (one of my my fave electronic toys is my iPad (given to me by my overly generous husband for my birthday this year!) and iPod which I listen to in the gym. I am a Parrot head of **many** years -- too many to count!!

~~~ IMPORTANT ~~~


This page will be under periodic construction, revision and updates. As I continue my path, and as feelings and events are remembered, I will continue to share them with you -- openly and honestly with as much candor and specificity as possible. Please stop by as often as you'd like and honor ME with the gift of sharing YOUR life journey!

Above all, I honor each and every one of you who stops by and graces my page ... There are no accidents, no coincidences in life -- only Divine Appointment -- Divine Design!!! Blessings to each of you and my deepest, heart-felt appreciation for touching my heart, my life!!!

Joanne
October 3, 2008
----------------------------
updated June 22, 2010






~~~~~~~~~~~~~~~~~~~~~~~~~~~~~~~~~~~~~~
THIS SPARK PAGE IS DEDICATED TO THE LOVING MEMORY OF PATRICK DAVID COLLINS, A KIND AND GENTLE SOUL AND LOVING SPARK FRIEND WHO PASSED AWAY 08-03-08.
~~~~~~~~~~~~~~~~~~~~~~~~~~~~~~~~~~~~~~~



SparkFriends

SparkTeams



My Ticker:
Pounds lost: 0.0


Recent Blogs:

Profile


Member Since: 10/16/2007

SparkPoints: 133,297

Fitness Minutes: 156,531

My Goals:
On August 16, 2010, I officially became a P90X Grad!!! P90X is a great program and I am getting ready to do Round 2, Classic with my brother, Dave (PIR8DAVE) to lose a little more weight and continue my ST program. I use several sized resistance Beach - 20 lb to 50 lb.; free weights (up to 12 lbs.) and now see muscle definition that I have never before seen -- and I'm 56!! I highly recommend crunches (3 sets of 50 reps) and squats that I learned under the direction & tutelage of of my Dear Spark friend, Michlea. Check out her page (MICHLEAR) for excellent guidance & info re: squats, ST, etc.). I use the Polar F-11 HRM for workout intensity, heart rate recovery & training. The Polar F-11 also work wonderfully with my fave piece of equipment in our home gym, the TreadClimber TC5000.

FACEBOOK!!!
If You would like to add me as a friend on Facebook, pls send me a Sparkmail and I will give you my private address.

My Program:
My nutritional program includes lots of veggies -- summer squash, zucchini, snow peas and broccoli. For dinners: chicken, shrimp, turkey, crab, tuna, etc. I avoid processed food and refined sugar and white flour. I drink several high protein shakes per day to ensure proper nutrition and daily protein intake.

Personal Information:
Welcome to my Spark Page!! As we say in the South, prop up your feet and sit a spell!! I would enjoy hearing your journey so feel free to tell me all about YOU. I have always believed that all of us have a life story that has shaped our hearts and lives to mold us who we are today. I would be honored to hear your story -- your thoughts, goals, and dreams so write to me and let's share this journey together!! I have no doubt that the Spark Community is the perfect place to be at this moment, at this juncture on our personal journeys. I know that the absolute perfect Spark Friends will touch my life and become part of my life's story and for that, I am grateful and I look forward to walking this journey with YOU!!!

Other Information:
I live in the Northeast by way of South Florida where I lived for 45 years. My brother, Dave, is my diet/exercise bud and I recommend visiting his page (PIR8DAVE), Dave lost over 100 lbs. and is a success in his own right. I enjoy scuba diving, the beach, sunrises, sunsets, sand between my toes. I am married, have two great kids & 3 awesome grandchildren. My loving fur-child, Bentley James, is a 3 year old Golden Retriever. MollyAnna is our newest addition to the family, a rescue kitty found on the streets of Hartford. This page is lovingly dedicated to Mallory Anna who was our baby girl, a beautiful white Persian "rescue" kitty who died 5/10/10.
Mallory Anna taught me the blessing of living life in the moment. She was my muse and reason for taking a hobby to a professional status. I am President/CEO of Pixel-Pros, LLC. We do digital photo restoration, retouching and repair. Please stop by and see me at www.pixel-pros.com.

Profile Image