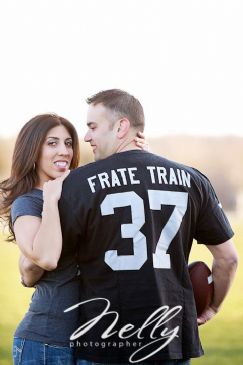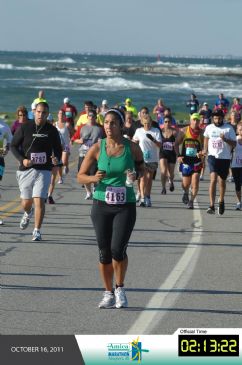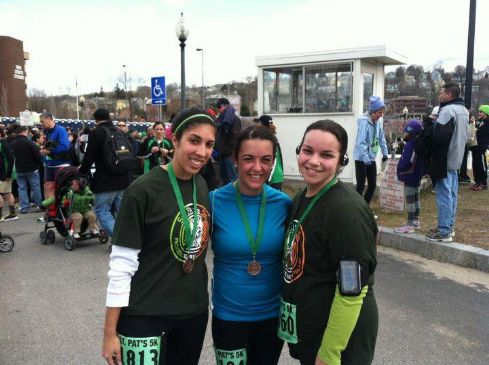 I have 45 pics in my gallery

Awards

I run to be fierce....
... and set a goal of running a Half-Marathon... and on October 17, 2010, I did just that in Newport, RI.

I can't truthfully and honestly say I have ever been overweight. The most was when I gained the freshman 30 and did everything I could to lose it by the time I graduated. Most people look at me and they think "ooo she is so in shape!" Little did they know that I could barely run a mile.

In an effort to be healthier and keep the weight down I joined Sparkpeople. ...
... and set a goal of running a Half-Marathon... and on October 17, 2010, I did just that in Newport, RI.

I can't truthfully and honestly say I have ever been overweight. The most was when I gained the freshman 30 and did everything I could to lose it by the time I graduated. Most people look at me and they think "ooo she is so in shape!" Little did they know that I could barely run a mile.

In an effort to be healthier and keep the weight down I joined Sparkpeople. In early 2008 I discovered a love for running. It relieved a lot of stress and took my mind off of things I was going through at the time.

To date I have done a number of 5k's, a 10k and 8 half-marathons.
*******************

Upcoming races for 2013:
March 9: St Pat's 5k - Providence
March 17: New Bedford Half Marathon

*******************
Goals for 2013
1. Reach 1000 miles logged
2. Get a 5k running time of 26 min (my PR is 28:46)
3. Get to my goal weight of 130 (and stay there for more than a week!)
4. Crossfit - to RX just once!


Bonus goal: run a marathon!!
*********************************

The Spark lessons I have learned:

1. I think twice before eating something. (I look at snacks I used to love and just think of how much I'd have to kill myself at the gym to burn it off.)
2. I have drastically changed my eating habits. Veggies were never allowed on my plate and if it did moo or oink at one time, forget it! Now I have eaten more veggies in a year than I probably have my whole life and the way I feel after eating red meat and pork just isn't worth it so I cut it out for the most part.
3. How to eat much better overall. Learning what nutrients my body needs and how to use food to repair my body before/ after a workout.
4. Although I feel like I'm starting over I ran up to 5 miles on the treadmill last year. I know what I was capable of and I know I can do that again and more.
5. I LOVE water. I drink 8 cups a day and when I don't have it I actually crave it.
6. Tracking and planning really is everything!!!!

*******************
Since running has become a new interest here are some helpful links:

www.favoriterun.com
www.jbrace.com
www.gnbtrc.org
www.coolrunning.com


Other great Links:
http://www.neversaydiet.com/tools/snack-
swapper?selSwapper=16

*******************

Favorite mottos/quotes:

"Let me tell you something you already know. The world ain't all sunshine and rainbows. It is a very mean and nasty place and it will beat you to your knees and keep you there permanently if you let it. You, me, or nobody is gonna hit as hard as life. But it ain't how hard you hit; it's about how hard you can get hit, and keep moving forward. How much you can take, and keep moving forward. That's how winning is done. Now, if you know what you're worth, then go out and get what you're worth. But you gotta be willing to take the hit, and not pointing fingers saying you ain't where you are because of him, or her, or anybody. Cowards do that and that ain't you. You're better than that!"
- Rocky Balboa

"Unless You Puke, Faint or Die, Keep Going!" - Jillian Michaels

Keep your thoughts positive because your thoughts become your words. Keep your words positive because your words become your behaviors. Keep your behaviors positive because your behaviors become your habits. Keep your habits positive because your habits become your values. Keep your values positive because your values become your destiny.
-Gandhi
***************************************

Some of my favorite Inspiration blogs:
- One Twenty Five - http://one-twenty-five.tumblr.com/
- Skinny Runner - http://skinnyrunner.com/
- Ben Does Life - http://bendoeslife.tumblr.com/
- Hungry Runner Girl - http://www.hungryrunnergirl.com/

On Sparkpeople I religiously follow
- Smurfette0725
- Lindokas -- (My Bestie!)


SparkFriends

SparkTeams



My Ticker:
current weight: 142.2


Recent Blogs:

Profile


Member Since: 2/17/2008

My Goals:
Physical Goal: To lose 10 pounds (GW 130)
1. Run 3-4X per week .
2. Weight train 3-4x per week.
3. Log every workout into Sparkpeople
4. Plan workouts for the week.
5. Yoga once a week for some mental cleansing.

Nutritional: Use food as nourishment not as a celebration or comfort.
1. Plan each day's meals in advance and log on Sparkpeople.
2. Include 1 high protein drink/per per workout day.
3. Try and stick to ONE cheat day a week.
4. Cook one nutritious meal(crock pot meal so it'll last.)
5. Drink plenty of water
Spiritual:
1. Maintain a journal
2. Love those who love me, just love in general
3. Volunteer
4. Just be happy
5. Go on a retreat by myself


My Program:
*Running 3+ times per week including at least 1 long run, 1 easy run and 1 tempo run.

*Strength training 2-3 times a week.

*Yoga once a week.

Other Information:
my Current PR's
5K
West Island 5k
April 29, 2012
Time: 27:09
Pace: 8:46
Group 19-39 Rank: 17/41
Gender Rank: 66/229
Overall Rank: 176/444

****************
10K

****************
Half Marathon



Profile Image