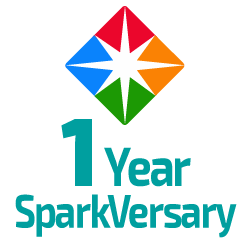 I have 11 pics in my gallery

Awards

It's Mommy's Turn
OCTOBER 2009 ~ Here I am at the one year mark of belonging to Spark People. At my best, I was down about 25 lbs. Now I am down a net of 13 lbs for the year. One step forward, two steps back. I worked the program pretty hard for the first four months. What a difference a year makes though.

A review of my year, thoughts included:

~Changing lifestyles is a constant process. Even when you think you've got it down, it will still be a fight to keep it off. ...
OCTOBER 2009 ~ Here I am at the one year mark of belonging to Spark People. At my best, I was down about 25 lbs. Now I am down a net of 13 lbs for the year. One step forward, two steps back. I worked the program pretty hard for the first four months. What a difference a year makes though.

A review of my year, thoughts included:

~Changing lifestyles is a constant process. Even when you think you've got it down, it will still be a fight to keep it off. I guess that is the nature of addiction.

~It is really hard to get back up and out of the mud when you've "fallen down". I am waiting for the "cool" weather to get motivated and get back out walking. I hope we will have "cool" weather SOON.

~It is extremely difficult to set a schedule for exercise and cooking when you work, have children, and ADD!!

~Elementary school homework gets A LOT harder in 4th grade!! I am amazed at the amount of work my daughter is expected to master each week and how much homework she gets.

~Homework would never get done without a Mom's help!! Afternoon's go a lot quicker when there is homework involved.

~I didn't know a year ago that my husband and I would be planning a trip to China now to bring home a little boy!!

So, I say to myself now... yes I'm eating too much ice cream. Yes I need to stop going to McDonald's (no matter how good their french fries are!!) Yes I need to pull out my Spark Recipes more often. Yes I need to start exercising again. BUT I have STILL made progress. 13 pounds is a great start and I am that much further ahead in the game.

OCTOBER 2008
Mom of two, who now NEEDS to take care of herself!!
I've had trouble with my weight since 4th grade. Have managed to get down a couple of times, but it always comes back and then some. I've spent the last eight years taking care of my elementary aged children. Now it's time for me to start taking care of me again. Regular visits through the McDonald's drive-thru and gallons of icecream have not helped the cause. Searching the Web in desperation, I was so happy to find Spark People. This is going to be a life saver for me as I now have insulin resistance.

~3 months and almost 20 lbs lighter... I rarely go to McDonald's anymore. It's more a treat for the kids than myself. And I stick to their salads with light dressing, or chicken nuggets (no fries) in a pinch. But I don't deprive myself, oh no. I have a small dish of ice cream or sherbet after dinner if I want (and if I'm within my daily calorie limit). We also don't go out to eat as much. Maybe once a week. Spark recipes are wonderful.... healthy and a delight to the palate.

~6 months and holding. I haven't put anything back on, but I haven't lost anymore either. It doesn't get any easier!!!!
I wish I could reset my determination back to what it was when I started!! That has been a lot harder to do than I thought it would be.

****IT'S A LIVE-IT, NOT A DIET *****
(stolen from a Sparkpage)



The Climb lyrics
Songwriters: Alexander, J; Mabe, J;

I can almost see it
That dream I am dreaming
But there's a voice inside my head saying
"You'll never reach it"

Every step I'm taking
Every move I make feels
Lost with no direction
My faith is shaking

But I gotta keep trying
Gotta keep my head held high

There's always gonna be another mountain
I'm always gonna wanna make it move
Always gonna be a uphill battle
Sometimes I'm gonna have to lose

Ain't about how fast I get there
Ain't about what's waiting on the other side
It's the climb

The struggles I'm facing
The chances I'm taking
Sometimes might knock me down
But no, I'm not breaking

I may not know it
But these are the moments that
I'm gonna remember most, yeah
Just gotta keep going

And I, I got to be strong
Just keep pushing on

'Cause there's always gonna be another mountain
I'm always gonna wanna make it move
Always gonna be a uphill battle
Sometimes I'm gonna have to lose

Ain't about how fast I get there
Ain't about what's waiting on the other side
It's the climb, yeah!

There's always gonna be another mountain
I'm always gonna wanna make it move
Always gonna be an uphill battle
Somebody's gonna have to lose

Ain't about how fast I get there
Ain't about what's waiting on the other side
It's the climb, yeah!

Keep on moving, keep climbing
Keep the faith, baby
It's all about, it's all about the climb
Keep the faith, keep your faith

SparkFriends

SparkTeams

My Ticker:
Pounds lost: 13.0


Recent Blogs:

Profile


Member Since: 10/4/2008

SparkPoints: 0

Fitness Minutes: 2,741

My Goals:
My goal is to incorporate healthy dietary changes for myself and my family and make them a healthy habit... lose weight and tone up.



My Program:
Planning meals, measuring portions, exercising daily if possible, alternating walking and body toning

Other Information:
My flickr webpage:
http://www.flickr.com/people/jlr718/

www.WeRChinaBound.blogspot.com

Motivation forum:
http://www.sparkpeople.com/myspark/mes
sageboard_topics.asp?imboard=31

Profile Image