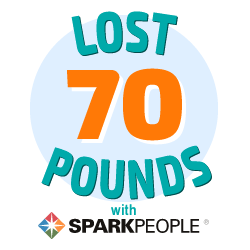 I have 12 pics in my gallery

Awards

Moving towards 145- DONE!!!
I've been mentally battling my weight my whole life, but in reality I have been battling with it since I was a senior in high school after I stopped dancing. I've been going up and down in weight for the past 4 years and I am finally sick and tired of being sick and tired about my weight. I'm Done being a fat girl everyone. It time for me for the first time in my life to feel slim, sexy and healthy.






Rewards:

199 Done(Reached)- ...
I've been mentally battling my weight my whole life, but in reality I have been battling with it since I was a senior in high school after I stopped dancing. I've been going up and down in weight for the past 4 years and I am finally sick and tired of being sick and tired about my weight. I'm Done being a fat girl everyone. It time for me for the first time in my life to feel slim, sexy and healthy.






Rewards:

199 Done(Reached)- Manicure, Pedicure and Eye Brow wax
170 Done-Sexy New Shoes and a couple of outfits
145 Done-Special celebration weekend with my husband, and a Spa Day



I have noticed that a lot of people add their weight loss or gain each week to their profile. I think I am going to do the same.

Weight tracking:

10/26/08- 215.8 (loss of 1.2 Lbs)
11/2/08-216.2 (gain of .4 Lbs, bad girl)
11/9/08-212.2 (loss of 4 Lbs)
11/16/08-
11/23/08-
11/30/08-214 (gain of 1.8 Lbs) I have been such a bad girl. I haven't been on here in awhile and I gained weight.
12/7/08-210.6 (loss of 3.8 Lbs)
12/14/08-208.6 (Loss 2 Lbs)
12/21/08-207 (Loss 1.6 Lbs)
12/28/08-208.8 (Gain of 1.8) I was a bad girl once again, but thats ok. I know what I have to do. 2009 here I come.
01/04/09-206.2 (loss of 2.6 Lbs) I'm getting back on track, Oh Yeah.
01/11/09-210 (Gain of 3.8) I will never drink juice again. I ate healthy, but had too much juice and it blow me up. I can't believe it.
01/18/09-202.8 (Loss of 7.2) I couldn't believe it. I stopped the juice. ALL water.
01/25/09-202.6 (Loss of .2) Still a loss. I'm good. LOL


A Change of weigh in DAY, Now doing Tuesdays like the Biggest Loser Contestants.


02/3/09-201.6 (Loss of 1 lb)
02/10/09- 199.8 (Loss of 1.8) I am barely in ONEDERLAND, BUT I AM IN IT.
02/17/09-197 (Loss of 2.8 lbs)
02/24/09-196 (Loss of 1 lb)
03/03/09-193 (Loss of 3 lbs)
03/10/09-190.5 (Loss of 2.5 lbs)
03/17/09-189.2 (Loss of 1.3 lbs)
03/24/09-189.2 (Didn't lose anything)
03/31/09-
09/17/09-179 (loss of 10 lbs)
09/24/09-176(Loss of 3 lbs)
11/02/09-189(I've gained some weight back, but its ok. I lost it because I was sick. Now I can start working out again, gained 13lbs)
SparkFriends

SparkTeams

My Ticker:
current weight: 180.0


Recent Blogs:

Profile


Member Since: 8/17/2008

SparkPoints: 0

Fitness Minutes: 1,604

My Goals:
To lose weight and get healthy.

My Program:
I have decided that I am going to walk 2-3 miles 5-6 days a week and do light weight training 3 days a week.

Personal Information:
My name is Jocelyn and I am originally from Chicago, IL but now live in Smyrna, GA. I am married to the sweetest and smartest man, who supports me 150% in my effort to feel better about myself. I am truly excited about being on this site and hope that I can reach my goal of 145 pounds.

Profile Image