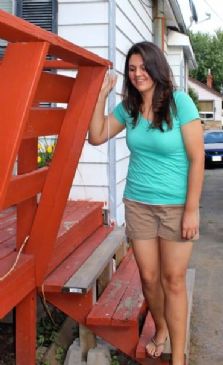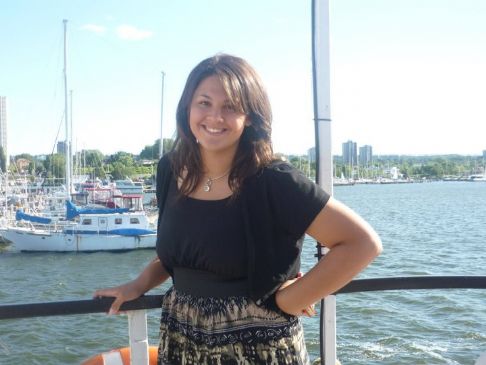 I have 14 pics in my gallery

Awards

"to make weak things become strong"
Hi all, I am giving this another go again. Last September I was successful for a month but then I got really lazy and started slacking. I kept most of the weight off that I had lost, but this summer was just too much eating out. I am excited to be back at Spark People again though. I can do this, WE CAN DO THIS! Just have to remember it's one step at a time!

Half way to my goal 2015
189.8 - 3/4/15
189.2 - 3/18/15 (-0.6)
189.6 - 3/25/15 (+0.4)

New ...
Hi all, I am giving this another go again. Last September I was successful for a month but then I got really lazy and started slacking. I kept most of the weight off that I had lost, but this summer was just too much eating out. I am excited to be back at Spark People again though. I can do this, WE CAN DO THIS! Just have to remember it's one step at a time!

Half way to my goal 2015
189.8 - 3/4/15
189.2 - 3/18/15 (-0.6)
189.6 - 3/25/15 (+0.4)

New Beginnings 2013-2014
216.0 - 8/25/2013 (+14.2)
213.2 - 8/28/13 (-2.8) TOM
210.0 - 9/04/13 (-3.2)
207.4 - 9/11/13 (-2.6)
205.0 - 9/18/13 (-2.4)
203.4 - 9/25/13 (-1.6)
202.2 - 10/02/13 (-1.2) TOM
199.2 - 10/09/13 (-3) Hello Onederland!
199.2 - 10/16/13 (0) -_-
198.7 - 10/24/13 (-0.5)
196.3 - 11/01/13 (-2.4)
195.2 - 11/08/13 (-1.1)
193.8 - 11/13/13 (-1.4)
193.5 - 11/20/13 (-0.3)
192.0 - 11/27/13 (-1.5)
191 - 12/20/13 (-1)
193.3 - 1/01/14 (+2.3)
190.3 - 1/08/14 (-3!) TOM
191.9 - 1/15/14 (+1.6)
188.3 - 1/22/14 (-3.6)
188.2 - 1/29/14 (-0.1)
WAS ON A BINGE THE LAST FEW WEEKS
189.8 - 2/19/14 (+1.6)
192.4 - 4/2/14 (+2.6)
191.4 - 4/9/14 (-1)
193.1 - 4/16/14 (+1.7)
192.3 - 4/23/14 (-0.8)
187.8 - 4/30/14 (-4.5)
190.2 - 5/08/14 (+2.4)
186.5 - 5/14/14 (-3.7)
188.1 - 5/21/14 (+1.6) TOM
186.8 - 6/04/14 (-1.3)
184.5 - 6/11/14 (-2.3)!
185.2 - 6/18/14 (+0.7)
186.7 - 6/25/14 (+1.5) TOM last week, I kinda went on a crazy binge :S
185.4 - 7/1/14 (-1.3)
184.0 - 7/9/14 (-1.4)
184.7 - 7/16/14 (+0.7) I went a little crazy on the junk food this past weekend
184.0 - 8/06/14 (-0.7) After a little hiatus from healthy living and now on day 3 of the whole30 program (started at 186.1)
178.6 - 8/13/14 (-5.4!!!)
179.3 - 8/28/14 (+0.7) Not bad considering I stopped the whole30 for a week while my fiancee was here and binged for a few days after he left, and started the whole30 again

First Attempt 2012
217.8 - 9/05/12
212.6 - 9/12/12 (-5.2)!
211.4 - 9/19/12 (-1.2) TOM : /
208.8 - 9/26/12 (-2.6)
205.8 - 10/03/12 (-3)
206.4 - 10/10/12 (+0.6)
206.8 - 10/17/12 (+0.4) TOM
201.8 - 10/24/12 (-5)









Current Status:


SparkFriends

SparkTeams



My Ticker:
current weight: 189.6

Interact with JILLYBEAN3492






Recent Blogs:

Profile


Member Since: 3/26/2012

SparkPoints: 17,297

Fitness Minutes: 3,779

My Goals:
[x] 208 - 9/10/13
[x] 200 - 10/06/13
[x] 192 - 11/17/13
[x] 184 - 6/12/14
[ ] 176
[ ] 168
[ ] 160!
[ ] 152
[ ] 144!!


My Program:
-Keeping track of everything I eat with the food tracker, so I know what nutrients and energy I need to sustain my body

-Couch to 5k

-100 Push-up Challenge

- various other fitness activities along the way


Personal Information:
- From Ontario
- 20 yrs old
- I played volleyball and basketball throughout high school, so I definitely love team sports!
- I like to draw and paint

Other Information:
"Dress your wounds
Test your strength
Face the night"
- Dashboard Confessional

Oh yeah, I'm a Latter-day Saint! Aka Mormon!

Profile Image