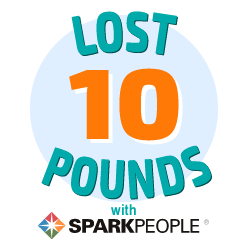 I have 2 pics in my gallery

Awards

Learning to BALANCE my life.
JULY 24, 2010 Learning to Balance my life
I started this journey at 154lbs and officially lost to 134. I want to complete the last piece of my journey. I gained back to 139lbs and I restarted my ticker for myself so I really could see my goal.
A LITTLE HISTORY:
I did great from December till March then I looked on my exersize streak goal, and I must of forgot to log a few days in and it stopped my streak. I got mad. I had done the work, but the site did not show it. My ...
JULY 24, 2010 Learning to Balance my life
I started this journey at 154lbs and officially lost to 134. I want to complete the last piece of my journey. I gained back to 139lbs and I restarted my ticker for myself so I really could see my goal.
A LITTLE HISTORY:
I did great from December till March then I looked on my exersize streak goal, and I must of forgot to log a few days in and it stopped my streak. I got mad. I had done the work, but the site did not show it. My excersize streak was my modivation.
Then I got to 136lbs in Feb. 2010 and I had muscle cuts in my stomach. I was looking awsome. I went on vacation with my husband and I did planned some overeating and excersize while I was there. In five days I did not gain scale weight but my compisition changed. I had more fat between my legs and on my stomach. I wanted to get that back off but could not figure out how to. It has drug my moral down.
Then I started tracking when ever I felt like it which very haphazard. I would do it one day, then the next day I would track till lunch and not get back to tracking dinner. Then I would track dinner at lunch time, and then I would eat something totally different. I would not take the time to go and change it.
NOVEMBER 28, 2009 Learning to love my life(My original Blog introduction)
I am 36 years old and have had all the children I want. Now, I want my previous body back. Maybe even better then before. I have clothing in my closet I would love to fit into again. The doctors says that I need to lose weight, so I can lower my cholesterol. I do not want to die an early death due to heart disease. My dad had his first heart attack at 57 and that will not be me.
After looking at other poeples spark pages I always wonder how tall that person is. So I am going to tell you so you do not have to wonder. I am 5'2 1/2"(need the half to not feel so short:)
1-18-10 Reward for official 10lb loss 144: A new scale for body fat measure, BMI, weight. I ended up returning the scale for a pedometer.
I liked this saying so much that I put it on my page as a constant reminder of what is in store for me. It is a very motivating statement. I want to say Thank you to the author.
from www.phit-n-phat.com
"Stop waking up each morning thinking you are tired. Go to bed with purpose each night and wake up with desire to get things done. Don't lay there and mentally whine about your exhaustion. Honey, don't fool yourself. Every person who drags their tail out of bed to excercise is tired. The difference is they wake up focused on what they have to do and not focused on what they don't want to do."
"Most people who have a tough time losing fat are the people who lose their calories in the details. They work hard, make good choices most of the time, and can't get the scale to budge. If this stuff rings true, think honestly about what success really is. It only takes a mere 200 calories a day of unplanned bites or oops moments to throw you into maintenance living."

11-27-09 154.0 lbs- starting weight
2-1-10 143lbs
2-8-10 140.2lbs -2.8 Guess it is time to put up a new picture if I can figure out how.
2-15-10 139.4lbs- Officially lost all my baby weight, now to the goal of my healthy BMI weight.
2-22-10 138.4lbs- I guess this is going to be one lb. at a time. Least I am half way to my ultimate goal.
3-1-10 139.0 week before monthly cycle
3-8-10 136.6
3-14-10 137.6 maybe too much salt in my diet.
3-21-10 136
3-28-10 138 did not want to claim this amount, but here it is. A week I hated myself.
4-12-10 137
4-19-10 136
6-21-10 134.4
SparkFriends

SparkTeams

My Ticker:
current weight: 200.0

Interact with JENNIFERP23







Recent Blogs:

Profile


Member Since: 11/22/2009

SparkPoints: 8,065

Fitness Minutes: 8,133

My Goals:
I would like to run/walk a 5K with out stopping. I like to see my abdominal muscles for the first time.
Lose baby weight-140lbs-done 2-15-10
Healthy BMI-135lbs-6-21-10
Wedding weight-128lbs-
Goal weight-125lbs

My Program:
Trying to get a realistic diet plan. One I can actually stick to. I tried Atkins and WW and could not stick to them. I do intervals on the ancient treadmill in my basement. It should have been trash a long time ago, but the tread still moves in a circle. I am working out three times a week. I walk up the stairs at work. I try to exersize every time I can to build up the amount of time,even if it is one minute at a time.
2-1-10-I started to work out with Jillian Micheals and and Pilates. The treadmill was getting too easy for me.

Other Information:
I have four children ages 11,8,5,3. They take up all my time, so I have been trying to create me time.

Profile Image