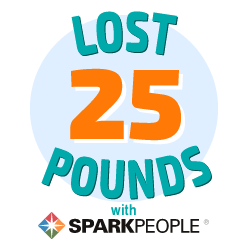 I have 18 pics in my gallery

Awards

Jenna Moore
Ultimate Spark Life Cornerstones

Focus Cornerstone

1. Goals
A. Lose weight: Goal weight is 145. 10% at a time.
B. Clean house. Pick up a little each day. Go through closets and find five items of clothing to donate each weekend.
C. Move more. Get ten minutes of fitness daily at a minimum.


2. Planning
A. Use the Spark goals daily to follow fitness goals.
B. Clean the house: Spend five minutes every day picking up new ...
Ultimate Spark Life Cornerstones

Focus Cornerstone

1. Goals
A. Lose weight: Goal weight is 145. 10% at a time.
B. Clean house. Pick up a little each day. Go through closets and find five items of clothing to donate each weekend.
C. Move more. Get ten minutes of fitness daily at a minimum.


2. Planning
A. Use the Spark goals daily to follow fitness goals.
B. Clean the house: Spend five minutes every day picking up new clutter, five minutes cleaning up old clutter, and five minutes cleaning a part of the house.

Fitness and Health Cornerstone
1. Exercise five days per week
2. Eat healthy. Cook at home: Cook dinner at home six nights per week or more. Take lunch with me to work every day.
3. Sleep: Go to bed on time and rest as needed.
4. Stress Management: Read Bible daily. Meditate on the message in quiet. Pray daily.
5. Healthy habits: Hydrate, brush teeth,
SparkFriends

SparkTeams



My Ticker:
Pounds lost: 71.4


Recent Blogs:

Profile


Member Since: 6/19/2007

SparkPoints: 58,629

Fitness Minutes: 30,720

My Goals:
I am a mother of two boys and a child of God. I have a wonderful and loving husband that blesses me. My goal is to improve my health that I can better serve the Lord and raise my children with good examples.

I have suffered from various inflammation-related chronic conditions for a long time. I have also worked with a few different eating plans. Low-carb, anti-inflammatory, low-fat, etc. Since the hysterectomy I had to have in 2010, none of them work for more than a few weeks despite sticking to the plan.

On September 25, 2015 I had gastric sleeve surgery to help with the weight loss. I hope to see better results from this. My PT says if I can lose the weight my knees will finally stop hurting. This means I can step up my exercise. My goal is better health so I can do more for my family.

My Program:
I eat a healthy diet and exercise five days a week.

Personal Information:
I grew up a Navy brat and have lived up and down the United States East coast. I currently make my home in North Carolina.

Other Information:
I enjoy tae kwon do, running, cooking, reading, writing, stitching, and chocolate. ;)

Profile Image